An average salary wage of a PhD degree holder is ~$20,000 to $2,00,000 or more, based on their experience, expertise, qualification and organization they are working, it may vary. 
Top positions in organizations, companies, academics and other sectors are reserved for doctorates or PhD.
Though an external examination isn't required to get it, one has to invest 3 to 6 years for getting a PhD.
Personal interviews, coursework and publications are essential parts of a PhD degree.
Everyone wants to 'cash in' their degree, for those degrees is a money-making machine, however, for some, it's a source of learning. A PhD or doctor can earn more than other lower grade degree holders.
It is a difficult task to appear, research and clear a PhD as every stage has a different level of difficulties. Getting a PhD is a tougher task actually (i am not threatening you, but it's a fact!).
It's a long process, but if you do it well, regularly and without getting demotivated, trust me success will soon knock on your door.
Many students apply every year for a PhD in which almost 80 will get admission. Socking, only 30 to 40% can complete it. Now imagine how difficult it is! But fortunately, the rewards are excellent.
Successors get honor, prestige and esteem and use "Dr" to their name, and most importantly earn more money at the workplace. Plenty of career options are waiting for a doctorate degree achiever. 
We know that the present honor is an utmost educational award, and it's obvious that they have more earning sources and chances but how much one will earn depends on many factors. A PhD's salary may vary based on many factors.
Here in the present article, we will discuss those factors which affect PhD salary or earning and discuss every one of them one by one. 
Let's start,
Factors that affect your PhD salary 
Educational degree:
Your knowledge and degree decide how much salary you get. PhD degree holders can earn more and get a higher salary pay scale. The reason for that is, they have done tremendous research during their PhD, improved present knowledge and discovered something new.
This means they have utilized the existing knowledge to find a new one so they are experts in their subject or topic after the doctorate. Doctorate-honored is more sincere and patient in their work along with technical or theoretical expertise.
They actually know how to handle various conditions because that's what they have done in PhD, facing harsh conditions!
Conclusively, the salary pay scale of a PhD is more than other degrees (initially) due to their expertise, research experience and analytical thinking.
Experience of a person:
Experience matters a lot. Sometimes you might observe that a master's degree holder gets more salary than a PhD or MPhil. That's because of their experience. In the technical field, science and engineering, the experience of a candidate matters more than a degree, however, a higher degree is also taken into consideration. 
A PhD degree, specialized expertise and work experience in the relevant field is the deadliest combination. One can demand more salary with these three.
Initially, you can get a base pay scale but as you get more and more experience in your field, you can demand higher and earn more as well (therefore patience is a must for a PhD student). 
Research background:
In science, technical fields and engineering, a lot of opportunities are waiting for doctors (or PhD) in research and development. A strong research background, having some publications (in peer-reviewed journals), some research work and project works give you extra rewards than your competitor.
A decent or strong research background helps you not only in getting admission in PhD but also in getting more salary too. Therefore, it is important to publish your work and do research work during, before or after getting a PhD.
Note that even though you don't have work experience initially, if you have a strong research background, you can be salaried more. Try to publish a few articles in good journals, get acknowledgements by helping others in their research and find new knowledge, get patients, register products/ protocol or do anything noticeable during your research work. 
Read more: What are the Differences and Similarities between MPhil vs PhD?
The expertise or skill of a researcher: 
"By experience, you get expertise in a subject, technique or method."
Research, development and diagnostic fields need expertise on a topic, technique or method. You become an expert only when you master some skill or technique.
Expertise is something that only you know, only you can perform and you can troubleshoot the problems, no one else. By making it a base you can ask for more salary.
PhD work is all about doing research, getting experience and mastering a skill. So When you master a skill- gain expertise, trust me you demand high payscale at where your expertise matters.
Let's take an example,
Suppose, you have a good hand in DNA sequencing, reagent preparation and handling instruments. You even know some troubleshooting and how to repair errors in machines or software.
You can ask for more salaries at where a DNA sequencing technique is more used. And they will pay you because on behalf of that they will get an expert hand, technical person and troubleshooter.
The bottom line is, sharpen your skill or expertise to 'cash in' in terms of salary or earning.
Position at workplace:
In government organizations, big companies and organizations pay scale and salary is decided by the position a person holds. As I said, higher positions are reserved only for doctorates, by getting a PhD, you can earn more or get more salary by holding utmost positions at the job place.  
Field of work chosen: 
You can't expect $2,00,000 per year as a lecturer! But you can, if you are a grade 1 scientist in virology, genetics, biotechnology or space science.
What salary you get depends on where you work or what profession or work field you choose. Usually, the salary of a lecturer or professor is lower than a researcher or scientist working in an organization or company.
Note that independent scientists, entrepreneurs or startups can even earn more or less. As the job responsibilities and field of work vary, the pay scale also differs.
The economy of a country:
Your country's economy has a massive impact on your salary. It isn't noticeable, the effect can be seen. The salary of a PhD degree holder is lower in developing or underdeveloped countries in comparison to developed countries.  
For example, a bottom pay scale for a lecturer in the USA is around $20,000 (14,60,000 INR in India), while in India, it is 3,60,000 INR (~$4931 in the USA), yearly. It is even lower in underdeveloped countries.
If you have done a PhD in the USA, UK, Canada or Australia, probably you may earn more or get more salary than others.
Here we have enlisted PhD salaries for some popular subjects in the USA. 
Read more: How much does a PhD Degree Cost in the USA, UK and India?
Salary of various PhD:
| | |
| --- | --- |
| Subject | Salary per year |
| PhD in biology | $90,000 to $1,15,000 |
| PhD in psychology | $38,000 to $2,00,000 |
| PhD in marine biology | $62,610 to $1,21,335 |
| PhD in education | $69,000 to $1,05,000 |
| PhD in agri-bio | $39,000 to $84,000 |
| PhD in fine arts | $15,000 to $30,000 |
| PhD in nursing | $65,000 to $95,000 |
| PhD in Genetics | $68,000 to $1,59,000 |
| PhD in biotechnology | $79,000 to $82,000 |
Tips to get a higher PhD salary: 
If you are a newbie, or just completed your PhD, HR of companies or organizations will trick you to pay less. You should have to be careful and confident while facing an interview.
First, research the market rate and salary scales of your field or subject. Get ideas regarding the bottom and top payscale of your field.
If possible, collect information of experts, their work, expertise and portfolio and how much they earn; based on that prepare your portfolio, background, expertise and decide how much you want.
Secondly, decide the path or career which is the highest paying option for you.
Another point is the work location. Study the work location, suppose if company A offers you more than company B but is far away from your hometown and you have to commute daily, i think that deal isn't work.
If company B offers you less salary but is near to your home town, trust me it's a best deal. Ultimately you save more money.
Fourth tip is, show off your work, research background and skills. Explain to the interviewers how those will help their company or organization. Give them a strong reason why they recruit you and pay high.
Try a healthy negotiation. If you are confident that they need you, don't lose it, tighten your belt and straightforwardly say "no", if you think the deal isn't for you.
They will call you later if they need you. You need to confidently stick with your offer, if it is fair enough.
These are some of the tips you can use while deciding salary during an interview. 
Further read: PhD Application Process and How to Write a PhD Application.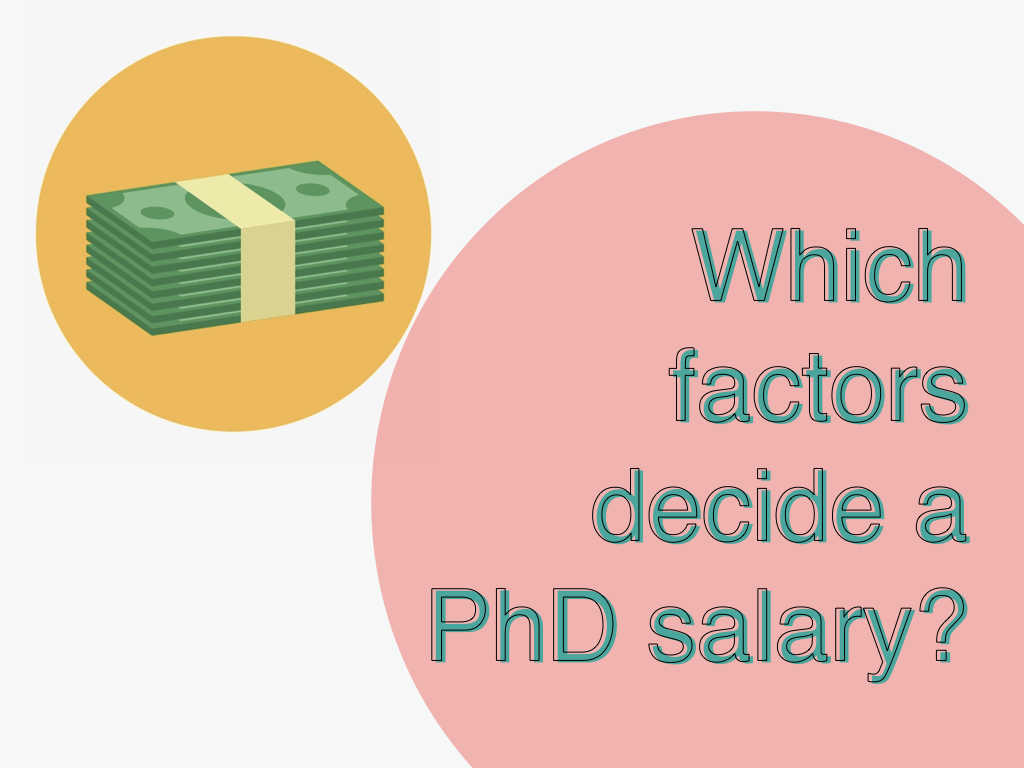 Conclusion:
Completing a PhD doesn't mean that the work is done. You have to do more in order to get a decent salary. As we said, though getting a doctorate isn't so easy but people are doing it. So it isn't an impossible task.
What you have to do is get some experience, sharpen your skills or expertise and publish work. Find a best option in which you wish to pursue your career and will go long with.
To get paid more, don't shift career, for instance, if you wish to go with academics select it and don't switch it after a few years. If your interest is research go there, even though your initial pay scale isn't so handsome.
Success can't be gained overnight and so salary is! You will have to show your performance, potential and power to work. This means a PhD degree alone isn't enough for a decent lifestyle.
"Give a bit of time, things will get better over time."
Some FAQs: 
Does a PhD increase your salary? 
Definitely. A PhD degree successor gets paid more than any other. The salary pay scale of a doctor of philosophy is higher than master's.
How much does a PhD add to earning? 
That depends on many factors that we already have discussed. How much PhD adds to your existing salary depends on your position at your workplace, experience, your expertise and research background.
How much does a PhD researcher make? 
A PhD degree holder can earn more if they select research as their career. Yearly $20,000 to $50,000 more to their salary a PhD researcher earns.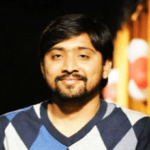 Dr. Tushar Chauhan is a Scientist, Blogger and Scientific-writer. He has completed PhD in Genetics. Dr. Chauhan is a PhD coach and tutor.