A brief elaborative assay, findings or original research work showing either positive or negative interpretation in a written form is known as a research paper.
To publish a research work or research paper is yet another important criterion to award a PhD degree. After all, it is the uppermost academic honor. A common question prospective PhD students ask on the internet is "how to write a research paper", "how to publish a research paper in a peer-review journal", "how to write an introduction for a research paper" etc.
In order to pursue the PhD degree, students have to complete coursework, research work, thesis writing, publishing an article and defending the thesis. Those who fail to complete, can't go ahead. So from the first day when you start your PhD, you should know that you will have to publish a research paper sooner or later. 
Publishing an article or research work in a peer-review journal needs at least some intermediate level writing expertise. One should have to write according to the style and requirement of a journal.
Peer-reviewed journals are reputed and professional and hence accept only high-quality research work and writing assignments. Until students understand the key things publications want, they will pay for it. It is better to find a way to publish a research paper, rather than paying for it.
In this article, I will explain to you some proven ways, you can say it "tips" that may help you to publish a research paper.
Try from beginning
The writing style of a journal  
Structurize your article 
Things must be there
Importance of abstract 
Cite every bit of information 
List references 
Discuss recent finding
Final interpretation- conclusion 
Avoid common writing mistakes 
How to write a Research Paper?- 10 Things to know
Try from the beginning:
The first thing prospective candidates have to do when starting their doctorate is to study or read related literature to their research topic. From that day, start writing a research paper. I know, you won't research anything but first, publish a review article.
A review article will help you in many ways, first, you will gain experience of how you can publish an article. Second, your 70% of the review literature portion will be completed and third, you may start your research work soon because you have done substantial work to start experiments.
Understand the writing style of a journal
Writing style varied from journals to journals and so the citation and referencing methods too. Though abstract, introduction, material & methods, results and discussion, interpretation and references are common in almost every journal style.
Journals have different citation and referencing styles, depending on what a writer has to write and submit their article or research paper.
Pro tips: If you write an article as per the need, requirement and writing style of a journal 80% of your chance of getting published will increase.
Some popular and common journal styles are:
American Psychological Association (APA)
Modern language association (MLA)
Chicago: notes and bibliography
Chicago: Author and date
Chicago humanities style
Harvard: Australian style
Harvard: Author-Date Style
Check out this box to how you can use those styles: 
American Psychological association technique (APA):
Chauhan, T. N., Patel, R. K., Suthar, J. V. (2018). Genetic status of Eunuchs- A review. Clinical Biotechnology and Microbiology, 2(5), 472-484.
Modern language association (MLA)
Chauhan T, Patel R and Suthar J. "Genetic status of Eunuch -A review." Clinical Biotechnology and Microbiology, vol. 2, no 5, 2018, pp. 472-484.
Chicago style Bibliography:
Chauhan T, Patel R and Suthar J. "Genetic status of Eunuch -A review." Clinical Biotechnology and Microbiology 2(2018): 472-484.
An article citation style also varies that you can learn on the internet. Apart from the citation and referencing style, writing style (one-column or two-column), font style, font size, placement of image and other things also vary.
You can read the policy page or rules of publishing the article page on the official website of the publisher or journal. It's an easy thing to follow their style.
Note that a sample article editable article style is also there on their website, you can download it and use it to start writing.
Structurize your article:
Publishers or journals are also taken into consideration, the structure of the article, means, how you have bifurcated your article. A common thumb rule is to use abstract, introduction, material and methods, results and interpretation in the article, along with bibliography at the end.
This structure is widely accepted by almost all journals, however, it may differ as per the requirement of the journal and your article as well.
For example, if your article is review- literature, probably material method or interpretation section can't be there. If you are publishing a case study, you need to include a case history too.
Article's structure is crucial to be accepted, unstructured research articles can't create an impact on the reviewer to publish. You need to fragment every bit of information as per the topic headings.
For example, some common information is included in the introduction, which technique or chemicals you have used, should be there in the material method section, other related review or literature should be there in the discussion section.
To learn more on how to structure your article, read the related published articles in a journal you wish to publish.
Things must be there
As I said, the Abstract, introduction, material & methods, results & discussion, conclusion and references must be there in a research article. In addition to this, Acknowledge others who helped you. Add funding information too.
Acknowledgment and funding information should be inserted at the end of the article, after the bibliography.
The common formats for various type of article are as followed;
Research article: Abstract, introduction, material & methods, results & discussion, interpretation, references and acknowledgment.
Case study: Abstract, background, case history, material & methods, results & discussion, interpretation, references and acknowledgment.
Review article: Abstract, Introduction or background, Applications, future prospective, final remark, references and acknowledgment.
Note that the structure may vary for book chapters, conference papers, presentations or magazine articles.
Understand the importance of abstract:
The abstract is an uncited, 250 to 400 words long writeup or a brief summary of the article. Usually, students avoid structuring an abstract, even though everything is excellent, their article can't be accepted, the reason is inappropriate or poorly written abstract.
The abstract is a portion or preface explaining 'what you have done' in your research and article. Again the style of abstract may fairly vary depending upon the journal you choose.
A direct, single paragraph and shorter abstract having results included is a common choice for many, nonetheless, some prefer sectioning such as background, material & methods, results & discussion and conclusion in short. 
Note: your abstract shouldn't be longer than 400 words.
Cite every bit of information:
Huge information the internet possesses, some are correct, rest isn't! Making information correct, trustworthy and liable is crucial. Academicians and researchers trust those data, which are cited.
Citing a sentence, article, information or data means you are providing authenticity and a source from where you have taken it. However, that doesn't mean copying that portion directly from others.
Citation makes the article free of plagiarism and authenticates information. Moreover, citation methods vary from publisher to publisher depending upon which technique they generally use.
Citation is added at the end of the sentence, after the end of the page or after the end of the paragraph by mentioning the first name of the author and year of publication. 
---
Related article: How to Check Plagiarism for PhD Thesis?- Top 10 Plagiarism Checkers
---
List references or bibliography:
Referencing is crucial to publish an article, much like the references. It fairly shows from where you have taken information, readers can use to verify.
Various formats of references we already have discussed somewhere in the article.
Follow rules, instructions and style of the journal to elevate acceptance chances. Usually, references are enlisted at the end of the article, chronologically- as per the citation provided or alphabetically.
Again it depends on the writing style of the journal. Common reference text includes name or names of researchers, year of publication, the title of the article, name of the journal, volume number, section or portion number and page numbers.
If the journal articles are available online, DOI is also indicated at the end of the reference.
You can list references, alphabetically, numerically and chronologically as per the citations. Most journals prefer the last method in which bibliography is enlisted in chronology as per citations.
Mendeley an online citation and references management system helps you to do so. You can read about it here: Mendeley- an online citation platform.
If you wish, common below, we will cover a separate article on Mednely, how to use Mendeley MS word extension and other options.
Discuss recent findings:
Your research, findings, discoveries only matter when you compare it with others. The discussion part of the article is so important that comprises recent reviews, research or findings related to your work.
Comprehensively, the researcher shows the positives and negatives of their research in accordance with other findings. This section provides data showing relative comparison with your findings with others. The discussion section strengthens and authenticates your findings.
In addition, it shows loopholes, scopes of improvements and limitations of yours as well as other associated work. The objective to do so is to apprise other researchers and give them future direction for research, especially, in your field.
Final interpretation- conclusion
Write your final interpretations at the terminal of the article (before references) as a conclusion. It shows what you have done during your research and what your final findings are.
As a writing technicality, the conclusion is of a few liners or a single paragraph shows the final remarks of the researcher or PhD student. Don't mention any citation in the conclusion. It is the only original write-up of a PhD student's own.
Let us take an example of this article only,
Conclusively, to write a research paper, PhD students have to know the writing style of a journal, their requirements and criteria. In addition, an article should have common sections like abstract, introduction, material & methods, results & discussion, conclusion and references in which the abstract- a preface of the article is very important.
Students need to read other articles related to this topic and take professional advice to publish a research paper.
Note that do not forget to give future indications, as I have explained in the last sentence.
Avoid common writing mistakes:
Less expected from PhD candidates, common writing mistakes, such as spelling, grammar or punctuation, though happens, can be avoided. Thoroughly read the article and cross-check with your PhD supervisor or guide.
You can use other AI like Grammarly to do so. Grammarly is an online platform to check grammar, spelling, plagiarism and common punctuation mistakes from an article. Also, suggest corrections and synonyms as well.
You can read related articles from here: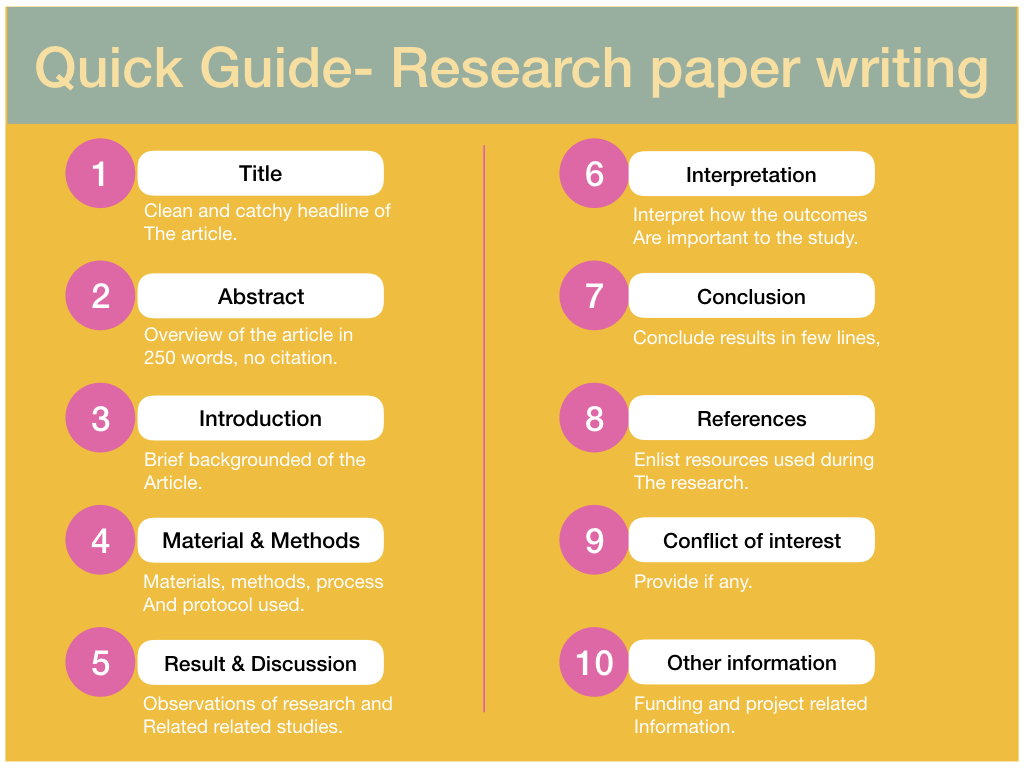 Steps to writing a research paper:
Here in this section, I will explain, step-by-step guide from beginning to publishing your research article in peer-reviewed journals.
The very first step when you start writing a research article is to decide on a working thesis statement which is something concise and one-liner. It should show the overall idea behind doing research.
For example,
"Evaluation of COMT gene polymorphism using PCR."
Here the thesis statement indicates the researcher's work area that is the COMT gene, purpose (studying polymorphism) and methodology (using PCR technique).
After deciding a thesis statement do not forget to verify it to your guide or PhD supervisor.
Next, collect the information from your thesis or other research that you would like to include in your article.
After that, make an outline of your research paper by structurizing it in different headings,
A title page- having a thesis statement
An abstract- 250 words overview of the whole research
Introduction- general introductory information of the topic
Methodology- materials, methods, techniques and chemicals used
Results and discussion- final results of PhD study supporting other relevant documents, research or findings in the form of arguments or discussion.
Conclusion- a one-liner to show your final interpretations.
References- sources you utilized to write this article.
Try to write an article in the section given in the outline for research paper writing above.
The outline for the article explained above;
Working thesis title- "Evaluation of COMT gene polymorphism using PCR."
Outline of research article: 
Thesis title
Abstract
Introduction

Definition of COMT gene
Location and polymorphisms related to COMT

Material and methods

Chemical and utilities
Polymerase chain reaction

PCR primer sets for COMT gene
Preparation of mastermix
Performing PCR reaction

Agarose gel electrophoresis

Results and discussion
Conclusion
References
To make your writing more precise you can use grammar checkers like Grammarly or/ and can manually check it to your guide.
Once you are done writing, refurbished your article as per the guidelines or style of the publisher or journal.
Now make more than 3 copies of your article as per different journals and send it to them. Don't rely on a single source. Try to send it to many publishers as per their formats.
If you think that converting articles in different formats is a tougher task try Mendely to our MS word (we will cover articles on it soon) , it automatically adds citations and references to your writing and can convert between different styles.
Recent articles of our blog:
Conclusion:
I think the information that I have given is so important for a beginner in order to write a research article because for beginners it is very hard to decide from where to start. Even sometimes, their guide can't help them correctly.
Writing a research paper especially in a peer-reviewed journal isn't an easy task, one has to write precisely and in a structure.
I hope this article help you.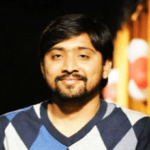 Dr. Tushar Chauhan is a Scientist, Blogger and Scientific-writer. He has completed PhD in Genetics. Dr. Chauhan is a PhD coach and tutor.