"PhD Coaching services are emerging business models which help students complete their PhDs successfully from outside their University. If you are looking for one such service, check out these criteria."
---
Online PhD coaching is becoming popular among students, especially among those who can't give more time to their research, however, while finding some lucrative and beneficial services, students have to face two problems.
Internet Frauds and compatibility of the so-called "PhD coach."
The 'world of the web'— as I always said — is full of fraud and cheaters. Even more so, there are now 'bots' that do tricks by any means. Those who are working in the digital world can catch it, most of the time but others can't!
PhDs are mostly categorized into those— 'others' category; excluding PhD in AI, ethical hacking or computer programming, etc. I'm talking about students doing PhD in life sciences, science, biology and arts.
PhDs are now searching so many things on the web, in fact, now they are more dependent on the Internet to do research, hence, are more susceptible to Internet tricks and frauds.
Moreover, students also have to find the compatibility, authority, and trustworthiness of the PhD coaching service provider, which is even more difficult. Then how can you find one? Here is an article in which I'm going to explain 8 criteria to choose the best PhD coach or coaching services.
8 criteria to select the best PhD coaching
---
Check your requirements
First, before randomly searching for any PhD coaching, do a self-assessment of why and what type of services you need. Ask these questions prior,
What type of service do you need?
Do you need just an expert consultant or more than that?
Do you need someone who can guide you as well as write all your PhD assignments?
Why do you need the service?
Are you a busy person?
Are you doing a job? Or lacks tuning with your PhD supervisor?
If your purpose is to groom yourself– more technically, complete PhD in time, and have the budget, you can definitely look for a PhD coach. But wait! Do check their niche and expertise?
Check niche and expertise
The very important criteria you should look into for a PhD coach is his/her niche of working and expertise. For example, If you are a life science aspirant, the coach you are seeking should at least belong to any field of life sciences.
Furthermore, they should have decent working knowledge and expertise on that particular topic or subject. You can ask for their publications or other works they have done previously. You can also check if they are recently involved in some relevant research/project or not.
Above all experience counts!
Check experience
The PhD coach should have previous coaching experience as well as experience in their field of expertise. This criterion helps you to make up your mind about the option you choose. You can check their testimonials.
Check their website
Perhaps, you would search for the service online– on the Internet, most probably. As I aforementioned, by looking at their website, you can avoid fraud or cheating and find the best option for you.
Check the overall feel of the website, if it looks professional or not.
Check their "about us" section, their philosophy of working and their team members.
If they accept payment on the website, check if it's secure to give personal information or not, for example, the SSL certificate or HTPP lock.
Check if they have a disclaimer and privacy policy page on their website or not.
These are a few standard and important criteria every professional website follows. So you should have to look for them too.
Their blog
In this digital world, nothing is free, we know that. However, providing free content adds value to the service provider and students/clients. That's the legit way to interact and connect with the readers or customers.
Check whether the coaching service provider's website has a blog section and there they provide some value-some information or not. Or are they just looking for customers?
Through blogs, you can know their philosophy, experience and eagerness to interact with students and that's more important than just providing services. By reading their blogs you should feel good.
The PhD coaching service provider should have a blog where they should actively provide knowledge and valuable information to PhDs.
Check their background information
Yet another important point you should have to keep in mind while searching for a PhD coach is the background information. The coach should be searchable. You can find them on the Internet, LinkedIn or at least Facebook or Instagram. Check out my profile here.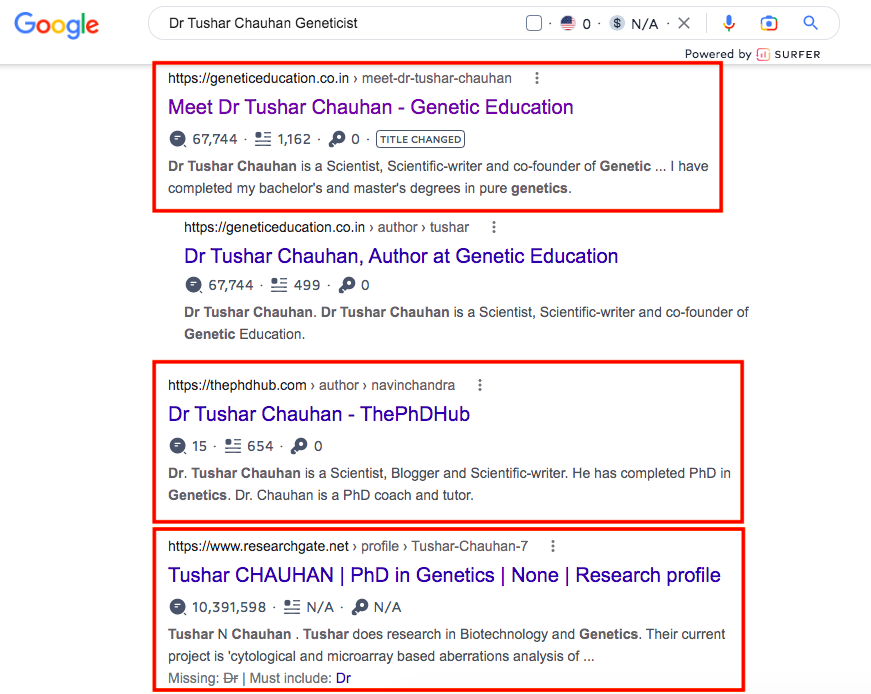 When you search my Name "Dr Tushar Geneticist" You can get all my profiles.
Such practice gives you the confidence to buy a service because you know that the coach is legit, has some experience and you can contact them in case of a problem. Experts don't hide their identities, and if they do, be careful.
Moreover, also look for the background information of other team members of the service provider.
Check terms and conditions
No one wants terms and conditions on their purchase, but you should. Why?
Having terms and conditions clearly demonstrate that the company or service provider has their own ethics of working. In addition, they also have previous work experiences and based on that they have given limitations in the form of T & C.
And it's a good thing because they give clear instructions, in which conditions they will work and in which conditions they will not. That's why it is important. Do check it, first.
Check trustworthiness
Every PhD coach should have the art to develop trustworthiness and conserving till the very end.
Trust is everything. PhD coaching involves lakhs of investment and at least 3 years, so there must be a trust bond between the coach and the student. From the students' perspective, they have to check if they have a trustworthy attitude or not.
Also, look at how they are talking with you, and how you feel while talking with them. Are they just trying to convince you like other clients or have a soft angel and respect for you and your opinion?
I know it's difficult to notice at first conversation but do repeated discussions with the coach about your research, vision and how things would go, and you will get an idea.
Read more:
Wrapping up
PhD coaching is indeed the toughest business. As an online PhD coach, I know the challenges and problems we have to face. So also avoid doing this during this process,
Don't judge too quickly.
Don't look for the coach, who exactly belongs to your topic.
There're a few PhDs doing coaching. Use their knowledge and experience.
Count their experience, not their area of interest all the time.
Services like PhD coaching include a huge amount of money and time, therefore, it's also difficult for the PhD coach to maintain their trustworthiness and patience during the entire tenure. I hope this article will help you to choose the best option for you.
One last note: if you are a student of life science and looking for a PhD coach, keep in mind, I'm an option too. Please send your queries here: thephdhubthesiswriting@gmail.com.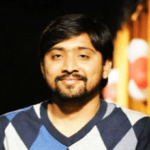 Dr. Tushar Chauhan is a Scientist, Blogger and Scientific-writer. He has completed PhD in Genetics. Dr. Chauhan is a PhD coach and tutor.