"Doing research in science is my passion. But my Mom and my husband wanted me to become a doctor. That's why I badly needed this degree." 
---
Stories always inspire people to 'move on' in their life. There are many PhD stories around us that are— inspirational, challenging and tough. But no one is talking about it. Every PhD needs inspiration as well as experience to carry on.
We just realized this scope and started a new segment on our blog– 'PhD stories.' Our team is searching for inspirational PhD scholars and by this, we will publish every story for our readers. This week's inspirational PhD scholar is Khushbu Trivedi.
Khushbu Trivedi was a PhD student from Jaipur Engineering College and Research Centre University, Jaipur, Rajasthan. She started her PhD in Feb 2014 and just completed her viva in Dec 2022. 
Her viva was excellent and she is expecting the degree in June 2023. She was a research student of medical science. Her research topic was "Detection of Oseltamivir Drug Resistance in Seasonal and Pandemic Influenza A 2009 H1N1 Virus.
Here is a part of the discussion between me and Khushbu.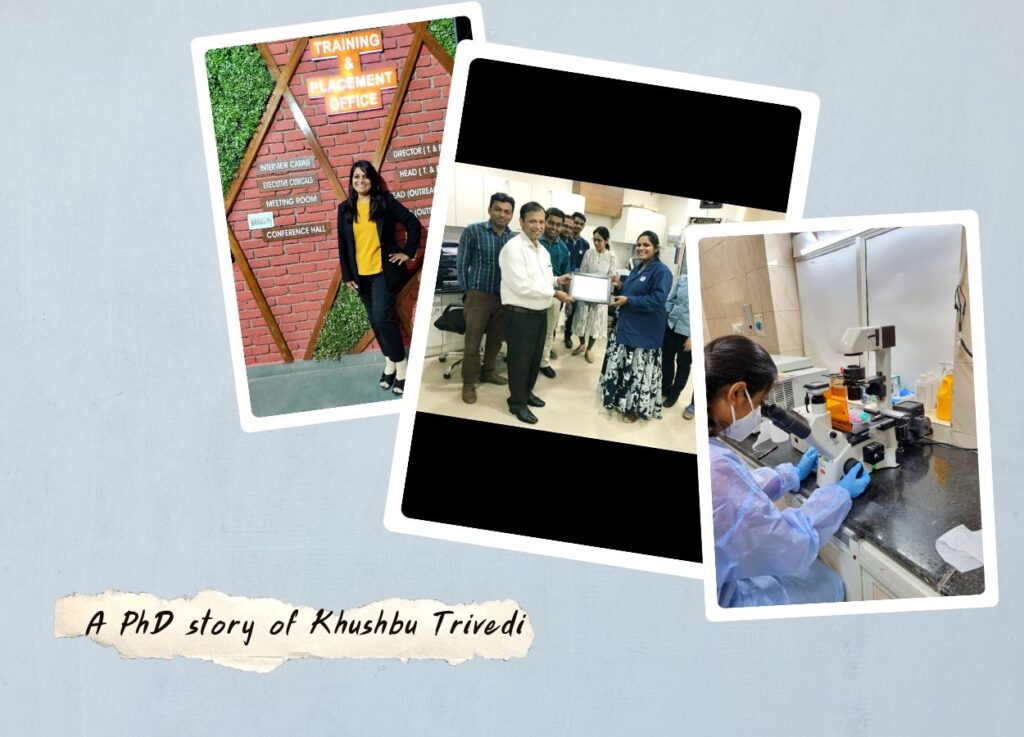 So Khushbu, how are you feeling now?
Great Dr., and feeling relaxed too. It was such a long journey for me from 2014 to 2023, it has been 9 years. There were more 'downs' for me during the journey than 'ups'. I had almost given up. Fortunately, I found you and everything started to come alive again.
Me: Thanks Khushbu, Please share your thoughts more comprehensively.
Khushbu: So I completed my wet lab work in late 2016. But things were stuck there. Then after, I couldn't go ahead in my professional PhD journey. I was trying but everything stopped. So I got married. And started a job.
I almost forgot that I'm still doing PhD. It was an unnoticed anxiety for me when it did strike– suddenly, I felt nervous and worried. Now, I'm feeling relaxed, happy, and confident about life, and doing my best to become a good scientist.
What are the problems you faced during the journey?
Many, certainly. From a personal, professional and social point of view.
Me: So marriage is one among those many problems?
Khushbu: Ummm, not perhaps. Getting married wasn't the limitation for my PhD. In fact, my husband always forced me to complete my PhD, and my mom did too. The main problem was COVID.
But before that, my pregnancy was the problem and I couldn't work for my PhD. That for me was still not a problem. I had to rest and remain calm, you know— about the pregnancy concern!
Me: I can understand.
Khushbu: Let me tell you that I was 9 months pregnant and got the award of the best employee at my workplace. So I know I was hard working. But the PhD was still there. COVID– those two years 2020 and 2021 had definitely destroyed everything and my hope for PhD too.
So certainly that was the biggest sock for me. Besides, I couldn't give time for writing, lack of proper writing skills, parenting, marriage responsibilities, etc are some of the problems I faced.
Me: So your hubby inspired you. Tell me,
What is your motivation for continuing your PhD?
For doing PhD— I am interested in research. That's my motivation. But as I said, my husband and my mom kept pushing me. My mom always wanted me to become a 'doctor.' So she was forcing me. "Khushbu, what about your PhD? When will it be completed? Are you doing anything or not and so on."
But my husband was very serious about my doctorate. In fact, he was very much worried. At dinner, he always reminded me, "Khushbu do something, anyhow you have to complete your PhD. Ask someone to work on your behalf. But don't leave it".
We finally agreed that we will invest some money, and I will hire some experts who can guide me– from outside and help me out writing the PhD thesis. Then I found you. Not me actually, Dr Jigar sir gave me your contact. 
Me: Don't admire us all the time. It's your interview, otherwise, people will think that we are doing marketing. (we both laugh).
Khushbu: No But that's true. Tell me after getting a prestigious PhD degree, who quits doing the job and helps students?
Me: Dr Tushar Chauhan.
We both chuckle.
Me: Nice. So you are trying to tell that rather than getting inspiration from people, videos or anything, the support from your loved ones inspires you more.
Khushbu: Exactly. The reason for success is my loved ones, at least for me.
Me: The conclusion you are trying to draw is that when your family supports, pushes and inspires you to achieve your goal, it's the best motivation.
Khushbu: Yeah, the real and valuable inspiration. I had decided that I would finish my PhD, by anyhow.
Me: So determination was your inspiration.
Khushbu: Right, the determination was my inspiration, perhaps. and still is too.
Me: That's amazing. Students should have to understand the importance of family values not only for our lives but also for our future and career. When a mom and husband support a woman they can achieve anything in life. One last question. 
What is your future career goal?
I want to do research. And of course, you too inspired me and made me understand to learn new skills. Right now I don't have any specific career goal but yes, I will love to work in the diagnostic sector, as I have experience in it.
I will learn new skills like writing, doing research, research techniques, technical things like sequencing software, etc and choose my path accordingly.
Me: Ok Khushbu. Thanks, for giving us time for this segment. I hope students will learn from you.
Khushbu: Thank you so much for covering my story. And a big thank you for becoming my PhD coach and helping me out until the very end.
Wrapping up
So, friends, that's all for this story. I hope you have learned so many things from Khushbu. She will become a 'doctor' in a few months. She invested almost 10 years and waited patiently. So the learning is, great things take time.
Do your work with patience. Things will go well in the end.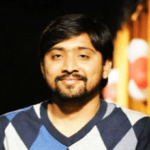 Dr. Tushar Chauhan is a Scientist, Blogger and Scientific-writer. He has completed PhD in Genetics. Dr. Chauhan is a PhD coach and tutor.