"The Web is full of essential as well as scrap websites and tools. The difficult task for students is to find the important one, without compromising their personal, professional and research information. I'm giving you a list of essential websites and resources for researchers and PhDs."
---
PhDs have comprehensive knowledge on a specific topic or field. Oftentimes, when they search for lucrative websites or resources; most of the time, they land on either scrap websites or nothing important.
They want to make their PhD life easy using tools, websites or resources, but publishers trick them to see lists that are either for PhD programs, scholarship programs or something else. I personally find it difficult while doing research for this article.
The second thing is, they lack knowledge about where they can find useful resources. However, there are certain websites that make your life easier if you know about it in your early life of PhD.
You may have to search literature, find information, gain knowledge, write articles, publish papers, and prepare images, charts or interactives. For all such tasks, you have to use different websites or tools.
I have divided this article into three parts. In this part, we will discuss only websites and resources while in the upcoming two parts, we will discuss important tools and apps. So here are 20 amazing websites or resources for PhD students.
20 Amazing Websites and/or Resources For PhD Students
---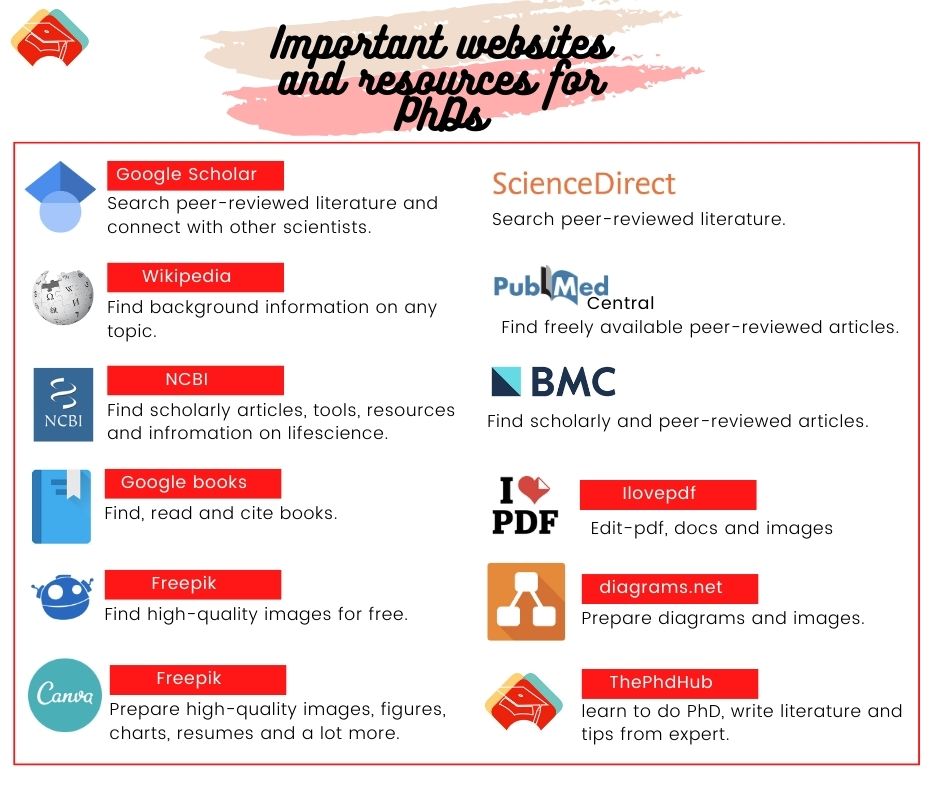 Google Scholar 
At the very beginning, researchers should know about Google Scholar. It's a search engine dedicatedly prepared for research students and scientists. What can you do with it?
You can find peer-reviewed articles
Make your own profile
Upload your publications
Save and share articles
Check your citations matrics
Connect with other scientists
Google Scholar is Google's product, safe to use and easy to navigate. I have already written an article on this topic, you can read: 7 Ways to Find Peer-Reviewed Articles On Google.
Google Books
Yet another impressive product from Google is Google Books. It comes up with a simpler and more impressive look, type a topic name on which you want a book in Google books and you get thousands of options.
When you click the book, you get information like:
ISBN number
Name of the publisher
Number of pages
Other editions
Name of authors
Keywords
The availability of the book on other platforms
Most importantly, we can generate citations there and use them in our thesis or paper directly. I know there are many sources available to purchase books but Google Books is the most trusted, authentic and viable option for PhDs.
Wikipedia
There's a misconception among research students that Wikipedia isn't a trusted source to find literature. Let me tell you that, it's partially true, how? First, it is the best place where you can get any information regarding any topic.
Wikipedia gives amazing background information regarding any topic and is too peer-reviewed. On the other hand, it's difficult to understand basic concepts from research papers, directly. So, students have to start with Wikipedia.
Search anything on the Wikipedia search engine, read it and understand the concept. From my personal experience, Wiki makes concepts easier to understand.
Science Direct
(We are almost going in sync).
When you type any topic into Google you will get two topmost results, one is from Wikipedia and the second is from Science Direct, mostly.
ScienceDirect is a great place to find peer-reviewed scientific literature. The best thing about this website is, when you open it, it shows results as a "compilation" of abstracts for a topic. You just have to quickly read it, click the paper you want and go there.
It makes the reading task so easy. The target audience for this website is students from various fields of science as well as scientists.
NCBI
The full name of NCBI is National Centre for Biotechnology Information and is run by the NIH- National Library of Medicine. Any life science student should know about the NCBI from day one of their research.
It's a huge database for life science. It contains
Resources
Database
Tools
Data
Methods
Portals to submit data.
Researchers can submit their data to NCBI and make them accessible to other scientists. Keep in mind that the data and other information present there on NCBI are sensitive. You can get information about any organism and anything associated with that organism.
NCBI is a huge portal, students have to learn to use various tools and information present there.
Biomed Central
Biomed central is yet another website to find scholarly literature and peer-reviewed articles. It's a part of Springer-Nature and provides high-quality journals, resources and literature for peers and scientists.
Moreover, you can explore journals from various fields and get published there. Biomed Central is yet another resource like Science Direct.
Microsoft Academic
Application: Find resources related to your topic.
Microsoft Academia is a search engine from Microsoft. It not only provides peer-reviewed articles but also news, blog posts, videos and even podcasts on one page. Meaning, you can remain updated with your subject or topic.
Notedly, it's not the platform to find scholarly articles, but you can get 'around' the information on your topic. So you can know what's going on around your topic.
Science.gov
Before writing this article, I didn't know about science.gov. It's a kind of semi-search engine from the US government science information. Interestingly, it gives us information categorized into- text, multimedia, data and public access.
I don't know how you will use it, but it's definitely helpful to research students. I will learn it, use it and come back to you; if it would be helpful. Give it a fair try.
PubMed Central
PMC- PubMed Central is an important website for PhD students as it provides free full-text articles available on your topic. It has the largest number of article databases that students can explore. Not only that, students can download articles, generate citations and search related queries.
PMC and NCBI are two websites that every science, biology and life science student has to know.
JSTOR
JSTOR is a non-profitable organization that provides information in various fields. It's also a type of search engine for scientific literature. Students can find primary resources, literature, images, journals and even books.
You can find information on your topic in one place, but the amazing feature that it has is the 'images'. A dedicated images feature of JASTOR shows thousands of images for your topic from various resources which are sometimes not present on Google Images.
Digital Commons Network
Yet another search engine to find various research is the Digital Commons Network. I didn't find anything 'out-of-the-box' for this website. You can give it a try.
Now besides finding literature, there are other things students also have to do during PhD, for example, preparing diagrams, generating citations or editing Pdfs. Here is a list of some more tools that help you with this.
Diagrams.net
Diagrams.net is an online website that helps you in preparing diagrams, charts, flowcharts, images and other multimedia for your thesis or research. I am planning to prepare one tutorial for this. And if possible I will upload it here. So that you know how to use it.
Ilovepdf
Ilovepdf is my personal favorite website. Let me tell you that we can do so many things that usually you can't do. It's a specialized website that can help you with your doc. You can convert your docs, for example,
Doc to pdf
Jpg to pdf
Ppt to pdf
Excel to pdf
Html to pdf
And vice versa.
You can compress doc or pdfs, split it, merge it and edit them. You can even edit your final thesis draft in the form of a pdf. You can even add a page or delete one or edit some part of the text. Isn't it amazing! I strongly recommend using ilovepdf.
Freepik
Now, you need images, illustrations and gifs for your presentations and other work during your PhD. But finding copyright-free images is a hard task. Freepik is one such website, from where you can download images for free.
The images in the freepik database are high-quality and freely available. You can use it and make your presentation more impressive.
Canva
Yet another great place to prepare images, figures, tables, datasheets and many other interactives for your thesis is Canva.
Canva is super easy to use and has many templates for doing so many things. You can do
Presentation
Resume
Datasheets
Images
Figures
And a lot more. I strongly recommend visiting Canva once.
Wrapping up:
I know these are not 20, but timely I will add more websites to this list and complete it. The reason is, I want to give a useful and beneficial list not a list with repetitive and unuseful things. One more thing I want to add, these websites are free to use.
I hope this article will help you. Do share this content in your research group and bookmark the page. Still, then you can read this article to learn more: 7 Must-Have Thesis Writing Tools.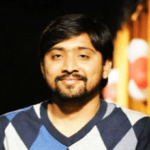 Dr. Tushar Chauhan is a Scientist, Blogger and Scientific-writer. He has completed PhD in Genetics. Dr. Chauhan is a PhD coach and tutor.