Writing an application for PhD and applying for PhD are two different things one should know. An application has been submitted to the university once an applicant has applied and approved for the PhD program.
Things are online in recent times, from applying to the post to submit the payment, all things are online and on one click! PhD application process is also following the same pattern and students can get notifications as well as apply online for various PhD programs.
But it is very important to know that for a PhD one also has to submit an application offline as well, after completion of the online evaluation. During the personal interview session, an applicant must have to carry an application form as well as a letter with them.
The present piecie of article concentrates on the process of PhD admission and what one should be required to do.
Related article: What is a PhD? – A Guide for Novice Students.
PhD application process:
The process of PhD application starts early during or at the end of a master's degree where a student needs to select or finalize their area of interest. They have to choose which subject or topic they wish to do PhD and can start applying afterward.
After that, start applying online.
Go to the official website of the university where you wish to do a PhD, go to their PhD or apply for portals. Select the subject of yours- your main subjects like biology, chemistry or physics and open the application form.
Fill in all the important, necessary and required information correctly and submit the application form. Don't forget to print the form. Do (ctrl + P).
Now, your one part of the application is done and the university will send you a confirmation email for your selection. After that you can start preparing for the next part of your PhD application.
Once you get the confirmation email or notification, you will have to prepare for the next phase, you need to prepare an application, research proposal, your CV, and a statement of purpose.
An application for PhD:
An applicant can either write or print the application letter showing the interest to do a PhD to the university. They have to write a letter in the application format having attachments of the application form, degree certificates and other related documents.
A CV:
A student needs to submit a curriculum vitae- an educational one! showing all the true information, achievements, publications or other related information in the CV.
Do not try to make a resume fancy, write in simple language, focus more on the academic achievements rather than others and your research background.
What to include in the PhD CV?
Your personal information- Name, last degree, address, contact information, date of birth, etc.
Your master's overall grade or marks
Your bachelor's overall grade or marks
Degree certificate
Other academic achievements- seminars, presentations etc.
Previous thesis title in case of project, dissertation or MPhil.
List of previous publications
List of thesis or book or paper published
Other academic milestones
Your area of expertise and your area of interest.
A research proposal:
One of the most important things one must carry with the application or in a PhD interview is the research proposal or PhD proposal.
The PhD research proposal is a written draft or overview of your research topic. It shows the background, technique or method and possible outcomes of your research. A good research proposal can increase the chance of getting into PhD.
If you want to learn more about the present topic, you can read this article: how to write a PhD research proposal.
Do not forget to mention references in it.
Statement of purpose:
The statement of purpose or personal statement shows your interest and preparations to do PhD. It should have information on why you want to do a PhD? What are the purpose and future goals? Why have you chosen this school or university? What are your preparations to do a PhD?
You need to fill information that answers this question to give clarity to the research guide regarding yourself.
Three letters of recommendation:
A letter of recommendation is the letter written by someone else- expert, professor or guide under whose guidance you have studied or done some research.
Usually, professional universities seek a letter of recommendation of at least three from your side. You have to convince your previous tutor or guides to writing a recommendation stating your expertise in the letter.
Who can write a letter of recommendation?
Your previous guide or supervisor.
Your professor
Lecturer,
Your HOD of previous department or college
Your boss
Note that all these have done some substantial work in the relevant fields of research.
Scores of English language test:
In case if you are applying to the PhD program in another language or country, you need to clear a language skill test, for the USA, Canada and UK; IELTS and TOEFL scores are considered to apply for PhD.
Guide's recommendation letter:
If you are already studying in the same university where you are applying or under the supervisor or guide of the same university, you can continue under their supervisor, possibly possible.
In that case, your supervisor for PhD is already decided and you need to submit a recommendation letter from the supervisor's side. A supervisor or a PhD guide writes a letter to undertake you for the phD tenure to the university.
These are the important things one must carry with them during the PhD interview, besides, below, the enlisted document must be there in your file.
Your original degree certificates,
Print of your publications
Transcript for university migration
Standardized test score if applicable
A test score of language proficiency in case of international PhD.
A print of the application form.
The receipt of the fees
Guides recommendation letter
All these documents you have to carry with you during the application process and submit to the university.
Read more: 11 Questions to Ask Yourself before Studying PhD.
Time duration for PhD application:
The common process for applying for a PhD starts every year at the beginning of new semester, note that it's not available for all courses. For instance, if there are no vacancies in guides, universities can't advertise for the subject that year.
After the advert for a PhD position, students can apply during 10 days or a week for PhD positions. Although the criteria for duration decided by the university.
A student can submit their application within 10 working days after the advert goes live.
It is very important to quote that the previous research publications and research background is very important to get admission in the PhD. If you have so, you can get extra credits.
The last step of the PhD application process is the personal interview at their university appointed expert's panel to evaluate your potential to do PhD research. Once you have completed and selected, you have to submit fees for the first semester and coursework to the university for confirmation of your admission.
After that, your journey for PhD will begin in which you have to complete coursework, write a PhD thesis, do extensive research, publish a research article and defend the PhD thesis in 3 to 7 years of PhD tenure.
If you want to learn more, you can read this articles of our:
Conclusion:
PhD application is not like applying for a job like thing! You have to be professional and show things that are needed. The PhD application process is straightforward but is a bit complicated, you have to learn it, how to complete every milestone, we have written tons of articles on it. You can read it here on our blog.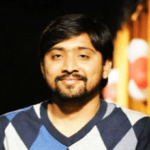 Dr. Tushar Chauhan is a Scientist, Blogger and Scientific-writer. He has completed PhD in Genetics. Dr. Chauhan is a PhD coach and tutor.