Writing a project/research/PhD proposal for life science, which includes biotechnology, microbiology, genetics and allied subjects, is certainly a different task. It often needs exposure to scientific writing and additional skills regarding the subject.
---
Students' PhD endeavor starts by preparing the project or research proposal. It actually shows your interest, knowledge and planning for the project. An inadequately written proposal is immediately rejected by the supervisor. 
Frankly speaking, students often prepare their project proposals to impress their guide, instead of showing their knowledge and interest. In addition, some students with knowledge fail too. In either scenario, the reason is clear.
Lack of academic writing experience.
Additionally, when we are talking about life science like pure research subjects, things become even more complicated. One has to demonstrate their writing, research and even experimental skills in the proposal.
Thus, it becomes important for students to understand how to write such a piece of academic write-up before doing anything else. I got my doctorate in one of the life science subjects, then moved to the academic writing field to solve our life science students' problem of academic writing.
If you are searching this phrase, "How do you write a project/research proposal for life science?" on the Internet and land on this page, you are on the right article and I am perhaps the right person.
So how can we do that? Let's find out.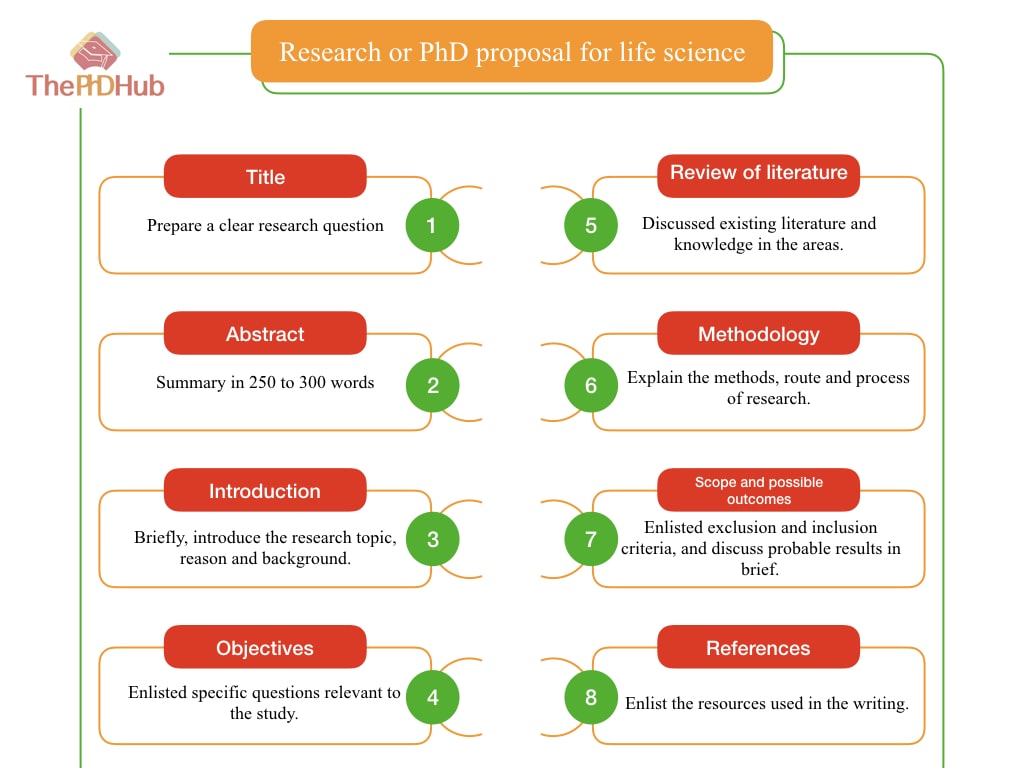 How do you write a project/research proposal for life science?
Every research proposal has some common elements, without which it looks incomplete. Oftentimes, a supervisor checks them first. For instance, it should have a background/ introduction, review of literature, methodology, scope and bibliography sections.
When you blankly initiate your life science project proposal writing, it looks easy, but when it gets rejected or you read things on the internet relevant, it becomes difficult. However, by avoiding common mistakes and following a usual guide, the student can write their own.
At this point, you might be willing to do a PhD, first understand that a life science subject research or project proposal is a different venture than a grant proposal and cover letter. So make it clear that you are writing a research proposal that is the same as a PhD or project proposal.
A life science research proposal is certainly a distinct proposal.
It should have a comprehensive review of the literature section which discusses all of the major points relevant to the research question. 
The research title should be clear, and concise and must show a clear goal, objective, methods and techniques. I have discussed how to prepare a PhD title in our previous article. You can read it there. 
It should elaboratively explain the materials and methodology section. Wet lab experimentation has been significantly involved in life science research/PhD, so beyond doubts, this section must show how the experimental work would go. 
Also, it must demonstrate sampling, analytical and interpretation methods that help to obtain tentative results thereby achieving objectives. 
It should show the scopes of the study and possible outcomes in terms of societal or real-world importance. 
Lastly, Use correct citation and referencing "in-style."
Moreover, Also keep in mind what should not be included here. Because after all, everything is covered within 10 to 12 pages (including references).
Things to avoid:
Give a brief background of the topic. Avoid explaining everything here.
Review associated research, in brief. Keep in mind that it would justify the research question. Do not discuss separate reviews here.
Avoid including every possible utility that you are going to use, for example, glassware, plasticware, and instruments, etc. Discuss the SOP, route or road map using which the objectives will be achieved.
Discuss the method which you have selected, not the technique, in the long run you might have to change the technique. For example,
| | |
| --- | --- |
| Avoid  | Use  |
| We will use students' P-test and chi-test for our study. A Nested-PCR will be used to discriminate alleles.  | We will use common statistical analysis to interpret the results. PCR amplification would be performed to discriminate alleles. |
Avoid giving a clear statement regarding the results. Instead, enlist possible outcomes. For example,
| | |
| --- | --- |
| Avoid  | Use  |
| The present research work will show the role of BRCA genes in breast cancer. | The present research work will demonstrate if the BRCA genes are linked to breast cancer or not. Such findings will strengthen the present knowledge in the cancer field and help in the prevention of BC. |
Do not claim anything in the research proposal. For example,
| | |
| --- | --- |
| Avoid  | Use  |
| The present research would surely be in accordance with the previous results… etc | Using the knowledge of the previous research, the objectives of the present research would be discussed. |
Research proposal template for life science:
| | | |
| --- | --- | --- |
| Section  | Description  | Pages |
| Title | Postulate a clear, concise and descriptive title. | 1 |
| Abstract | A 250 to 300 words small summary of the proposal. | Half page |
| Section 1: Introduction | Introduce your research topic, give a thorough background and reason to choose the present topic. | 1.5 |
| Review of literature | Explain where your research fits with previous and existing research in your area. Also, try to discuss why this knowledge would help and strengthen the topic in the future. | 2.5 |
| Objectives | Enlist clear objectives/ research questions of the study. It should clearly support your main research question or title. | 1 |
| Material and methodology | Clearly and concisely explain the methods you will use to solve the question. Also, explain the route, hypothesis and ethical and social problems associated with the study. | 2 |
| Scope of the study | Put simply, explain what to include and what not to do in the stud. Define the parameters, restrictions and expansion of the study. | Half page |
| Possible outcomes | Enlist probably results you and your guide would expect from the present study. | Half |
| References | Enlist all the resources used in the project proposal in style. | 3 |
| Work planning | Explain goals possibly be achieved after months, semesters or years. | 1 |
Research work plan:
I have specifically highlighted the last segment because it is very important and must be included in the research plan, however, students usually avoid it or do not even have an idea about it. Surprisingly, I was not aware of it until I showed it in one of my student's proposals.
It is amazing, indeed, even I was impressed! It definitely proclaims your interest and preparation for doing research or PhD. It needs a comprehensive explanation to prepare that I think deserves a separate article. Here I am only giving you the template.
| | | | | | | |
| --- | --- | --- | --- | --- | --- | --- |
| | Sem 1(1- 6 months) | Sem 2(7-12 months) | Sem 3(13-18 months) | Sem 6(19-24 months) | Sem 5(25- 30 months) | Sem 6(31-36 months) |
| Coursework | | | | | | |
| Literature review | | | | | | |
| Preparing PhD title and Developing research proposal | | | | | | |
| Research work | | | | | | |
| Progress report-1 (Publishing a review article) | | | | | | |
| Research work | | | | | | |
| Progress report-2 (Publishing first research article) | | | | | | |
| Research work | | | | | | |
| Progress report-3 | | | | | | |
| Research work | | | | | | |
| Progress report-4 (Publishing a second research article) | | | | | | |
| Research work | | | | | | |
| Progress report-5 (Publishing the third research article) | | | | | | |
| Thesis writing and Drafting the thesis | | | | | | |
| Thesis submission | | | | | | |
| PhD viva | | | | | | |
Costume PhD writing services:
If you are worried about your research proposal and still lack the concept of how to do it. Leave it to us. I and My team are experienced life science scientists who can do the job for you. Send us an email on drtusharchauhan311089@gmail.com or thephdhubthesiswriting@gmail.com to get more information. 
We can prepare a costume proposal as per your requirements. Remember, we believe in expertise and our's is in life science. We only accept writing work related to our subject.   
Wrapping up:
Life science subjects need attention on so many things. Their focus would be on lab work and hence they face problems in writing such assignments. Sometimes, only bad writing becomes a reason for rejection. This comprehensive guide perhaps benefits you. Still, if you are not sure, contact us, we will help you.  
Also, take a tour of our blog, my team has written some amazing articles that certainly help you in your PhD endeavors. If you want to share your PhD experience, please mail us. We will publish your journal to motivate others.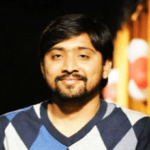 Dr. Tushar Chauhan is a Scientist, Blogger and Scientific-writer. He has completed PhD in Genetics. Dr. Chauhan is a PhD coach and tutor.