The doctor of nursing practice degree is the highest level of nursing degree that prepares nurses for advanced evidence-based practice to improve the overall care system. 
A doctorate degree is a bit similar to a PhD degree- Doctor of Philosophy, instead of providing knowledge in preparing the candidate for professional fields and solving a real-world problem. Professional doctorate provides practice-based knowledge. 
Nursing is one of the most demanding, evergreen and highly popular fields in clinical practices. The reason for that is the ease in absorption and a decent pay scale.
Plenty of career options are available for nursing bachelors. But pursuing higher education in the same makes a candidate more eligible and trained professional in the nursing field.
After graduating from nursing there are two options for candidates either PhD in nursing or a doctorate in nursing practice. Though both degrees are a type of doctoral one but are indeed different.
For instance, a PhD in nursing gives candidacy for improving knowledge in the same field while DNP equips a candidate to practice in the nursing field. If you want to learn more you can read this article: DNP vs PhD in nursing.
In the present piece of article, I will give you information on what is a DNP- doctorate in nursing degree and to get it. In addition to this, information on requirements and available courses are also provided here.
What is a doctor of nursing degree- DNP? 
DNP is one of the most popular degrees in the United States. Graduates with the present degree can use their knowledge of doctorate to improve the patient care system, quality of the service and patient health, thereby increasing the overall patient care experience.
Doctors in nursing have more in-depth knowledge on healthcare, nursing and quality assurance than others. Therefore organizations pay higher to them. They actually take care of patients' health and improvements.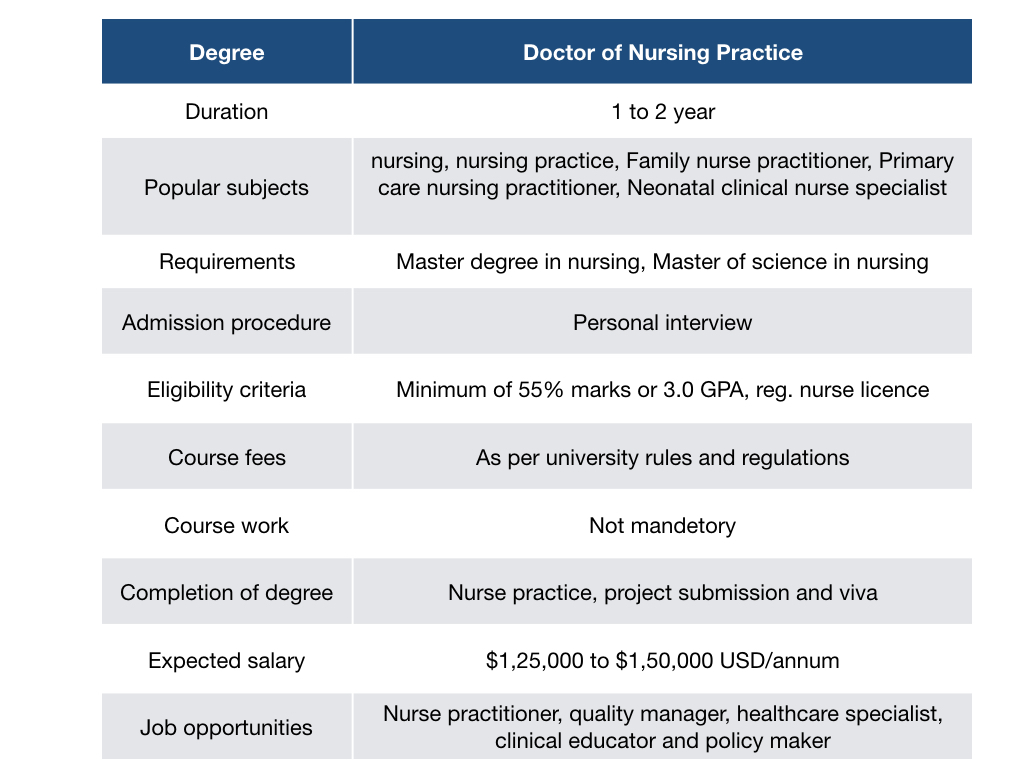 DNP- degree requirements and eligibility criteria: 
Master's degree in nursing or related interdisciplinary field is a mandatory requirement to apply for DNP. Besides, some the important criteria for the degree in enlisted here;
Second class or more or 55% marks in master's degree or 3.0 or higher GPA in the master's degree.
MSN- master of science in nursing or master's in nursing degree from regionally accredited university.
Nursing licence.
MPhil in nursing if required.
Good praactical or nursing training records.
With these some other things should require to get the doctor of nursing practice are;
Academic as well as profession recommendation letter 
University transcript 
Resume 
Doctor research proposal 
Test results of common entrance test, if applicable. 
Foreign language test or English language test- TOEFL, IELTS etc. 
Related article: PhD in USA- Admission, Process, Universities, Salary and Jobs.
Admission process:
The admission process of getting a seat in DNP- doctor of nursing practice is the same as other doctorate degree processes, however, the practical experience and research experience of a candidate is taken into consideration.
Candidates can find positions on the internet or through various advertisements and apply from the official website of the university.
Fill up all fields and provide required information in the application form.
Take a print of application form and submit it to the university office along with the application fee.
After completing the application requirement, the university will notify you for a personal interview to verify documents, evaluate your potential and allot a guide for PhD.
After successfully completing the PhD interview, the prospective candidate can start their PhD work.
Note that interviewers consider the score of the common entrance test if applicable.
Key information: 
Coursework and dissertation aren't mandatory for a doctor of nursing practice but may be required for a PhD in nursing. 
Read more: Is PhD worth it in 2021?
DNP- duration: 
DNA is a specialized profession doctor degree given to fellows of nursing and trains them for nursing practice. Henceforth it's different in comparison to PhD in nursing.
The candidacy position holder needs to do nursing practice using the available knowledge in nursing and to improve the overall health care quality and facilities and therefore they have to do practise rather than developing a dissertation.
Usually, it takes 1 to 2 years to award the doctor of nursing practice degree to the fellow unlike PhD in nursing.
Process of getting the doctor of nursing degree:
The process of getting DNP is totally different than the conventional PhD. The major focus of the Education is to prepare candidates for nursing practice or to prepare practitioners.
After getting admission (the process is explained in the above section), candidates get directly involved in the patient care and management. Coursework is not mandatory for them- it saves 1 whole year!
During the period of their doctorate, candidate trainers themself under nursing experts, and work for improving the overall healthcare facilities and patient's health.
Perspectives do practice for at least one year in the health care service, organization or hospital. At the end of the degree, the student submits a project report, along with their published work.
Thesis writing or dissertation is not required here. At last, the candidate needs to clear the viva or personal interview session to get the degree. In some cases, revision advised. In those cases, individuals need to work in the same field for 6 or more months.
After getting the award, DNP can work in the same field (they have done their doctorate).
DNP- Jobs and opportunities: 
There are plenty of higher-earning and renowned options after getting the present degree. A person with the DNP degree can get jobs at healthcare, heath companies, hospitals, private care organizations, patient care fields and corporate hospitals. 
Besides, they can also run their own consultancy firm as well as Educate nurses and healthcare staff for quality and health care improvement.
They have opportunities of health care expert, nurse training expert, Healthcare executive, Nursing faculty in college, APRN- advanced practice registered nurse, Certified nurse practitioner, certified nurse midwife, clinical nurse specialist, certified registered nurse anesthetist (CRNA).
Besides, other option for them are
Family nurse practitioner, 
Primary care nursing practitioner, 
Adult-gerontology clinical nurse specialist 
Neonatal clinical nurse specialist
Read more: How to appear in the PhD Interview?
DNP- salary and earning: 
Nurse experts/ doctor of nurse practice can earn 10X more than master of nursing science degree holders. Or even they can earn more than a PhD in nursing degree holder.
The present degree holder can earn between $1,25,000 to $1,5000 per year in mainstream healthcare profession. Note that it may vary.
Besides, personal practitioners can earn less or more than this amount in the United States.
Note: 
Registered nurses prepare themself for healthcare quality and administration, general nursing practice, nursing education and management by getting the DNP- doctor of nursing practice. 
Top DNP (Doctor in nursing practice) programs: 
Columbia University, (New York, NY)
Doctor degree program- school of nursing
Fee (per year)- $34,164 (part-time) and $64,230(full-time)
Type- Part-time and full-time
University of Washington, (Seattle, WA)
Doctor degree program- school of nursing
Fee (per year)- $28,000 to $40,029
Type- full-time
John Hopkins University, Baltimore, MD
Doctor degree program- school of nursing
Fee (per credit)- $1,700 (part-time and full-time)
Type- Part-time and full-time
Duke University, Durham, NC
Doctor degree program- school of nursing
Fee (per Credit)- $1,800 (part-time and full-time)
Type- Part-time and full-time
University of Illinois, Chicago, IL
Doctor degree program- college of nursing
Fee (per year)- $22,600 to $35,000 (Full time)
Type- full-time
Emory University, Atlanta, GA
Doctor degree program- college of nursing
Fee (per credit)- $1,622 (part-time and full-time)
Type- Part-time and full-time
University of Pittsburgh, Pittsburgh, PA
Doctor degree program- School of nursing
Fee (per credit)- $920 to $1,098
Type- full-time
University of Michigan, Ann Arbor, MI
Doctor degree program- School of nursing
Fee (per credit)- $1,326 to $2,721
Type- full-time
University of Virginia, Charlottesville, VA
Doctor degree program- School of nursing
Fee (per Year)- $17,808 to $29,000
Type- full-time
Yale University, New Haven, CT
Doctor degree program- School of nursing
Fee (per Year)- $29,200
Type- Part-time
Top Online DNP programs:
University of Utah, Salt Lake City, Utah
Augusta University, Augusta, Georgia
Creighton University, Omaha, Nebraska
University of Arizona, Tuscan, Arizona
De Paul University, Chicago, Illinois
East Carolina University, Greenville, NC
Coppin State University, Baltimore, Maryland
East Tennessee State University, Johnson City, Tennessee
Purdue University, West Lafayette, Indiana
George Washington University, Washington, DC
University of Missouri, Saint Louis, Missouri
University of Oklahoma, Oklahoma City, Oklahoma
University of Colorado, Denver, Colorado
Duke University, Durham, North Carolina
Illinois state university, Normal, Illinois
Conclusion:
Doing doctorate in nursing or doctor of nursing practice can gives you more reward than master's. further to this, the person can open their own private consultancy, teaching or practice firm and give services. If your plant is to take flight to the USA, this option is one of the best one for you.
The demands of nursing, related courses and higher studies in it are sky high. Keep in mind that you have working nurse licence and degree of nursing from reputed university.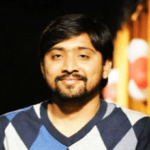 Dr. Tushar Chauhan is a Scientist, Blogger and Scientific-writer. He has completed PhD in Genetics. Dr. Chauhan is a PhD coach and tutor.