DNP stands for the doctor in nursing practice while PhD in nursing stands for the doctor of philosophy in nursing. 
Nursing or nurse practice is one of the most popular, demanding and evergreen fields of study, the reason is, job surety. Nursing studies, in general, prepares fellow or prospectives to tread well patients and to perform some common and routine medical practices.
Students choose to nurse only to get a job henceforth they go for a single-year diploma or only a degree course and leave their studies. There are options of Master's degree and doctoral studies in nursing, as well and fellow students can get good positions and decent earning.
Pursuing higher education in nursing will give a person more rewards but unfortunately, some students choose to. If you are from those "some" students probably this article will help you. 
Read more: What is a PhD? – A Guide for Novice Students.
In the present piece of content, I will explain to you the different between two of the most popular and common doctoral degree in nursing that is DNP and PhD (in nursing).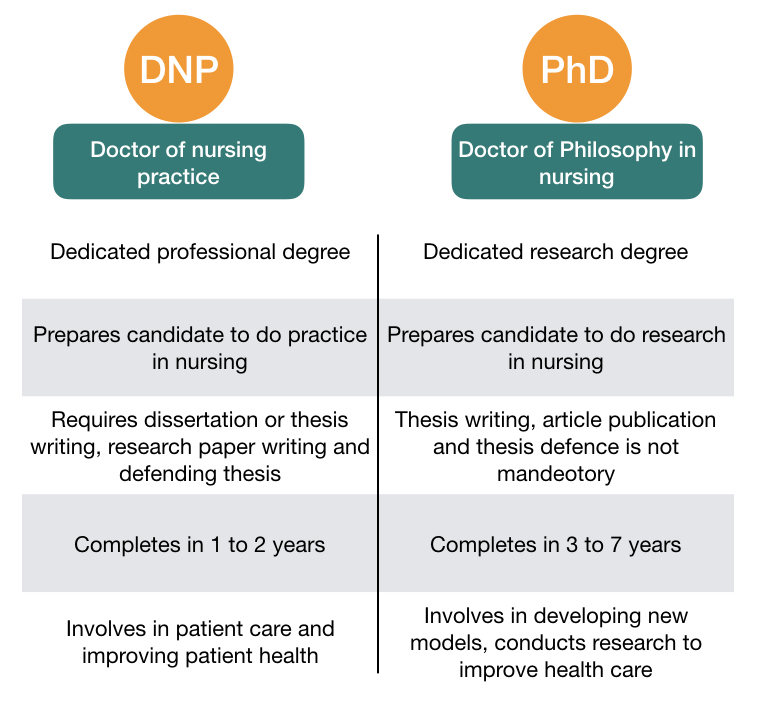 DNP vs PhD: Which one is best for you?
What is DNP?
DNP acronym as a doctor in nursing practice- an utmost degree in the field of nursing and prepares perspectives for clinical practices and hands-on experience in nursing. 
A usual DNP requires a master's degree in nursing with good records and examination to enroll. Much like other doctorates, the duration of the study is 1 to 2 years.
DNP- Doctor in nursing practice is more a professional nursing degree with career option mostly in Quality improvement and practitioner in nursing. Here is the list of some of task a DNP expert can perform:
DNP can manage, examine and conduct patient care
Can perform patient counseling
Monitor and perform the medical test and common medical practices
Perform and monitor medical instruments and equipment
Monitor and indicate common medical progress
They can perform diagnose and treat medical conditions
They can also prescribe medications for common medical conditions
Besides, the major role of the DNP expert is to collab and communicate with the nursing doctorate to improve healthcare facilities.
Benefits of DNP:
Increase your practical and clinical knowledge by improving skills
Improve leadership skills to manage care faculties
Improve knowledge and experience for better patient care and outcomes of treatment.
Expand overall facilities, care potential and patient outcomes by best of DNP knowledge and practices.
Responsibilities of DNPs are,
To improve the overall health care system. 
To assist the patient correctly. 
To treat, diagnose and handle patients.  
Implementing nursing research to improve standards of patient care 
To leader healthcare team.  
Analyzing, interpreting and evaluating outcomes and results of a particular patient population. 
To train on ground hospital nursing staff. 
To improve the quality of patient care. 
Related read: PhD vs EdD- Which One is Best for You.
What is PhD in nursing?
PhD in nursing or doctor of philosophy in nursing is also the topmost academic honor in the field of nursing gives candidacy for developing new skills, knowledge and system especially in hospitality and nursing.
Alike DNP the present degree seeks a master's in nursing with good grades and a candidate needs to clear a common entrance too for enrolling.
The PhD in nursing can have higher earning potential and more honored positions in their respective field.
The major role of the PhD degree holder in nursing is policymaking, researching new skills and tutoring the diploma's to improve healthcare.
Benefits of PhD in nursing:
Increase research and analytical potential
Improve overall management, clinical and patient care system by researching knowledge.
Improve research and leadership skills
Responsibilities of PhDs are,
Do research to improve health care and standards of care.
Leading the nursing research team.
To study, design, evaluate and implement methods, SOPs and testing facilities to improve health care.
To educate nurses
To overcome problems, gaps and problems occur in the health system by their research knowledge and analytical thinking.
To identify loopholes and design research accordingly to improve the system.
To fundraise or avail grants for the organization by conducting and presenting research and research proposal.
Besides, the PhD nursing can publish articles to improve overall nursing knowledge and can train the present nursing as well as other non-medical staff as well. 
Related read: What are the Differences and Similarities between MPhil vs PhD?
Differences between DNP vs PhD in nursing–
The full form of DNP is a doctor in nursing practice and prepares prospective candidates for clinical nursing practices while the full form of PhD is a doctor of philosophy in nursing and prepares perspectives for doing research and providing knowledge in nursing science. 
The DNP is purely a practice-based doctorate while the PhD in nursing is research-based doctorate honor.
During the DNP, the major focus of research will be on healthcare, healthcare practices, training, information system and information technology and other related topics.
While PhD in the nursing study includes coursework (obviously)- dedicated for one year, general nursing studies. Students have to do research, check theories and hypotheses to grow the knowledge in nursing.
The study system of DNP includes nursing practice, majorly and a report writing at the end of tenure.
While,
The system of study covers coursework (single year), research, thesis writing, article writing and publishing research, preparing a thesis, publishing a thesis, defending a thesis and viva voce.
Publishing research article and or dissertation or thesis writing is not mandatory in the DNP unlike the PhD in nursing.
No thesis writing or extensive evaluation process is involved in DNP it takes around 1 to 2 years to award the doctor in nursing practice. However, the PhD is full time research-based degree so 3 to 7 years, one requires to complete PhD in nursing. 
The doctor in nursing practice also prepares one for hospital leadership and management while the PhD prepares one to do research and provide knowledge, SOP or other research in the field of nursing. 
The major role of nursing scientists is to collab or cordinate with the DNPs to improve patient health status and overall experience by peforming scientific studies, analytic research and critical analysis.
While,
The major responsibilities of the DNP is to take care of patient as well as diagnose and treat them to improve their health. They can do this by using the knowledge provided by the nursing scientists (PhDs).
As the role and responsibilities of both degree holder are different, the earning potential vary too. As the nurse practitioner or DNT can earn from $1,25,000 to $1,50,000 per year whilst The PhD in nursing degree holder can earn around $85,000 per year.
Note that the amount earned by each depends on oranization or hospital they are working.
The DNP or doctor in nursing practice has career options as a nurse scientist, healthcare facilitatory, nurse educator, professor, author, researcher and healthcare policymaker. 
On the other side, career options of PhD in nursing degree holder are practitioner or leader in healthcare, quality manager or quality assurance expert, clinical Educator and expert in nursing management.
Similarities between DNP vs PhD-
Besides having differences in terms of career options and earning potential, both the DNP and PhD degrees are similar in many terms. 
Both are a type of doctor degree- an upper level of educational honor in the field of nursing. 
Master's of nursing is the essential requirement for getting admission into either. 
Both are terminal degrees in the Education system. 
Both degrees are honorable in hospital and health care management.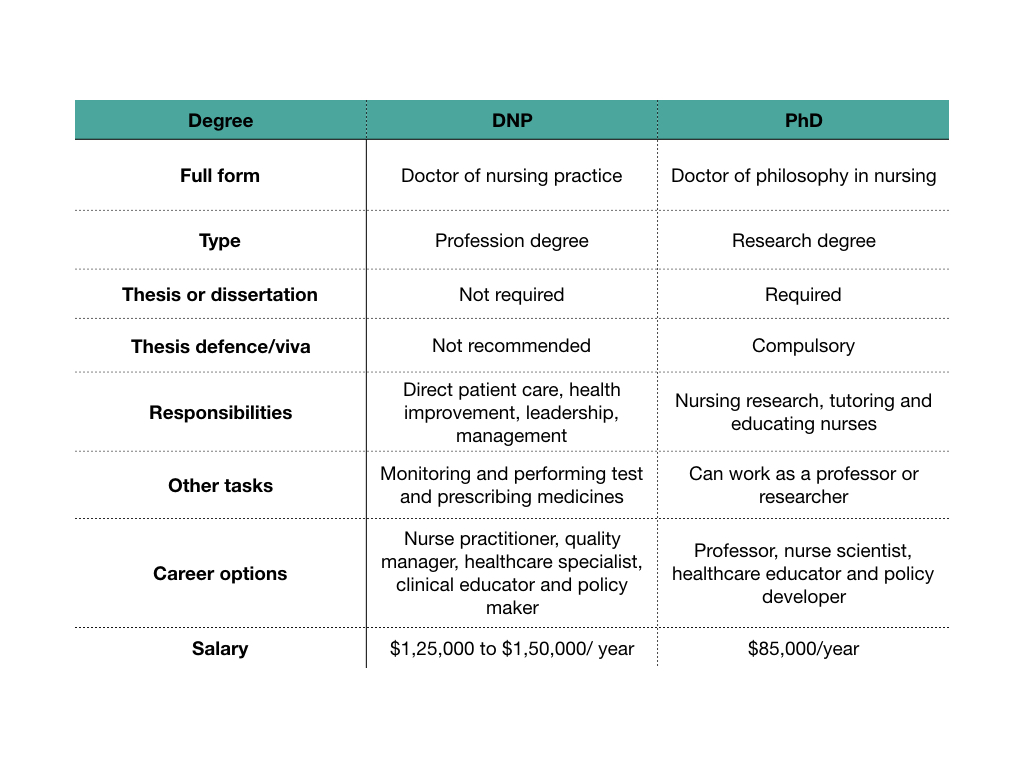 Conclusion: 
Hospitals, community centers and organizations require nurses; nurses who are experts as well as practitioners, since 2000, the demand for nurses are increasing constantly. 
Their high demand makes it an evergreen, most valuable and instant job surety degree. The students of nursing in the USA, UK, India, Australia and Canada have a bright future, indeed, pursuing higher Education in nursing like doctor in nursing practice and PhD in nursing gives them more reward and career options.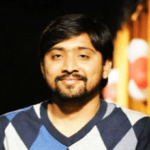 Dr. Tushar Chauhan is a Scientist, Blogger and Scientific-writer. He has completed PhD in Genetics. Dr. Chauhan is a PhD coach and tutor.