The PhD interview is a verbal/ mock process to evaluate a prospective candidate in order to give admission to the doctoral. 
If you are planning to go for higher studies like the PhD, tighten your belt because it is not as easy as other degrees. The degree- PhD is a whole process including many steps and an evaluation process to go ahead after every step.
You might be stuck at one place if you fail at any stage, for instance, you can't publish any single research article during the PhD tenure, you can't submit your thesis. Likewise, if you fail in verifying your dissertation, you can't appear in PhD viva.
It's a system, every process is interlinked. Application, examination, personal interview, coursework, research paper writing, thesis writing, preparing the presentation are various criteria of the process to award the PhD degree.
However, to appear in a personal interview is the first step to get into PhD. There are several rules to appear in the PhD interview and some hacks as well that help you to clear it successfully.
In the present article, I will explain to you the process of PhD interview, how to appear in it, tips and some common questions asked during the process. 
Read more: Preparing for a PhD Viva.
What is a PhD interview? 
"PhD interview refers to a mock evaluation process conducted under the observation of experts to evaluate the research potential of a candidate."
The definition states many things, first, it is an evaluation process,
Second, every student has to appear in it.
Third, conducted under the vigilance of experts.
It's an interview like all other interviews, but a bit different, here the examiner challenges your analytic thinking ability and knows your potential to survive during the tenure of research. PhD is all about finding new things, forcing thinking abilities, curiocity, excitement, passion, frustration, tension and
The PhD interview process is conducted,
To know you personally, your overall personality and how to deal with different conditions. 
To know you thought of angels for doing research on some specific niche. 
To evaluate your knowledge in the field you are willing to pursue a PhD. 
To calculate your potential for doing research for long. 
To check your preparation for PhD, like how accurate your PhD research proposal is. 
To check your oval compatibilities to appear in the PhD and at a respected university. 
The university appoints a committee for doing PhD interviews in different subjects. Noteworthy, a couple of people are common in every interview, usually from the university side.
Who takes a PhD interview? 
The university!
The university appoints a panel of experts commonly of 3 or sometimes 4, an external examiner from the university side to maintain transparency in the process and a PhD guide. A total of 4 to 5 peoples are there for PhD interview.
Prospective candidates have to take the PhD research proposal, other PhD documents and results of the external examination and of course some other related documents with them.
In all, the PhD research proposal is very important to carry with. The proposal, how you made it, makes you stand above all during the process of interview.
That is why it is very important to make a dashing research proposal. The proposal must contain a working title, funding information, overall idea of the research project, and other utilities used during the PhD. With all these, expected outcomes and societal importance of the project.
If you want to make an amazing PhD research proposal, you can read this article. It will definitely help you: How to write a PhD research proposal.
"If you convince a guide with your amazing research idea (research proposal), your 70% of work will be done."
Note that, unlike the other interview, the PhD interview process is different in which the focus of the interviewer will be more on your knowledge related to the topic you wish to study.
However, other factors much like in other interviews, do matter here too. The rest of the 30% will depend on how you dress, how you answer the question and how you present yourself.
Tips to make your PhD interview successful:
Look well, dress well: 
Ultimately it's an interview, so you need to look well, nice and sincere. Wear a good, professional and casual dress, style your hair and look fresh. Sit correctly and follow common rules of the interview.
Must have things! 
A PhD project and/or the research proposal, common documents of PhD, like the filled forms, copies of approval, university approval letter, previous degree certificate, the result of entrance test, etc must be there on the desk while you're on interview.
Prepare a good, decent and attractive- professional looking research proposal, tie it well. Also, take a pen with you too. If your guide gives you a recommendation, don't forget to take it with you.
Prepare well and win the race!
As we always say, PhD is all about your preparation, knowledge, aptitude and passion for your subject and research. The first thing you have to do before appearing in the interview is to prepare well.
While making the proposal for the PhD, don't only write things! don't copy or mimic others, research things thoroughly, if possible take the help of an expert and prepare a good research draft.
Study your research idea well, review your research objectives, and prepare yourself for what you answer if questions related to it will be asked. Also, read all the related literature well.
In addition to this, go through your previous master's or bachelor's or MPhil thesis, the interviewer might ask questions related to it as well.
Do research about the college, university, department and the faculties. Also, read about their achievements too.
Explain outcomes- why it is important? 
The doctorate is all about two things: what are the outcomes and how it is helpful to others if you satisfactory answer these two questions, you are on!- trust me.
So you need to highlight your possible outcomes, try to explain it to the panel how it is helpful to society and other people.
Divert the interview focusing on possible outcomes. You also need to explain how you justify the PhD objectives in time.
Honestly accept mistakes: 
If in case, any mistakes happen or you don't know things or any answer, do not try to mislead the panel, honestly accept it- that you don't know and will go through it.
Honesty always impresses!
Show your preparations:
Now, this is something very important. The doctorate programs are all about huge investments, years of work, frustrations and failures. You have to show panelists that you are prepared for that.
You can spend years without becoming demotivated. You can survive even during the harsh time and you will complete the degree anyhow.
Don't rely on the 'maybe' answer confidently that yes, I will do it and must complete it. 
Read more: 11 Questions to Ask Yourself before Studying PhD.
10 common PhD interview question
Keep in mind that the PhD interview process is different from other conventional ones! You no need to sell a pen here or even no need to introduce yourself as you are the only great in the world! 
Nonetheless, you have to answer every question asked in the PhD. and as like in every mock session the interviewer opens with the question "introduce yourself".
Tell us about yourself. 
Why do you want to do PhD?
What is your research interest?
How you can use your skills to pursue PhD?
What are your strength and Weakness?
What are your future career plans? how PhD will help in it?
Why doing PhD is good for you?
How the outcomes of this project benefit you and society?
Do you have external funds? or funding options?
Is there anything you want to know from our side? or university?
Conclusion:
PhD interview is one of the most important part of your PhD during which a candidate needs to show their skills, interest and potential, as have to select the PhD guide too. There are no common rules for preparing for a PhD interview but let me tell you a good research proposal will definitely help you.
Moreover, prepare for some questions and answer them decently. If you want to learn more on PhD, there are plenty of articles on our blog, you can start reading for the above sidebar list of articles.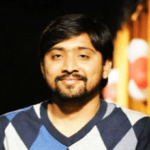 Dr. Tushar Chauhan is a Scientist, Blogger and Scientific-writer. He has completed PhD in Genetics. Dr. Chauhan is a PhD coach and tutor.