PhD in nursing a research-based degree of 3 to 5 years which prepares candidates to provide knowledge in nursing and tutor nurses to improve the quality of healthcare.
If you are on the verge of finishing your high-school and thinking about where to go, select nursing. Not only in the USA but in the UK, India, Canada or Australia, nursing is the most demanding and popular field.
One can get a job easily and earn more money than other graduates, although their life is not as easy as others. The reason is, one has to deal with patients every day and that's not easy, by the way.
Getting a higher academic degree in the same field can also increase rewards and responsibilities too. As an expert or leader in nursing, you have to lead the team, improve quality, take care of healthcare services and a lot more.
Doctor of Philosophy (PhD) in nursing and doctor of nursing practice (DNA) are the two common options for a registered nursing practitioner. They can select any of it as per their convenience.
Both degrees are different, though a doctorate one! And henceforth, goals, responsibilities, salary and career options are different as well. First read this article to learn more about both: DNP vs PhD in nursing.
Besides, we also have discussed the doctor of nursing practice degree, its requirements, eligibility, process, opportunities and other related things in our previous article. You can also read it here: What is a doctor of nursing practice degree?
In the present article, we will explain to you about the PhD in nursing degree, requirements, eligibility criteria, process of admission, top universities, salary and a lot more.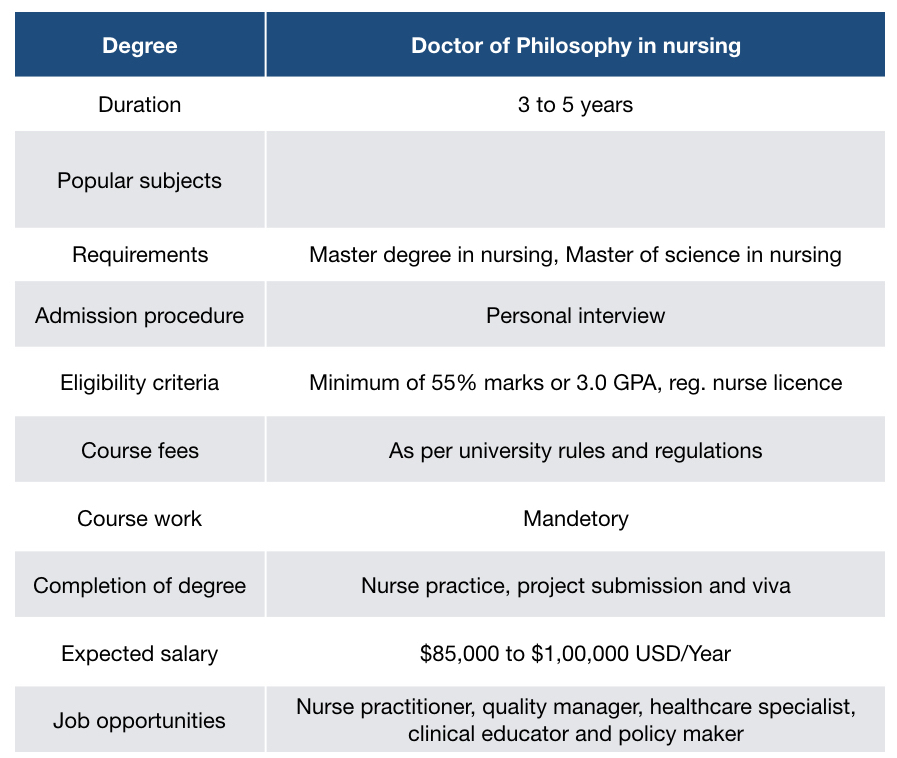 What is a PhD in nursing?
Doctor of Philosophy in nursing- PhD in nursing, is the highest level of research degree given to the nursing degree holder for providing knowledge in the field of nursing.
The present degree is more similar to the other PhD's but different than the DNP, though both are nursing degrees. Here in the PhD, by doing extensive research, a fellow improves the present knowledge to solve the real-world problems or problems related to nursing practice.
Their major responsibilities are,
To do research in the same field
To improve the present knowledge
To lead the nursing research team as well as to guide the nurse practitioners
To find out gaps, problems and loopholes in the existing system
To publish articles
To fundraise or avail grants for the organization.
PhD in nursing- Requirements and Eligibility criteria:
The PhD in nursing requirements are almost similar to DNP requiring a master's degree in nursing or nursing science. Here is the list of requirements:
Master's degree in nursing or master of nursing science.
55% or above marks or 3.0 GPA (overall) in all semesters.
Nurse valid and approved license
Nursing experience if applicable
Recommendation letter from academics and professional career
University transcript if applicable
Certificate of GRE, TOEFL or IELTS in case of foreign students
List of publications if any
Admission process:
Much like other PhD programs, the admission process of PhD in nursing is somewhat similar.
The applicant starts applying by choosing the appropriate course they wish to pursue, for example, online or offline, PhD or DNP. After that, check the availability of the course at the university you wish to study.
Apply online through the official website of the university and pay application fees.
Afterward, the applicant needs to appear in the personal interview along with all the documents to the university, if shortlisted.
The interview process held by the university to evaluate the interest, potential and preparation of the candidate.
Don't forget to present your research proposal to the interview committee.
During the interview, the applicant also has to select their PhD guide. Note that they can decide before appearing in the interview.
After completing the personal interview, candidates pay fees online or offline and submit all the documents to the university.
Unlike the DNP- doctor of nursing practice, here the course work is required therefore during the first year, the candidate has to complete it.
After completing the coursework, the prospective candidate can begin their research work, they got stamped for PhD in nursing.
From the second year to the next 2 to 4 year candidates do research to find new knowledge.
PhD in nursing- salary and income: 
As we said, nursing is one of the most demanding and high paying field. A candidate can earn $85,000 to $1,00,000/ year or even more in the USA.
Moreover, there are other earning options are also available for the PhD degree holder. For example, 
They can open their own nursing training firm,
They can train nurses and nurse practitioners
They can provide consultancy for various organizations
They even can teach other nurses online or offline or can work as a professor.
All these are highly potential options to earn more with PhD in nursing. 
Note that, the amount of earning may vary depending on the position and experience of a person. Note that, private nurse practitioners or nurse consultants can even earn more than this.
PhD in nursing- jobs and opportunities:
The available job options and future opportunities for PhD degree holders are quite dissimilar to DNP, as they are more involved in research rather than clinical practice. The job opportunities of PhD in nursing are;
Professor, tutor in nursing:
As a nurse professor or tutor, the expert teaches other undergraduates and works at a university or organization.
As a nurse educator, PhD fellow teaches other nursing staff to improve the quality of healthcare facilities and to implement new policies to the existing infrastructure.
As a nursing researcher, the expert does research to find knowledge, solutions or options for improving the patient care system. They lead nursing practitioners for this purpose.
As a health care policymaker or policy developer, the scientists developed new SOPs, policies that help in improving the overall care facilities, quality and patient experience.
Nurse scientists also do research, conducts projects, write articles and research papers and avail grants and funding to the organization. Their major role is to look after funding options.
Nursing research team leader:
As a nursing team leader, the fellow leads the whole healthcare team to fulfill the purpose of improving the patient care system.
What are the roles and duties of a PhD nurse?
Reading the above section gives more clarities to duties of nurse expert but this section also makes it more clear what role they have to perform:
Let me clarify first that PhD nurses can select either academics or research fields to pursue their careers.
In academics, they teach undergraduates and postgraduates and other nurses.
As a part of education system, they prepare syllabus, courses and study material for students and also conducts examinations too.
They monitor and conduct clinical, laboratory and classwork activities.
They can also take responsibilities of university administrations and can work to hire staff, professor, lecturer and conduct interview for PhD.
As a nurse researcher and scientists they work constantly in close cordination with nurse practitioner to improve the quality of health system.
They identify and study the gaps and problems in the system and design scientific research to solve it.
They collect the data of research or experiment, closely analyse it, implement it and publish it to help others.
They conduct quality assurance and quality management programs to guide nurses.
In case they train nurse, laboratory staff and other staff members as well.
They write research proposals, projects and present it to avail grants and financial aids for the organization.
Conclusion:
Doing PhD in nursing isn't a dream for many but it's actually more rewarding for a fellow. If you want to do PhD, please take advice of your friend or professor for what type of problems you have to face in it, because doing PhD in any of the subjects is not an easy task. you can read our serious of article that may definitely helps you.
Articles to read: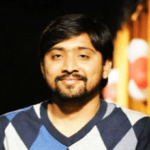 Dr. Tushar Chauhan is a Scientist, Blogger and Scientific-writer. He has completed PhD in Genetics. Dr. Chauhan is a PhD coach and tutor.