Studying a PhD is a tough decision for a student but is actually more rewarding. The advantages are more than drawbacks.
But still, you may have confusion about what to do, or what not to!
After the master's surely a question bothers you, "should I have to go for PhD or not?" It's pretty fine to have doubts because it takes 5 to 6 years to complete and also is expensive.
Even if you enroll in it, at one point of your PhD tenure you will feel like your decision was wrong. It's a painful and frustrating process but from my personal experiences, I can say studying for a PhD is the more profitable, helpful and life-changing decision of one's life.
The present content forces on the reason why doing a PhD is the best decision of your life. I will give you 10 reasons why to study PhD.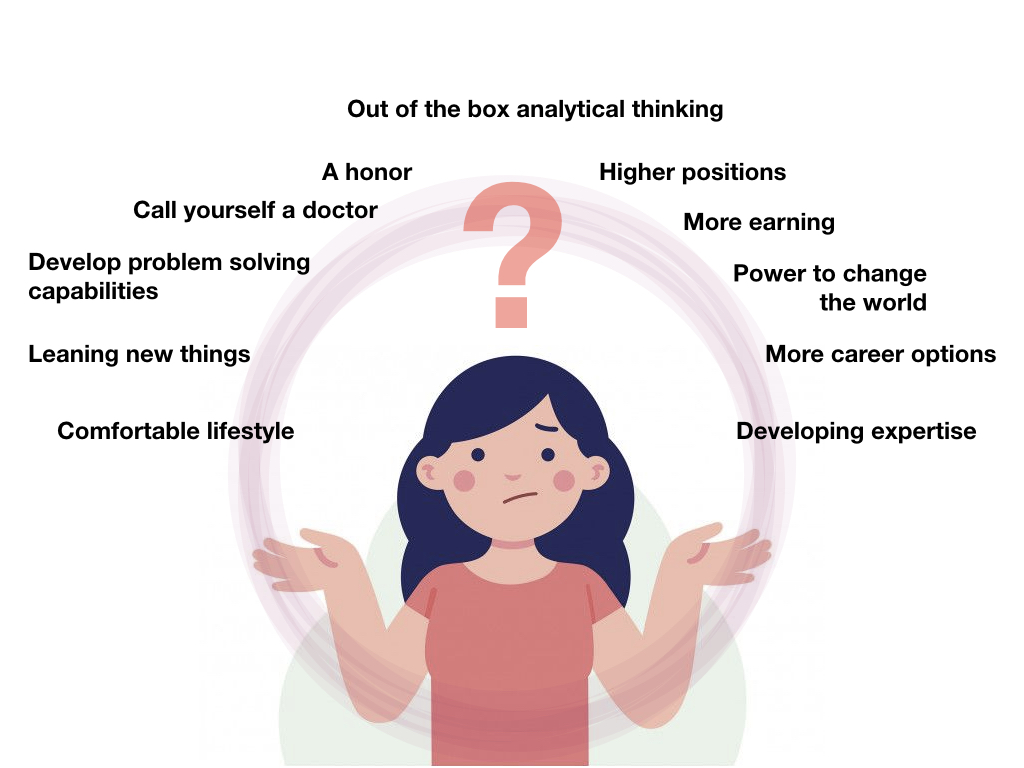 Interesting article to read: Is PhD worth it in 2021?
11 reasons why to study PhD: 
It's an honor:
First of all, if you are in the PhD or willing to go for it, keep in mind that it's an honor. Not all can get admission in it, and not even everyone completes it. You are doing it means you are special and knowledgeable than others.
Universities give the degree as esteem or prestige, therefore it's the biggest reason to study. People will see you with respect, after completing it, your opinion will matter for all because after all, you will be an expert, the philosopher in your subject.
Call yourself doctor:
Every parent wants their child to be a doctor or engineer (especially in India), if you miss the chance after the 12th, you will have another. Go for a PhD, complete all the milestones, defend your thesis and be a doctor.
A PhD degree holder can legally use "Dr" above their name. The reason is they have mastered some skills which no one has. Isn't it fascinating! However, if you are studying for a PhD only get the acknowledgment of a doctor, don't have your time. PhD is a serious business and a tedious process.
Develop problem-solving capabilities:
Whatever the subjects are, the results or findings of a PhD must be useful to people, society or the world otherwise it's a waste of time. Analyze your PhD goals whether they are useful to some extent or not!
Doctoral studies are all about providing or giving new knowledge to the world. The finding or knowledge should solve some existing real-world problems, that's what the PhD is.
The entire tenure of PhD makes you a person having capabilities of solving problems, again it's a unique characteristic, not many have. For instance, if you have developed some unique water conservation idea or device, it solves the problem. If you have manufactured some device to produce electricity, it solves the world's problems.
The coursework and syllabus of the PhD are designed in such a way that tailors someone's problem-solving capabilities.
Learning new things:
Some people want to learn, every day, every time, money doesn't matter for them. Let me tell you if you are in them, PhD is definitely for you. As I always say, studying a PhD is like swimming in the shoreless sea.
Every day starts with new problems, new challenges and new goals. You have to read things to solve problems and ride your boat ahead, day by day. Maybe you are stuck, sometimes, but your skills to learn new things helps you to cope up with it.
You will definitely learn new things while studying a PhD.
Out of the box analytical thinking
The use of existing information or knowledge to accurately solve any problem or handle any situation is our analytic thinking. Now you know why analytical thinking is top of the chart for a PhD student. They have knowledge, power and sense to solve problems.
Higher positions:
In any system, the higher positions are reserved for the doctors. Deans, heads of the departments, leaders and CEOs of reputed organizations are doctors only- the doctor of philosophy.
If a doctoral degree, you can get higher positions in education or academics, research, private or other sectors. The reason why so, it simply clear- they have skills, potential, knowledge, out of the box analytic thinking and problem-solving capabilities.
More career options:
Now coming to the main point of the present topics, why studying PhD is beneficial? – the answer is more career options.
With the highest level of academic degree, the fellow can choose their career in academics and become a professor or lecturer, industrial leader, organization head, dean of the institute, leader, scientist, researcher, writer, editor or anything they want.
One elevates their earning and career options with the PhD.
More earning:
As you get higher positions in any system you can ask for a higher salary, if your expertise is so restricted, then you can even earn more than others.
The average salary of PhD degree holders in education is ~$70,000; research is ~50,000 to 1,00,000$; IT sector is 1,20,000$ and healthcare is 95,000 to 1,00,00$ per year.
If you wish to learn more on job positions and the expected salary of various PhD degree holders, you can read this article: PhD jobs and expected salary. 
Comfortable lifestyle:
10 to 5 jobs, a good weekend, a month's holiday after every semester is a dream for many but a reality for the doctor. PhD studies prepare candidates for academics as well as research and get jobs as professional, educational experts of the lecturer.
The academic option as a career is more comfortable for anyone. By taking a job at a college, they can live life comfortably.
The responsibilities of an academician are teaching students, guiding research students, doing college stuff and that's it.
Power to change the world:
A PhD degree in your hand is like a loaded gun, you can use it to change the world with your excellent knowledge and research potentials. Everyone who had changed the world with their innovations were scientists. A PhD degree prepares you to be a good scientist.
You can choose to be a scientist, accept challenges to find something new to change the world. With the knowledge and power of analytical thinking, the philosopher can revolutionize the world.
Develop expertise:
The core value of any PhD or doctoral studies is to develop the expertise of the PhD fellow. Your responsibilities in PhD are to work on a single topic using techniques, theory or methods.
A fellow has to find something new and nourish your skills and expertise. One needs to work continuously using a single skill or technique every day for 5 years.
PhD studies sharpen your present skills or expertise and take it to the next level.
Related article: PhD student- What Skills and Qualities One Should Acquire?
Why study PhD? – some recommendations
After reading this positive intended piece of healthy content you should have to know more about why to study PhD. I have some recommendations cum tips for you if you make up your mind to go for a PhD. here they are:
Don't go in a hurry: again, think twice, I do not scare you but you have to invest time and money, if you do not have an interest in reading, solving problems, learning new things and get frustrated and demotivated easily, you should think over your decision.
Don't follow the benefits, go with your natural instinct.
Reading and writing are a must: PhD is all about new things- new knowledge, new findings and new discoveries. You have to read more and more on your topic to even start the work.
Before enrolling, tailor skills of daily reading and writing for at least 4 hours otherwise, you will be in big trouble.
Take a chill pill: you will be soon on the shoreless ocean, don't get frustrated or panic, just go with the flow, start from somewhere and follow your supervisor's order. Things will get better soon.
Think about finance: PhD is a huge project, you have to invest huge money. Prepare yourself how you will manage or cope up with the PhD finance problems for at least the next 5 years.
Although you have some option to finance your PhD, read this article for that: what is a funded PhD?
Keep a smile on your face: prepare your mind for 5 to 6 years, you have to face repeated problems with your PhD every day. There is no option to come back. Keep a smile on your face and prepare for everyday challenges.
Why study PhD?- challenges to face
"PhD is not for all"- you may read this sentence in most of our articles, I will never give someone false hopes, the reason is, studying PhD is actually, indeed a hard job! It's not for all.
One must have dedication, sensiarity, knowledge and patience to do it. If you have all these skills, you may try. Here I am enlisting several challenges to face while study PhD.
Time consuming process: Study PhD takes more time up to 5 or 7 years or even more. So if you are fighting against lack of patience, trust me think twice.
Expensive one: Generally PhD or doctoral degrees are costlier. The fees are too much and one needs to manage expenses for at least 4 to 5 years. But don't worry there are plenty of funding options available.
The expenses of doing a PhD ranging from 20,000$ to 40,000$ or more (only fees!). Besides students also have to manage other research expenses and accommodation themself.
More failures: Doing a PhD is like swimming in the ocean without a shore. Failures are an everyday process. As I said, one should show patience to get results. As the main objective of doing research is to find new knowledge, it is obvious that you get failures.
Don't get frustrated with failures, try to figure out the reasons, possibly to overcome the problem. That's what the PhD is, perhaps.
Demotivation: there are two sides of PhD- passion, enthusiasm and confidence on the positive side whilst frustration, demotivation and depression at the negative side.
You got demotivated by repeated failures, tons of work loads and pending duties. But it's a process, everyone should follow. Don't take it too serious, motivate yourself by reading and listening to motivational things.
Tons of workloads: failure! The common thing in PhD and obvious as your target doesn't achieve it elevates workload. Be prepared to work even after college hours or on weekends.
Anyhow you have to complete your weekly or monthly workloads that's the only formula to complete the doctorate in time.
Studying PhD in different countries:
PhD studies in the USA:
USA- The United States of America is one of the most popular destinations for higher educational studies like PhD or doctoral. Highly qualified experts and professors, state of the art instrumentation and lab set ups, more facilities for students and more career options after the degree are the reason why everyone wants to go to the USA for doing the PhD.
In addition to this, the universities across the USA are highly ranked and reputed one and the whole PhD study system is so smooth.
A graduate or master's degree holder can apply directly to different universities to get admission. Personal interview requires the research proposal showing the possible rough draft of the research.
There are two ways to get into the PhD in the USA either directly through MPhil or through the entrance examination. International students also need to clear the english proficiency test too.
Top universities to study PhD in USA:
Harvard university
Stanford university
Massachusetts Institute of Technology
University of California, Berkeley
Columbia University
University of California, Los Angeles
Yale University
University of Pennsylvania
Princeton University
Cornell University
New York University
University of CHicago
Duke university
John Hopkins University
If you want to learn more read this article: PhD in USA- Admission, Process, Universities, Salary and Jobs.
Study PhD in India:
Getting a PhD is a tougher job but is more structured in India. Common entrance exams like NET, SLATE or GATE add additional toughness to the degree.
MAster's degree with a minimum of 55% marks can apply for the PhD, though every student needs to clear the entrance exam before enrolling. Coursework is also compulsory to go head in the degree.
Top universities to study PhD in the India: PhD in India- Fees, Duration, Scholarship and Universities.
Indian Institute of science
Indian Institute of Technology Bombay
Indian Institute of Technology Delhi
Indian Institute of Technology Kharagpur
Indian Institute of Technology Roorkee
Delhi university
Allahabad university
Study PhD in UK:
The UK is another famous destination for higher studies. The PhD study system is a bit different than others which gives more weightage to research. Prospective students' research background is taken into consideration for PhD.
Besides, graduation, post-graduation, MPhil and course work is needed to get the ticket to PhD.
Top universities to study PhD in the UK: How much does a PhD Degree Cost in the USA, UK and India?
University of Oxford
University of Cambridge
University of London
University of Edinburgh
University of Manchester
Conclusion:
I think these reasons are enough to convenience you to study PhD. If you are still in a dilemma, trust me the PhD isn't for you. Make your mind, put negativity on hold and go for it. 
Select the topic you love, choose the technique you like the most and sharpen your knowledge and skills. If you are a newbie and want to learn more about PhD, you can read this article: What is PhD?- for beginners.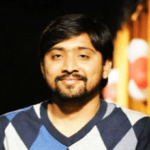 Dr. Tushar Chauhan is a Scientist, Blogger and Scientific-writer. He has completed PhD in Genetics. Dr. Chauhan is a PhD coach and tutor.