Grammarly is an AI-powered writing enhancement tool that checks grammar, punctuation and other mistakes during writing. 
Tons of reviews, comparisons, overviews and paid ad campaigns are on the internet regarding Grammarly, the clear reason is that it's a high CPC keyword, first! And second, publishers can earn some commission.
And it's totally fine, as per my opinion, because publishers provide value, guide, direction or proof whether a reader can buy it or not! But… let me tell you that most of the articles are just reviews and convincing readers to buy it. 
In fact, the previous version of this article is only that! (true confession) People copy and rephrase content from the Grammarly website and try to influence readers to buy it because it's a matter of commission. 
After some time, and reading so many articles, I realize that I have to give something more, concise and to the point information regarding this excellent platform- Grammarly. 
So I am re-writing this article- using Grammarly itself!
Here is the article, not a review, not trying to convince you to buy, on the Grammarly that indeed help you make a decision, is Grammarly Premium Worth it or not?
Grammarly is a tool that can check your spell errors, grammar problems, plagiarism and sentence structure very precisely on every platform you have!
Read more: Grammarly: Your PhD writing assistant.
Let's check it out. 
Why is Grammarly needed?
Now let's first go through the problem, why Grammarly is needed? What existing problem can it solve? What is the gap?
Only 17% of the world population can use the English language precisely. Even in the US, people can speak good English but can't write grammatically correct one!
In other parts of the world, especially in Asia and Africa, language is one of the biggest barriers in any industry.
The majority of people though can understand but can't write accurate and grammatically correct English. The present problem occurred because of the poor education system. That's the first problem.
Now coming to the second problem.
During a higher degree such as a doctorate, students wouldn't know how to write an effective essay. They fail every time to entertain their supervisor by their writing. The reason behind that is they literally don't understand how to write an academic essay, thesis and dissertation. 
Several common problems research students face in developing countries are;
Plagiarism 
Grammar and spelling mistakes, 
Sentence punctuations. 
Use of wrong tense and voice. 
Wrong writing methodology
More than half of their research tenure passes literally in correcting unnecessary writing mistakes. Poor academic writing skills restrict them to publish peer-reviewed, high-quality and highly-reviewed articles.
They leave the research field because they fail to do so. Tools like Grammarly can save them. Research students can do so many things with it. It has a wide variety of features. 
In Summary, Grammarly can solve the major problem of lack of academic writing skills in non-English speaking students.
When I was in research I had to face many problems with writing. At one point in my PhD I thought that I can't do it, and that's what most people think! Especially when their background isn't English.
Although I don't know whether Grammarly existed in our time or not! Let me tell you, there are still many mistakes regarding spelling, grammar, punctuations, commas and other things in my thesis. Majority of research students outsource their thesis work unofficially to experts because they don't have the correct knowledge of writing. 
So formal writing is one of the biggest problems for students from developing countries, Asia and African natives and underdeveloped countries. Grammarly helps them. 
So the first point is clear: if you are one among the list, you need Grammarly. I strongly recommend using it from the first day of your research.
The second most important field where Grammarly is required is the online businesses.
Businesses are going online, the market of online businesses is now at its peak and continuously setting new standards and competitions. People across the globe add thousands of websites and blogs every day on Google.
Online businesses rely highly on presentation skills either as video or text. Your actions (what you present, what you write, what you show) tells more about your business. Henceforth, every action must be nearly perfect, correct and to the point.
A single spelling or grammar mistake can spoil a company's or your image. A professional, solid, genuine and beautiful product presentation helps to gain more customers.
The US, UK and other English-speaking countries are valuable assets for online businesses. Precise English (when it looks naturally written) attracts more customers. 
It is nearly impossible to correct all writing errors with human help, So online startups need an AI-powered English writing tool besides human hands. Fortunately, Grammarly can solve 85% of your writing errors. 
Besides, students from lower grades, online writing services, eCourses platforms and social media influencers need Grammarly to save their valuable text.
So It's clear that Grammarly is a "must-in" tool for almost everyone who is there on online business. Now let's understand the platform from the start.
Introduction to Grammarly:
Grammarly is an artificial intelligence/app/website or a program that corrects various writing errors. Common writing errors are spelling mistakes, Grammar errors, punctuations, use of tense, plagiarism and sentence structure. 
Alex Shevchenko, Max Lytvyn and Dmytro Lider developed Grammarly in 2009 which was written in the grammar engine "Common Lips". In 2008, Grammarly developed an original idea that supports Google docs directly.
Features of Grammarly:
Plenty of options Grammarly has! Starting from some common functions like checking Grammar to advanced functions like correct punctuations and reading the meaning of sentences.
The free version has three common options- spelling check, Grammar and common punctuations while the Premium version has other advanced options like real-time plagiarism detection, word choices, Fluency, Tone adjustment, word suggestions, and sentence formalities.
Plus, it also has options of correcting wordy sentences, alert for repetitive words, lengthy sentences, alert for confused prepositions, and overuse of passive voices. However, some of these options are only available in premium subscriptions only. 
Furthermore, apart from providing these services, other benefits of it are; it is available in various extensions like Google Chrome, MS word and Mac OS as well which seamlessly indicates and correctly English errors in real-time. 
Ways to use Grammarly:
Browser extensions for Safari, Google Chrome, Firefox and Microsoft Edge.
Text checker extension for Mac, MS Words, Google Docs.
Grammarly Desktop app for Mac and Windows.
Grammarly mobile app for Androids and iOS
Grammarly for Email check
Elaboratively, we can say that every bit of information that you write on your laptop, computer or mobile; in a browser, email, SMS or Word text, Grammarly can correct. Once you sign in, select the extension you want, and install it, you are done! It starts doing its work.
Yet another excellent facility it has which other platforms don't is the report. It provides a weekly or monthly report of your writing, improvement and scope of improvement which includes,
Repetitive use of words
Most common errors
Most common mistakes in spelling
A score of Grammarly use
Accuracy score
Improvement score
So one can monitor their progress as well as their mistakes timely. Here is mine,
Technically, over time, the platform becomes giant and solves the majority of bugs & technical issues and strengthens its support system. So overall we can say the app is an excellent choice, made with good technical hands and expert automation AI. 
Synonyms suggestion:
I love to use varieties of synonyms in my text and so I personally like the tool Grammarly which suggests synonyms. It literally makes your text amazing-looking by incorporating impressive similar words.
Here is how it works,
Navigate your course to the text you want to replace with the synonym. 
Double click on the word, you will find many different synonyms of a single world.
Take a look at the image below,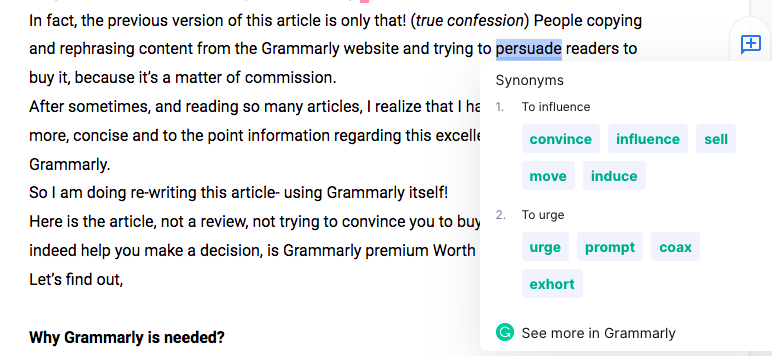 Besides, Grammarly premium has the amazing feature of judging your sentence. When you set a goal, it assesses the sentence based on four parameters- Correctness, Clarity, Engagement, Delivery. 
Correctness indicates how correct the speech and tone of a sentence are! clarity shows how neatly the sentence is written, Engagement shows its engagement with people and delivery indicates how the sentence will deliver to the reader. 
The platform determines if each parameter is fulfilled or not and suggest other things accourdingly.
Now you may understand what a free version or Premium version brings in a package but the question is who can actually use which version of Grammarly? Is the Premium worth it for you or not? 
Free vs Premium features of Grammarly:
In this section, I will explain the features of Grammarly in free and premium versions.
Features of free version:
Critical Grammar and Spelling check
Punctuation checker
Word suggestions
Personal dictionary- synonym suggestion.
Free extensions- Chrome, Safari, MS Word, Google Docs.
Features of Premium version:
Critical Grammar and Spelling Checks
Vocabulary enhancement suggestions
Advanced check for punctuation, grammar, context and sentence structure
Genre-specific writing checks
Real-time Plagiarism checker
Check out Grammarly plans:
The magic of double and single click—

When you make a spelling error, a red line comes under the text, when you move the cursor over it, it suggests the correct spell, on the other side, when you double click a word, which you like to replace with a synonym, Grammarly suggests possible related words.
Grammarly is worth it for who?
Grammarly is a must-have tool for businesses and persons whose business is online. A few of them are,
Copywriters
Literature writers
English writers
Common bloggers
Scientific writers and bloggers
Publishers
Research paper writers
Educational writers
Content marketers
Authors
Students of all grades and high school
Some can manage with a free version while some need the premium one. The price of Grammarly premium is $11.66/month. Though not much costlier, one needs to think about it.
For example, for a PhD student, it is difficult to pay around $12 every month. So the question is who needs it. And should you have to go for it or not?
Let's check it out,
Copywriters write things as per their client's requirement or sometimes texts as such, so a free version is sufficient for them,
-Premium version is not for them.
English writers and literature writers might be experts in their work but mistakes may happen (after all they are human). As they are experts, clients commonly don't expect mistakes (like grammar or punctuations) from them.
If their business is good,
-A Grammarly premium is worth it for them.
Common bloggers are those who write on common topics or not on specific one, also their target audiences are wide, so they can manage with the free version. 
-A Grammarly premium isn't worth it for them.
Scientific writers and science bloggers are those who are expert people, students and other researchers rely on their writing and content therefore their work must be nearly perfect.
They have to deliver errors less, high quality and expert level writing to their company, blog, readers and authorities henceforth,
-Grammarly premium is worth it for them.
Educational writers, research paper writers and Publishers also have to deliver high-quality content to their students and community.
-A Grammarly premium is worth it for those.
Students of graduation usually can manage their writing with the free version, if they can't buy it.
-Students can go with the free version.
PhD and research students have to write high-quality articles, thesis and dissertations therefore, they have to be precise in their writing.
-A Grammarly premium is worth it for them.
Apart from this, the AI-powered tool is further beneficial for those whose business isn't based on writing. The premium version is very helpful for businesses for their social media shares, posts, emails, newsletters, other things and text used for marketing goals.
Grammarly premium is an AI-powered, useful and valuable tool for those who are from non-English speaking backgrounds or countries, has online business and doing something internationally 
Advantages of Grammarly:
Corrects grammar, spelling, context, punctuation and structure of the sentence.
Vocabulary enhancement and synonym suggestions
Setting up goals for various types of writing
Inbuilt plagiarism detector
Wide range of spells: One thing I have noticed about the AI of Grammarly is that it has a wide range of spells and synonyms. Sometimes even the inbuilt computer grammar and spell corrector can't predict words but Grammarly can.
Read more: How to Check Plagiarism for PhD Thesis?- Top 10 Plagiarism Checkers.
Disadvantages of Grammarly:
Limitations of AI: No machine learning is 100% accurate in the world, at least for now, though Grammarly is ~85% accurate in their work. Sometimes even Grammarly can't sense the sentence or its type.
Remember it is hard for Grammarly to understand the sentence, then it is difficult for readers too.
In addition to this, AI sometimes can't work correctly when bugs or boats attack. Although they are very fast in fixing technical issues.
Paid subscription: The free version has some limited features, one has to get a premium version to achieve other goals.
Setting goals:
Yet another important, useful and amazing feature of Grammarly is setting a goal. You can choose what level of expert writing you need and as per requirement you can set your goal, for example, you need a level of writing informal, formal or normal.
What is the target audience and what is the tone!
After setting, the tool itself suggests world, correction and other punctuations as per the goal. In my opinion, this tool is pretty impressive. 
Read more: 11 Reasons why to Study a PhD?
Final verdict:
Besides Grammarly, there are other good paid options as well, but undoubtedly, Grammarly is one of the most accurate, precise, advanced and faster tools available in the market. 
If your survival depends on writing, surely you need a premium Grammarly version, even if you are an expert in writing. Nonetheless, If you just started an online business and lack funds, you can choose to go with the free version, initially.
The present article isn't a paid review of it and I am not endorsing Grammarly strongly that you have to take benefit of premium. I am explaining things as per my knowledge. But if you think that it helps you download it from here, link given somewhere in the article and it helps us to earn some commission.
You should have to map the requirements, whether you need it or not. Ask a few questions to yourself,
Does your writing matter to you?
Is your entire business dependent on what you are writing?
Does your audience need more clarity on your writing?
Is your writing enough capable of publishing?
Are you facing problems in conveying your point to your readers?
Is your audience less engaging in your content?
Is the reading time on your blog too less?
If the answer to the questions listed above is yes, you probably need to think about your writing. If those problems persist even after using the free version then you should have to go for the premium version of Grammarly.
Trust me, if your entire business is dependent on writing only! Grammarly premium is worth it for you. 
Conclusion:
Conclusively, I can say, Grammarly is the best suit and must-have tool for every type of online business as it increases the reach and engagement of customers.
It's not a very expensive tool, you can give it a try for free or at least for a month. The AI is so powerful that once it detects common mistakes of yours, it suggests and corrects them every time when you use it.
Over time the accuracy of Grammarly increases. You can check it out here.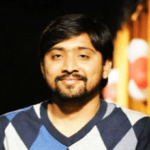 Dr. Tushar Chauhan is a Scientist, Blogger and Scientific-writer. He has completed PhD in Genetics. Dr. Chauhan is a PhD coach and tutor.