"Grammarly's new auto citation tool generates references and an in-text citation in seconds while reading the article. Isn't it great news for research students? Let's see how it works and how we can use it effectively."
A day back while reading some articles on NCBI, I noticed a popup button on the right-side corner of the article 'Get citation.' Since I've been using Grammarly for years, I immediately caught it. It's a citation tool by Grammarly.
I just stopped reading the article and checked how this popup is generated. I opened the Grammarly official website and here it is. The announcement of a professional citation tool for academic and scientific writing.
That's what I want for years and finally, they have done it. There is nothing complicated, the tool is super easy and amazing at the same time. I'm writing this article to let our readers know how they can use it. 

Grammarly's new Auto-citation generator:
Academic writing is stressful. Not because it needs a different kind of writing approach but because one has to cite and reference every bit of resources they use. And in a particular style. I know and most research students too about tones of citation generator tools.
Most of the free-citation generator tools have ads and ads, pop-ups and redirects. And sometimes not so accurate. However, journals have their own citation generators but those too are not handy. So after a long writing session doing citation blasts your mind.
I have years of experience in writing, especially academic papers and thesis, though we have a streamlined SOP for writing, citing and referencing still we find it difficult to do. I mean citing sources was a tedious and toe-crushing process until Grammarly launched their own.
Grammarly's auto-citation and premium citation formatting tool are handy, super easy, fast, accurate and punctual. It's a 'one click' academic tool every student must have. Here are some benefits of this new tool.
Benefits of Grammarly citation tool:
Available for most popular and reputed publishing houses and websites.
No ads and pop-ups.
One-click in-text citation generator.
One-click reference generator and copy ready.
Streamlined and energy-saving.
Easy to navigate between styles.
One place for grammar and spell auto-correction and auto-citation generator.
The tool is in the beta phase and available for Wikipedia, ScienceDirect, PLOS one, Frontier, SAGE journals, PubMed, Elsevier, DOAJ, arXiv and Springer. So when you read an article in any of these journals, you will automatically see a citation pop-up in the bottom right corner.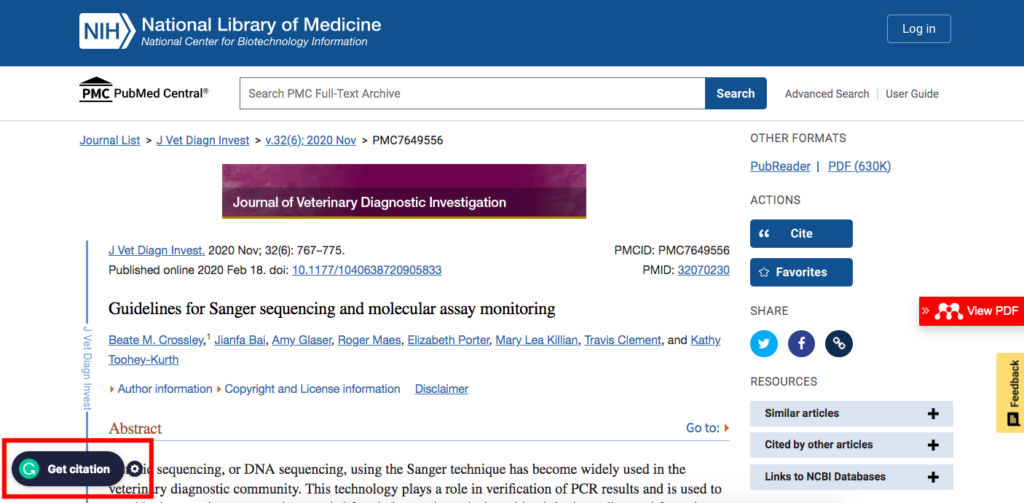 How to Use Grammarly's Auto-citation generator?
First, you will have to download the browser extension, sign up for Grammarly and activate the extension. Grammarly has browser extensions for different Internet browsers. You choose it from the extension store or simply, write a Grammarly browser extension in Google.
Now you are ready to go with free features.
When you open any of the websites listed above, you will see a pop-up at the right side bottom.
Now click on 'get citation'.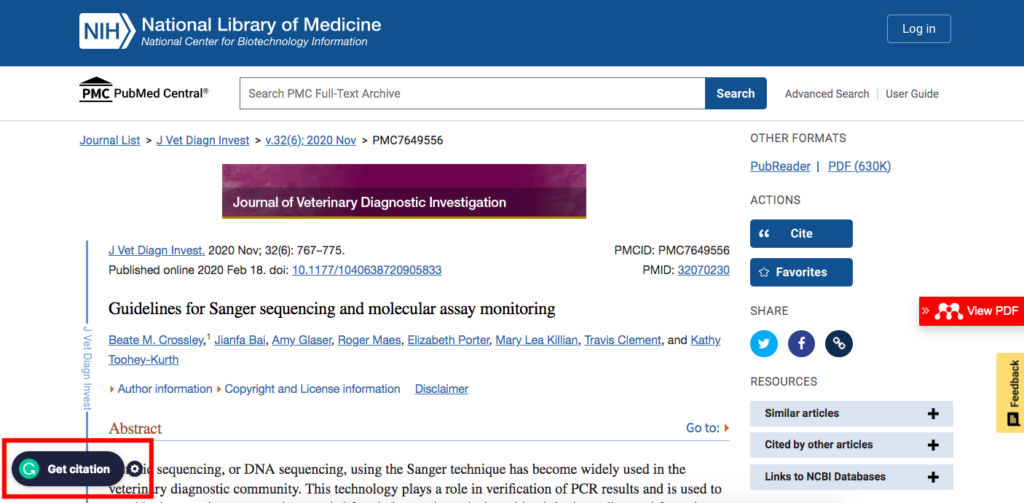 Now Grammarly will generate a citation for that particular article on the website and show you.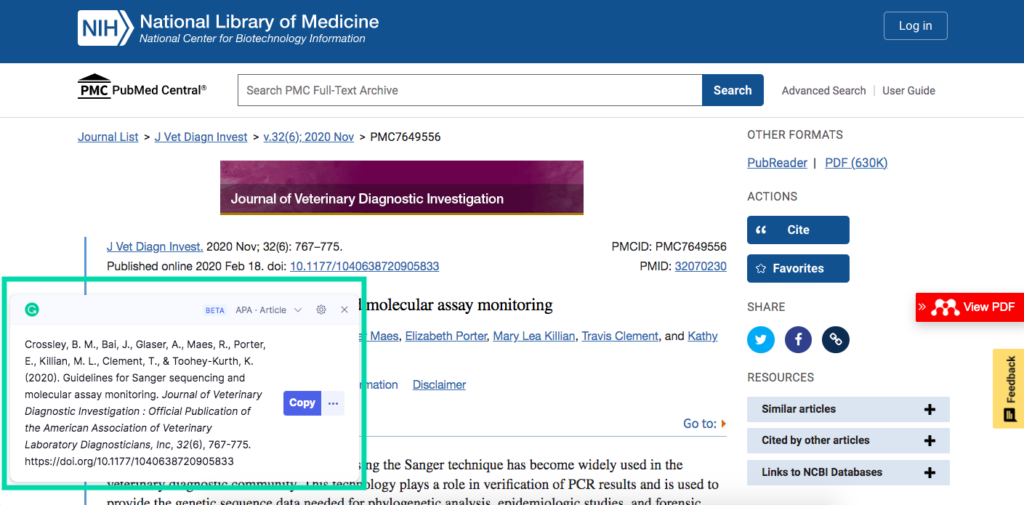 You can check the citation authenticity (which is not needed anymore, Grammarly is trustworthy). And you can go ahead.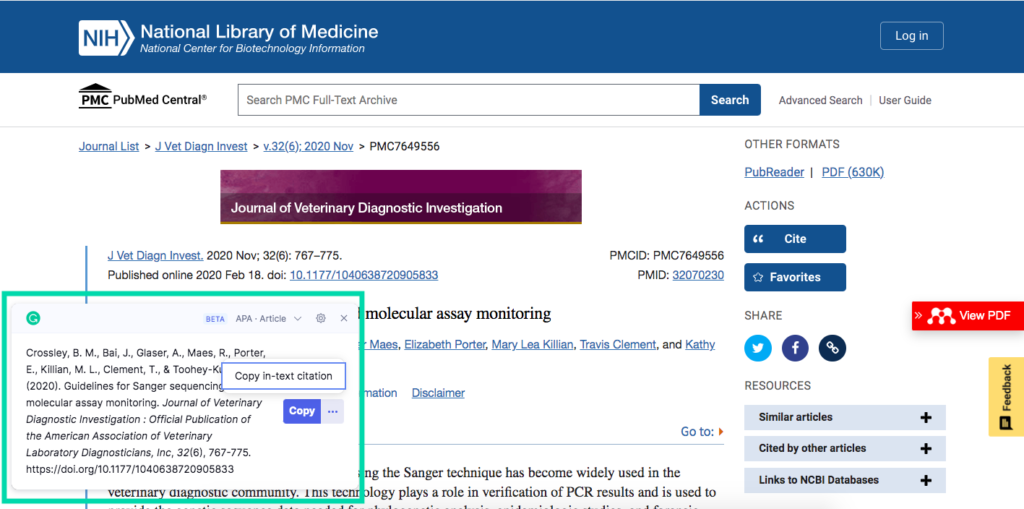 Click on copy or the three dots on the side of the 'copy' button, you can copy the in-text citation and the entire reference one by one and add in your article and a bibliography page, respectively.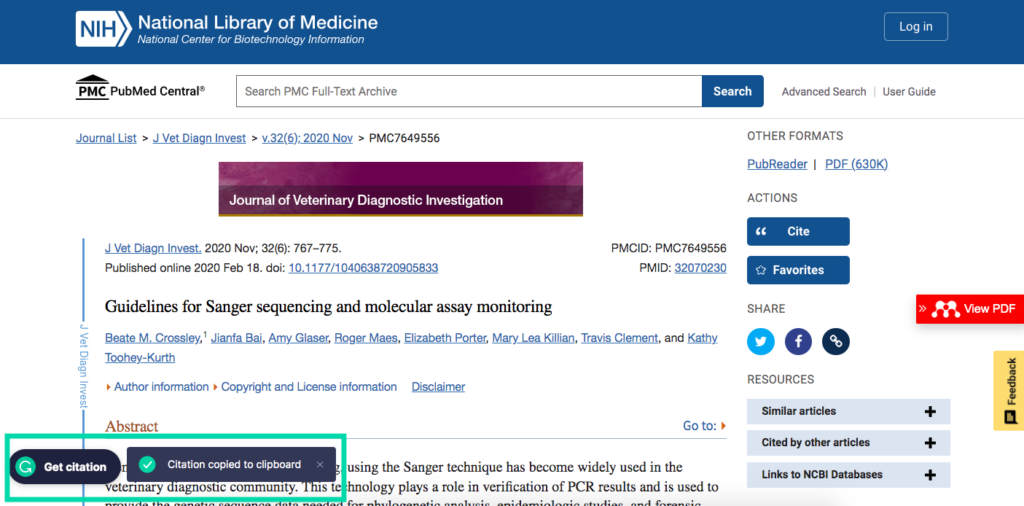 Your citation is copied to the clipboard and here it is. It's done.
You can explore the style section and choose the citation style required for your document. You can choose APA, MLA and Chicago and generate citations accordingly.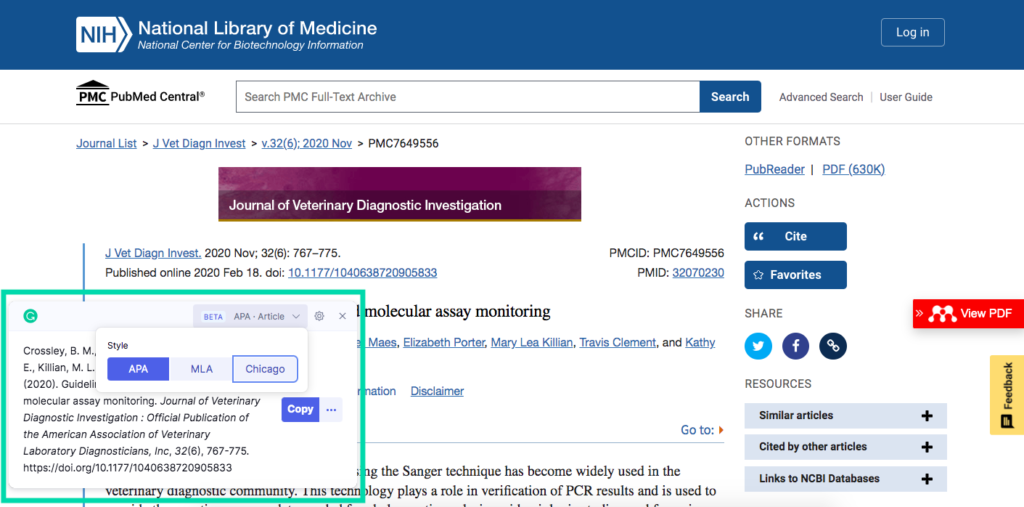 Citation style formatting: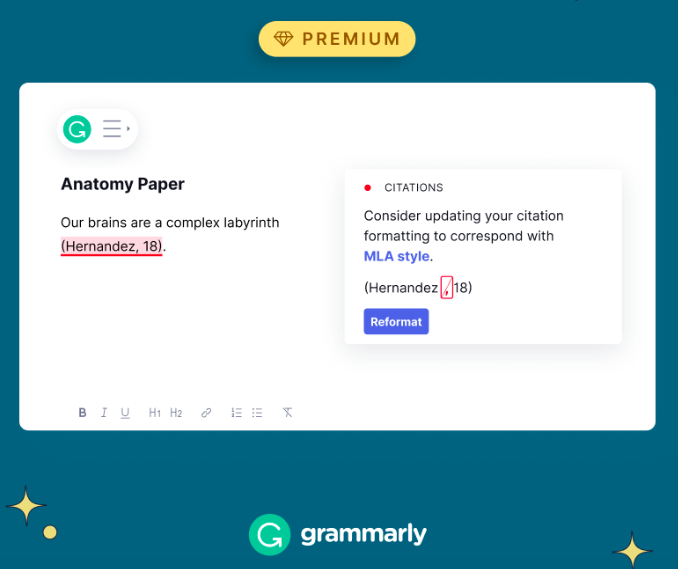 Citation style formatting by Grammarly is a Premium feature that scans your whole articles or selected pages, finds citation problems, and suggests corrections. The beauty of this feature and why it's a premium module is that it can auto-detect the citations in the document and suggest corrections if any. 
It can observe and adjust if the citation is consistent with the style or not. It can check citations for APA, MLA and Chicago styles. This feature is available in the Grammarly Editor. I will see it and write an article on it later. 
But if you think Is Grammarly premium worth it or not? You can read this article to learn more. Grammarly is now a complete toolkit for PhD students, research scholars, academicians and journal writers. Premium members can use Grammarly spelling, grammar, typo, punctuation, paraphrasing, plagiarism detector, referencing and citation tools to increase the potential of their article to publish in reputed journals. 
If you have any plans to purchase Grammarly premium, please use our affiliate link so that we can earn some pennies and can constantly write this type of content: Go for Grammarly Premium.
Limitation:
As of now, after two days of use, I noticed only a single limitation the tool has only a selected number of styles available. Although, that makes it more accurate and precise, and I am sure they will add more styles later after it fully rolls out. 
Wrapping up:
I personally tested the citation tool for a couple of websites and for many articles. And trust me it's seamless and so accurate. I used various free tools on the internet and am not satisfied with them, there are many reasons for that which we will talk about in some other article. But the point is this feature looks pretty impressive, even in the beta phase.
I can now strongly recommend Grammarly premium to every research student. It is worth it. Give it a try with a free demo and then make a decision. Use Grammarly for Free.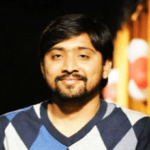 Dr. Tushar Chauhan is a Scientist, Blogger and Scientific-writer. He has completed PhD in Genetics. Dr. Chauhan is a PhD coach and tutor.