"Citation and references are used to indicate the source and navigation for the resources used to write either article, thesis or blog, respectively, in order to avoid plagiarism."
Citation and references are two important elements of educational and academic writing and very crucial in scientific publications. And applying to avoid plagiarism, credits the original researcher and validates the writing. However, citations and references are different in many ways and have varying importance as well.
Scientific, academic or professional writing needs to be accurate and structured. One has to know how to write, how to cite and how to add references. Also, which style to use, and when to use citation must be known as well. Although both are equally important, the citation is the first element of writing a PhD thesis or article followed by references.
If you haven't done it correctly, the chances of accepting either thesis or article decrease. There are prospective candidates should learn citing techniques and referencing styles.
We have written a separate article on "in-text citation" and hopeful to prepare a separate article on referencing as well. But this article is very important in order to understand how the two important elements of writing differ from one another. Here in the present article, I will explain and enlist some of the important differences between citation vs references.
---
Read more: What is an in-text Citation?- APA and MLA in-text Citation.
---
Citation vs references:
A short form of indicating resources is known as citation while the elaborative form of it showing the description and proper navigation is known as referencing.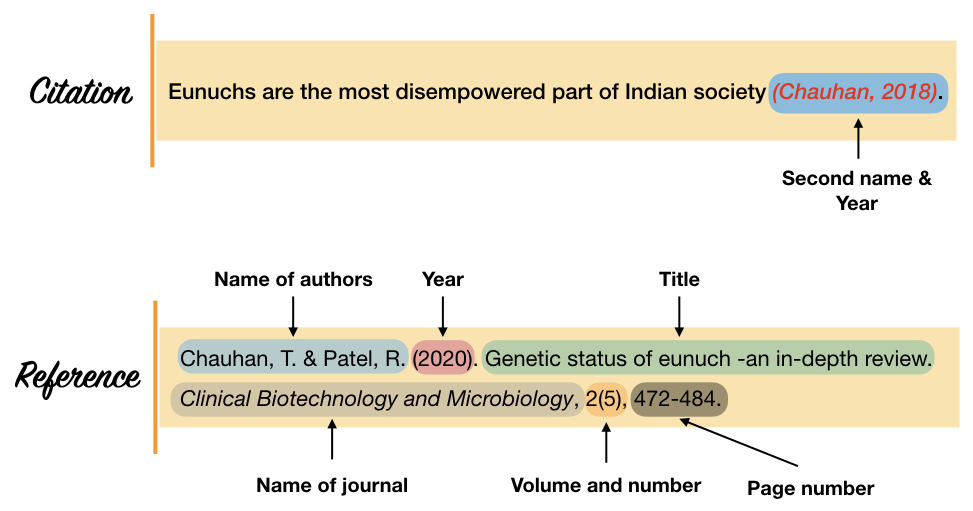 Definition:
Resources implicated in the main body text in shorter formate are referred to as citations. A list of resources enlisted at the end of the article, showing all the necessary information of resources and the way to navigate is referred to as references.
Structurally citations are included in 'in body text' or in main content at the end of each sentence or material used.
Eunuchs are the most disempowered part of Indian society (Chauhan, 2018).
While the references are enlisted at the end of the article either chronological or alphabetical order in a proper style*.
Chauhan, T. & Patel, R. (2020). Genetic status of eunuch -an in-depth review. Clinical Biotechnology and Microbiology, 2(5), 472-484.
In addition to this, the building structure of both differs as well. The citation includes a single second name or surname and year of publication/ page number in a close bracket. Like this,
…(Chauhan, 2018)

…(Chauhan, 478-484)
Contrary, the references use names of the researcher, the title of the article or source, date and year or publication, the name of the journal, the page number of the article and other information like the volume and number of journal or article.
It may also contain the link of article if available online.
There are two forms of citations, in-text citation and a direct quote. The in-text citation is added at end of the article when you rephrase or restate the meaning of the sentence from the original work. While direct quotes are written as it is like the original source, known as a paraphrase.
Contrary references enlisted as per the material cited. Note that citation and references are linked to one another. "Every sentence cited should have listed correctly in the reference section."
Benefits:
Both citation and references are included in academic writing in order to supper a statement, paragraph or sentence.
It also makes the article or writing plagiarism-free.
It indicates fair credit to the original researcher or writer.
What we cite should have there in the references.
Journal articles, blog articles, e-paper, books, book chapters, videos, audio, film or documentary or speeches are used as material to use in the article.
Both citations are references are style may vary depending upon the style used. Here are the examples.
*APA style– American Psychological Association
Citation: Eunuchs are one of the most disempowered groups of our society and lived taboo lives (Chauhan, 2018).
Reference: Chauhan, T. & Patel, R. (2020). Genetic status of eunuch -an in-depth review. Clinical Biotechnology and Microbiology, 2(5), 472-484.
*MLA style– Modern Language Association
Citation: Eunuchs are one of the most disempowered groups of our society and lived taboo lives (Chauhan 472-484) or (Chauhan).
Reference: Chauhan, Tushar and Patel R. Kumar. "Genetic status of eunuch -an in-depth review. "Clinical Biotechnology and Microbiology, vol. 2, no., 472-484.
Importance:
Citation- authenticity

Reference- navigation
The important aspect of citation and references every writer is missing is to show the importance of each. Although citation and referencing have used to avoid plagiarism but have varied purposes. When you insert a "correct in-text citation" it stamps the authenticity of the statement which is important at the first glance for a reader.
But when you enlist references at the end, it provides thorough navigation or a way, a reader used to cross verify and gain more information.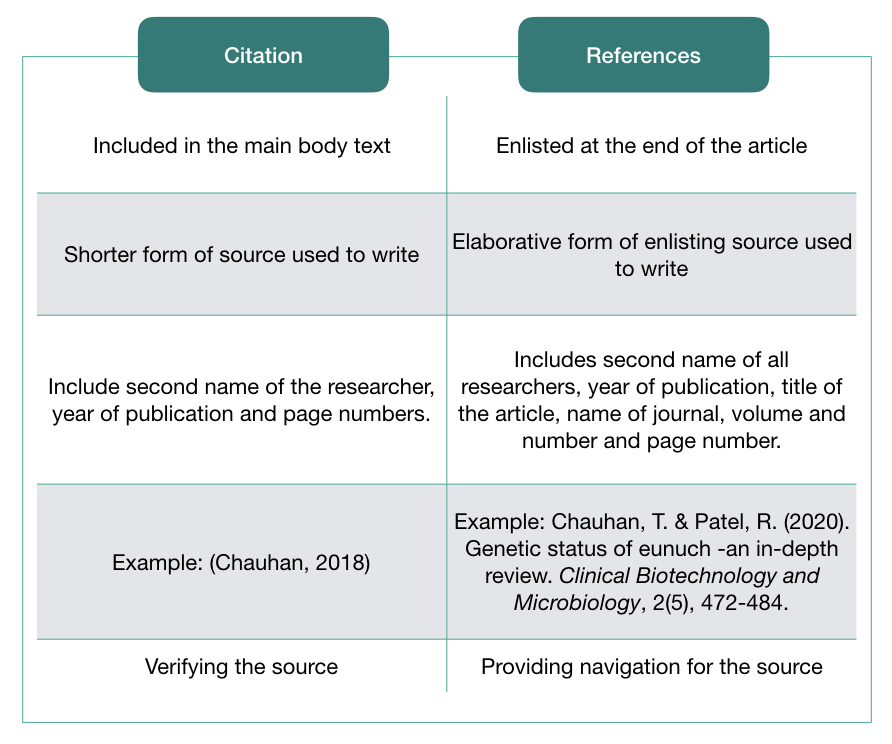 Note that there are plenty of various methods for citation and references besides APA and MLA style and the style differ too. You have to choose the method suggested by your university or the publisher or journal advices. Synchronised citation and referencing is the key to get accepted.
Conclusion:
Every PhD students should have to know the correct way to cite a resource as well as to enlist them in to reference or bibliography section. The common mistake they do while writing a dissertation is the plagiarism. As they can't cite every information correctly, it consider as plagiarised.
So to avoid this common mistake learn the correct way to write an academic document and various styles adopted by the university, publication house or journal.
If you want to learn more on PhD, doctorate, thesis writing or related thing, this blog is for you. You can read varieties of articles on thesis writing, research proposal preparation, PhD types, which PhD to select etc. Furthermore, let us know in the comment section how you like the article and what article you want to read.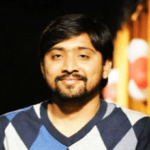 Dr. Tushar Chauhan is a Scientist, Blogger and Scientific-writer. He has completed PhD in Genetics. Dr. Chauhan is a PhD coach and tutor.