DSc- acronym as a Doctor of Science is the topmost academic honor (above PhD) and a professional postdoctoral degree given in the field of science and takes around 1 to 2 years to complete.
A doctorate or PhD degree is the utmost esteem for a person and given in every stream of study however, the doctor of science is more valuable than the PhD degree- known as a postdoctoral degree in science. 
Various doctoral courses and studies are available as per the convenience of studies like the full-time, part-time, funded, self-funded and online PhD programs, etc but the DSc is given to the regular researcher only. A person can apply for DSc programs after their PhD or doctoral generally.
In the present article, we will learn regarding what is DSc, its requirements, process, fees, duration, career options and other related information.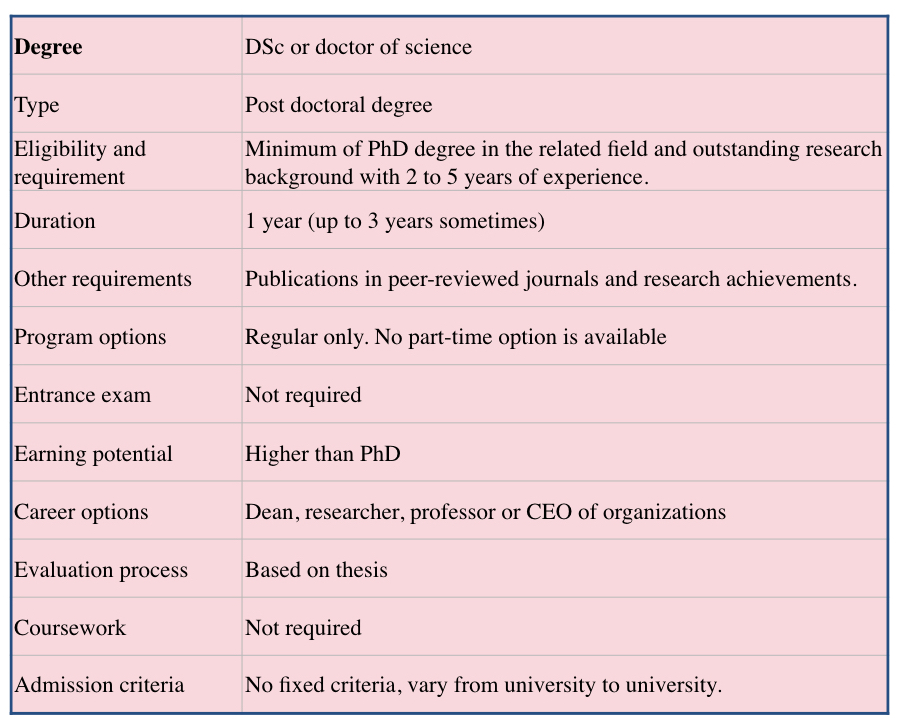 Topics to over in the article:
What is DSc or doctor of science?
Doctor of science- admission process
Eligibility criteria and requirements
Overview chart
Doctor of science- Duration
Doctor of science- subjects and syllabus
Doctor of science- Jobs and opportunity
Doctor of science- salary and income
Universities for doing DSc- doctor of science in USA, UK and India
How to prepare for the doctor of science- DSc?
Related article: What is a PhD? – A Guide for Novice Students.
What is a DSc or Doctor of Science? 
The term PhD in science and doctor of science are usually confusing to students. The PhD in science is given to the prospective candidate in various subjects like biology, chemistry or physics and is a long-range research program of 3 to 7 years. 
While the DSc or doctor of science is a postdoctoral degree given to the students who have done their PhD in any discipline of science.
Science is the study of living and non-living things including general subjects of biology, chemistry and physics. A PhD degree can be given all three subjects and related interdisciplinary subjects.
The DSc or ScD is a renowned post-doctoral honor given to a person for their outstanding and groundbreaking achievements and finding during their PhD or research period.
A thesis or previous research portfolio of a prospective candidate is taken into consideration during the evaluation process. Moreover, other criteria (we will discuss later in this article) are also taken into considerations to award the honors of honor.
An entrance examination is not conducted for the award as it is totally based on one's findings and research background. A limited number of universities across the world offer a DSc degree. 
Read more: PhD in Biology- Admission Process, Requirements, Fees, Duration, Job opportunities, Salary and Universities.
Requirements and criteria:
The requirements and criteria for awarding the post-doctoral degree are a bit different, unlike any other degree, as it is a pure research honor above the doctor of philosophy, the PhD and post PhD research background of a candidate is taken into account. 
The applicant must have achieved a PhD degree in any discipline or subject of science.
Their findings and outcomes of doctoral degrees must be outstanding and splendid.
An applicant must have some outstanding published work in peer-reviewed journals.
An application should have given contributions to their field by their PhD Findings.
Minimum of 2 or 5 years of research experience besides their PhD tenure.
Universities give candidacy purely based on the research portfolio- work, finding and publications of an applicant.
10 or more research publications in WoS/ scopus indexed journals.
3 or more national and international recommendations or referrals from the reputed scientists or expats in their field.
However, the main criteria to get admission is a PhD degree in science or related field from a renowned university or internationally recognized university.
Note (in the box): common entrance test is not applicable for giving candidacy in DSc, universities allow a limited number of students for the award.
Furthermore, coursework is also not included in it.
Admission process:
Noteworthy there are not single fixed criteria to award the present honor, although as it is purely based on the research, a prospective person should have a strong research background.
To get admission, a prospective candidate needs to check all the criteria and requirements the university seeks for the award and can apply online along with their application.
Once the application is approved, a candidate has to register to the university and submit their PhD thesis and other research findings. Or they can submit their 'research CV'.
University conducts a personal interview session to evaluate the applicant's research interest as well as potential.
After completion of the evaluation process, a prospective applicant can submit fees and start their post-doctoral studies.
Duration of DSc- Doctoral of science:
Unlike the PhD in science, a candidate needs to do research for a minimum of 1 year on their topic or it takes around 3 years too.
Commonly the university advises completing the degree within one year. It's a short duration research degree, as there is no coursework involved in it.
Also read: PhD in USA- Admission, Process, Universities, Salary and Jobs.
Subject and syllabus:
The DSc is given only to the applicants of science i.e PhD in science degree holders. The subject must be covered in science.
As we said, no coursework is involved in it, the candidate doesn't need to attend regular classes or courses and therefore no specific syllabus studied in it.
The entire research tenure is based on the candidate's PhD research only.
Doctor of Science- Jobs and opportunity
Much like the PhD degree, the DSc degree of post-doctor in science is the highest level of honor in science and thus one can even get renowned positions at reputed organizations.
A person with a DSc degree can get higher positions immediately after completing the degree. A DSc degree holder can directly get positions of Dean or CEO of the institute.
Doctor of science- salary and income
Usually, a postdoctoral degree holder can earn far more than the PhD degree holder.
Related article: PhD Job Opportunities and Expected Salary.
Overview:
| | |
| --- | --- |
| Degree | DSc or doctor of science |
| Type | Post doctoral degree |
| Eligibility and requirement | Minimum of PhD degree in the related field and outstanding research background with 2 to 5 years of experience. |
| Duration | 1 year (up to 3 years sometimes) |
| Other requirements | Publications in peer-reviewed journals and research achievements. |
| Program options | Regular only. No part-time option is available |
| Entrance exam | Not required |
| Earning potential | Higher than PhD |
| Career options | Dean, researcher, professor or CEO of organizations |
| Evaluation process | Based on thesis |
| Coursework | Not required |
| Admission criteria | No fixed criteria, vary from university to university. |
How to prepare for a doctor of science- DSc?
As the degree is research-based, the candidate needs to strengthen their scientific portfolio.
Go for the PhD degree first after completing the master's and do some in-depth groundbreaking research during the tenure of PhD.
Submit the PhD thesis and complete the degree and publish your work.
Do research or job in the research sector for 2 to 5 years and do research on your related topic, meanwhile publish your work in reputed and peer-reviewed journals.
Apply for the postdoctoral position and submit your CV as well as a thesis for evaluation.
A candidate should have the following documentation in their application:
CV of applicants showing research and academic achievements and experiences.
Title of the proposed work
A brief research proposal
Proof of H-index and other peer-reviewing
Processing fees
The degree certificate of PhD
Letter of recommendations
Proof or patent or copyright of intellectual properties.
List of publications
Other achievements (academic and research).
PhD in Science vs Doctor in Science (DSc)
| | | |
| --- | --- | --- |
| | PhD  | DSc  |
| Full name | Doctor of philosophy in science | Doctor of science |
| Degree | Highest level of academic degree | Higer than the PhD degree |
| Degree type | Research as well as academic | Purely research |
| Duration | 3 to 7 years | 1 year |
| Admission criteria | Master's degree, MPhil and completion of common entrance test | PhD degree and research background. |
| Entrance exam | Required | Not required |
| Coursework | Needed | Nor needed |
| Other criteria | Completion of coursework | 2 to 5 years of research experience and some publications. |
| Evaluations process | Thesis submission | Thesis submission |
Note that the thesis of a postdoctoral degree must have fresh and original research with which a candidate needs to submit the declaration that the research is new and doesn't copied from any other source, partially or fully.
The evaluation process to award the postdoc honor is somewhat similar to the PhD in which the candidate submits his or her thesis to the university at which the panel of experts evaluate the content of the research and quality as well and also check the originality of the same.
If the thesis clears all expert's evaluation criteria, it is awarded to the fellow otherwise a revision is advised much like the PhD.
Conclusion:
DSc or Doctor of Science is the highest level of professional postdoctoral degree. A person needs to tailor gorgeous career records to get into it. Although, it is a single year professional research course, still, many preparations and evaluation stages should be there.
"PhD Coaching services are emerging business models which help students complete their PhDs successfully from outside their University. If you are looking for one such service, check out these criteria." Online PhD coaching is becoming popular among students, especially among those who can't give more time to their research, however, while finding some lucrative and…
FAQs:
What is the Full form of DSc?
DSc or ScD is a doctor of science.
What is the DSc degree?
The DSc degree is doctor of science, a highest level of academic degree, a postdoctoral one, given to the student of PhD for their contribution to the field of science.
Who can get the DSc degree?
Only candidates who have completed their PhD can only apply for the DSc.
Can every student get the DSc degree?
No, only those who have completed their PhD, 2 years of experience and good research background can only get the DSc degree.
What are the criteria to apply for the DSc degree?
A PhD degree awarded from the reputed university, 2 to 5 years of research experience and at least 10 publications in peer-reviewed journals are the criteria to award the DSc degree.
What is the evaluation process for DSc?
The thesis or post-doctoral thesis is taken into consideration for evaluating a candidate's post- doctoral or DSc research.
Is there any entrance exam for DSc?
No, it's a post doctoral degree given based on the research portfolio of the candidate. 
—–End of the article—–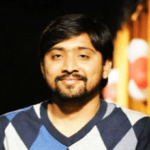 Dr. Tushar Chauhan is a Scientist, Blogger and Scientific-writer. He has completed PhD in Genetics. Dr. Chauhan is a PhD coach and tutor.