Mendeley is a citation and reference management tool available for desktop, MS word, Mac, Linux and other platforms. 
Research or academic writing is a bit different than other types, needs more precision, specialized structure and scientific angel. We have to cite every bit of information in order to validate it. 
Two important elements, research writing has; are citation and referencing. Information can be cited inline while references (often known as bibliography) are added at the end of the article. 
Citing every paragraph by simultaneously adding references at the end in chronological order is indeed a tedious process and hard to achieve. Henceforth is practically not possible.
Trust me, if you haven't done this part correctly, you will face thesis rejections every time. Your PhD supervisor will never accept your thesis. So if someone- a computer, person or software will do this part (citation + referencing) automatically, most of the work will be done. 
Mendeley is that one tool or you can a software precisely do citation and enlist references. It's a product of Elsevier publication and let me tell you that globally it has renowned importance in the research fraternity. 
PhD writing without Mendeley isn't possible now, though alternatives do exist. So in the present article, I will give you a complete guide on Mendeley, what it is, how to use it, how to use various plugins and desktop versions. 
What is Mendeley?
Mendeley is a citation and reference manager tool used in research writing. It helps you to make referencing simple for seamless writing. Elsevier publication acquired it in 2013. 
It's a UK-based company established in 2007. It provides services for academic and research writing. And Was named after the names of Gregor Mendel and Dmitri Mendeleyev. Mendeley's few achievements are;
Best European startup of the year 2009.
Best Social Innovation Which Benefits Society in 2009.
Ranked 6th position in top 100 tech media companies; list by The Guardian.
It correctly does do citation thereby reducing plagiarism. Here is the list of some outstanding features: 
Features of Mendeley:
Cite every bit of information correctly and automatically.
Adds bibliography following the citation pattern
Mendeley library can store articles, research papers and other related documents.
It stores and organizes all research articles.
You can read, note, highlight, annotate sentences, lines and other things.
Collaborate with others by sharing your research work and references.
Tools by Mendeley:
Mendeley Reference Manager 
Mendeley Cite 
Mendeley Desktop 
Citation Plugin  
Private Groups 
CSL Editor 
Web Importer 
How to use Mendeley?
 Firstly, you need to go to www.mendeley.com from your desktop. 
Click on 'create a free account'. 
Enter your Email address and sign in.  
Once you sign in you can start searching and adding articles to your library. 
How to use Mendeley for research?
Mendeley has extensive research applications, especially in writing. PhD thesis, research proposal, research paper, review article, review of literature and PhD report are included in research writing. 
All of them need correct citation and referencing. As we said, The tool helps in adding correct citation and enlisting bibliography and therefore has unmatched importance in research writing.
A fellow can use Mendeley for research in,
Searching articles
Reading, noting and labeling sentences and important points
Citing and referencing.
changing citation style.
Writing PhD thesis and review articles.
How to use the Mendeley desktop?
The best thing about Mendeley is that its desktop app has all the features available online. To do so,
Go to Mendeley>> click on downloads
Click on 'Mendeley Reference Manager' and Click on >> Download now.
You can download it for macOS, Windows and Linux. It is absolutely free!
Here I am giving you a link to download. 
Once the download is done, extract the app and install it on your computer. Note that the desktop app is developed by the company itself and is clear without any suspicious virus.
After it completes, sign in using your Mendeley account or sign up.
It immediately shows articles and research papers you have added to your Mendeley account. You can organize it by creating a library, for that go to the sidebar >> library >> create a new folder. 
Name the folder, click on the 'add' (from the top bar). 
You can add files, folders or can do manual entries. All three options are available there. 
On the top bar, other options are added or delete folder, related, sync and help. Use as per your requirement. 
In the sidebar, you have the first option Mendeley >> "literature search". Here you can explore Mendeley's whole catalog of academic literature. 
Beneath it in the sidebar, you have options of the library, All documents, recent documents, Favorites, and folders. 
Last, in the sidebar, you have the option to create groups Now  Trash to delete the files. 
To explore the article,
Click on add>> add article>> add to folder 
Go to the sidebar >> click on Folder created >>>Click on the article you wish to read. 
Now the article will appear in the new window. You can do a lot of things further. 
You have options like Select, Pan, Note, Highlight, color, Zoom, Zoot to Fit, Sync, and help in this new window. So you can use these options to do so many things with your article. 
You can underline, label, color or highlight lines or important sentences, and can use different colors for different lines or notes. 
On this window, on another side, you have some crucial information related to the research paper you are reading. In 'Detail' you have information such as, 
Type of article
Name of the article  
Journal Name 
Year of publication 
Volume and issue 
Number of pages
Abstract 
Tags
Author's Keywords 
URL of the article
Catalog IDs
PDF file location etc.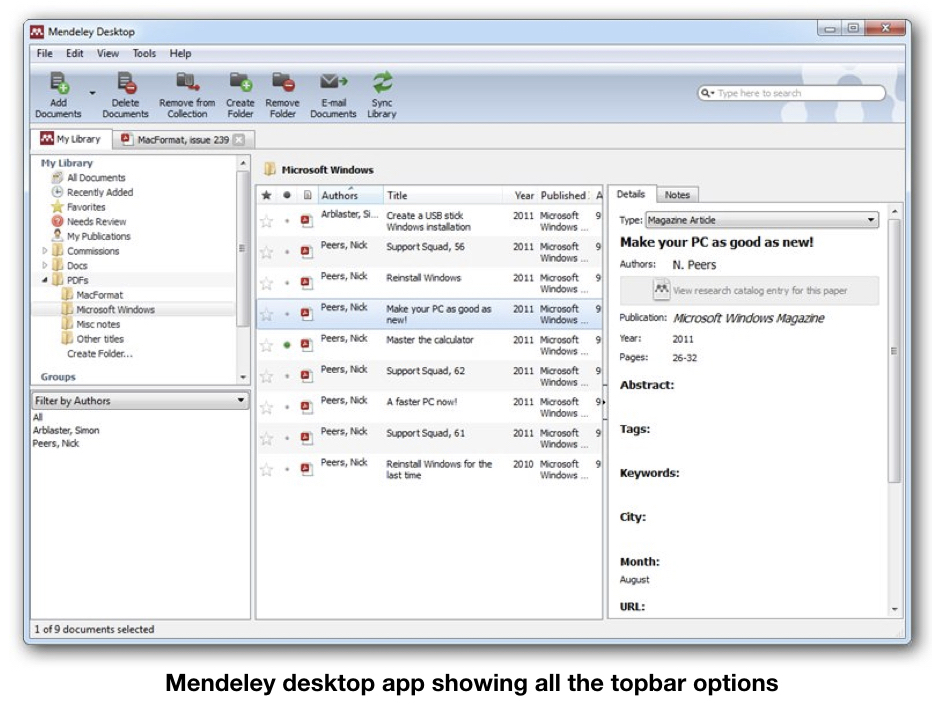 On the side of the 'Detail' option, you have an option for 'Notes'. You can write and save a quick note on this article. This is a brief overview of the Mendeley Desktop app. 
You can read the article and do so many things with it and save the changes for later, but how to use the Mendeley for citation or The citation plugin?
How to use Mendeley MS word Plugin?
Mendeley's MS word plugin has been one of the most important tools for all research and doctorate students. If you are using Windows; you should have the MS word plugin.
Let me first explain how you can download it and use it. We will start from the previous part, from when we sign in to Mendeley. Once you are in
Go to >> solution >> Mendeley Cite and click on 'get Mendeley cite'. 
 It will redirect you to the new page of the Microsoft app store from where you can download it. 
To use the tool, you must have to download the Mendeley desktop app. 
Go to app>> click on Tools >> Install LibreOffice (or MS Word) Plugin.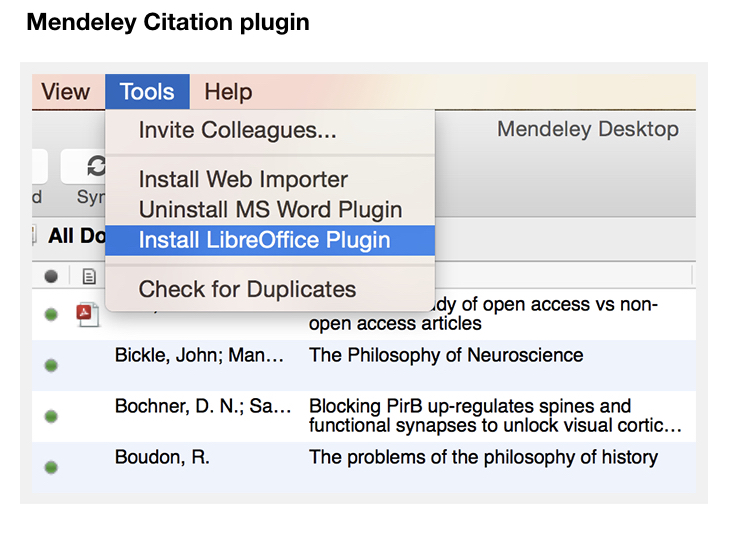 Note that before doing the installation, make sure to close all MS word and One note tabs.
In the next step of the installation, go to MS Word and go-to reference. The citation and referencing option will appear there.
How to use Mendeley citation?
Go to MS word >> topbar >> references
Two other options will appear- 'insert citation' and 'insert Bibliography' 
Click on >> insert citation when you need and add directly from your Mendeley library. You can choose the style as per your requirement by option given in 'style'.
Make sure that the article you will cite, will be added to your Mendeley desktop app.
Keep in mind that when you 'click on insert citation' a new window will open showing the related article from your Mendeley library, click on the source. The system will automatically generate the citation.
How to add a bibliography using Mendeley?
After completion of your review, research paper or thesis, click on >> insert bibliography. The tool will automatically add all the references you have used while writing the article in chronological order.
The bibliography page will generate as per the style you selected, however, you can change it later which is another benefit of it.
If your citation and referencing style will not match the journal's requirement, you can change it with just one click, no need to do it manually.
You can generate many copies of a single article with different bibliography styles and submit them to different journals. It increases your chances of publishing.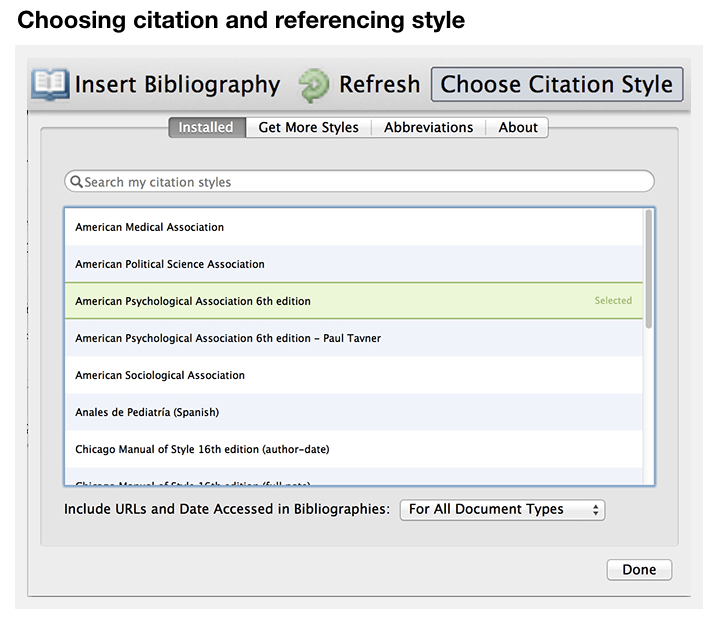 How to use Mendeley On Mac?
Download the app from the official website and follow the steps given above, the process is the same. The process of using the citation plugin varies a bit.
You need to download the MS word app for Mac, the option for plugin appears in the 'add-ins' tab.
Note the process of app installation, app use and other options will remain similar to Windows.
How to use Mendeley Web Importer?
Yet another important tool Mendeley has is its Web important- a browser extension with excellent web surfing application.
It lets you import citations, text, and full articles from authentic journals. You can quickly import it and use it.
Go to the Mendeley Desktop app. 
Click on >> Install Web Importer. 
The feature will work for Chrome, Firefox, Safari and Edge.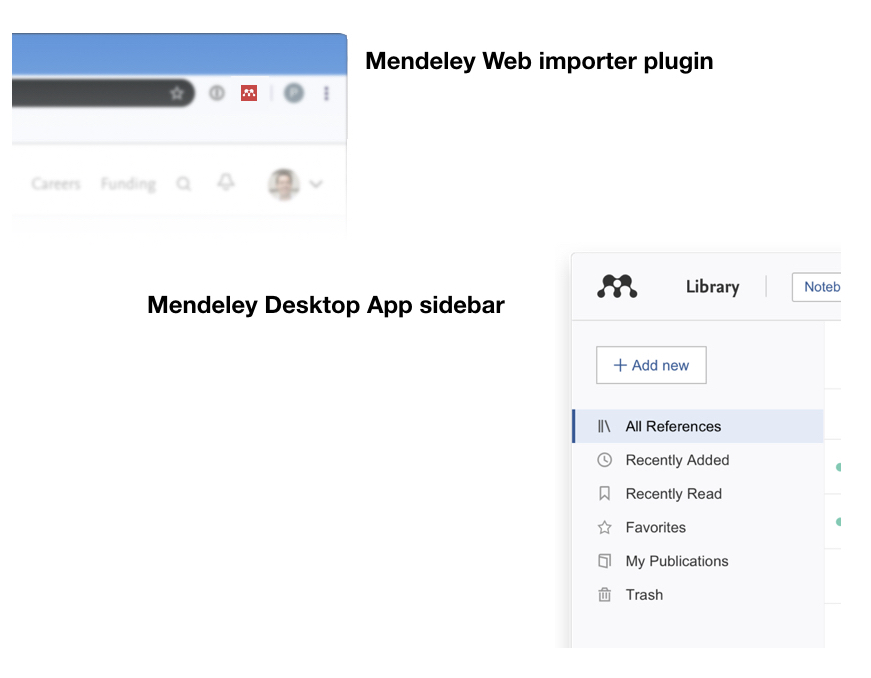 How to use Mendeley offline?
One of the best features of using Mendeley is 'offline.' Even though you aren't online or lost internet connection, you still can use the Mendeley desktop app offline. Even you can explore articles available in your library and do other stuff.
To do so,
Do the Mendeley website >> download the desktop app >> install it on computer >> login and start using.
Summary of the article: 
Here I have enlisted features of Mendeley broadly so that you can understand how to use it for different purposes.
Mendeley Desktop app: Available for offline use on all platforms (Mac, Windows and Linux). 
Mendeley Citation Plugin: to directly add citation in Word article. 
Mendeley Reference Manager: adding citation and bibliography in different styles. 
Mendeley Web importer: A browser extension to import citations and download articles directly. 
Mendeley Mobile app: For reading articles and noting things, available on iOS and Android. 
Mendeley Catalog: It's a collection of over 90 Million unique peer-reviewed articles. 
Conclusion:
For a PhD student, the Mendeley app is like a stress reliever. You can remove, edit and update citations and references anytime from anywhere and also maintain the sync between both. However, deactivating the citation plugin can't help further.
If you just have started your PhD, start learning the Mendeley and other related citation software and plugins, it will help you in the future to write your article, PhD thesis and proposal. I hope you like this article.
If you have any query you can comment here and let me know. till then stay motivated, continue your PhD work.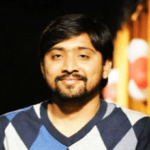 Dr. Tushar Chauhan is a Scientist, Blogger and Scientific-writer. He has completed PhD in Genetics. Dr. Chauhan is a PhD coach and tutor.