As per the Wikipedia- "Education is a process of learning."
By using the methods of teaching, training and discussing, an educator can convey knowledge, skills, beliefs and values to others.
For fulfilling this purpose, a special degree in education is designed for those who want to be a teacher, at any level. 
A bachelor of Education, abbreviated as B.Ed is a graduate-level degree given to the student who wants to teach.
Moreover, a master of Education (M.Ed) is higher than B.Ed which helps in grabbing higher positions in the same field.
Notably, doing a PhD in education is something different, the goal is not only to teach other students but also to do research in the same field.
We have two options for that- PhD or EdD, means, PhD in education or doctorate in Education, respectively. If you want to learn more about differences between doctorate and PhD, read this article: Doctorate vs PhD.
Either doing PhD in education or doctorate in education the present goal can be achieved. However, the purpose of both is different.
The EdD stands for doctor of education while the PhD in education stands for doctor of philosophy in Education. 
The purpose of both the highest level of degree is different, though, it is similar in some manner.
Both the degree is the uppermost honor or esteem given in the field of Education by universities across the world.
Despite having similarities in terms of requirement and process, the purpose and the aim of PhD and EdD are different.
In the present article, we will discuss about those differences and tell you why you choose, which degree?
So let's start,
PhD vs EdD- Differences
The doctor of philosophy in education is given to the student for discovering new knowledge in their related field.
While the doctorate of Education is a specialised degree, equivalent to the PhD given to the student for applying the knowledge for solving the real-world problems.
The main objective of doing PhD in education is to do research- research and research for improving the present knowledge.
While
The main objective of the doctorate in education is to provide a solution to the society, or real-world using the present knowledge. 
Thus, research or academics and educational leadership are the career options for a PhD in education and doctorate in education, respectively. 
In the PhD, you have to do research, as we said. Consequently, you can become an expert on some topic. You can advise others how to implement the present knowledge for better outcomes.
In the EdD, your main responsibilities are to implement the knowledge and suggestion given by the expert (i.e doctor of philosophy) to drive changes in the academic system such as school, colleges or universities.
And hence, the EdD degree is more professional rather than educational.
As we said, during the PhD, qualitative as well as quantitative research are the main focus while in the EdD, finding solutions is the main focus.
Therefore, one-on-one collaboration with the faculty or expert requires in PhD, but not needed in EdD. Doctorate of Education (EdD) is all about taking steps to solve problems if exist. 
Documenting the findings is the center of PhD, henceforth dissertation or thesis writing must include in the PhD, however, a dissertation is not mandatory in EdD.  Take a look at the graphic below.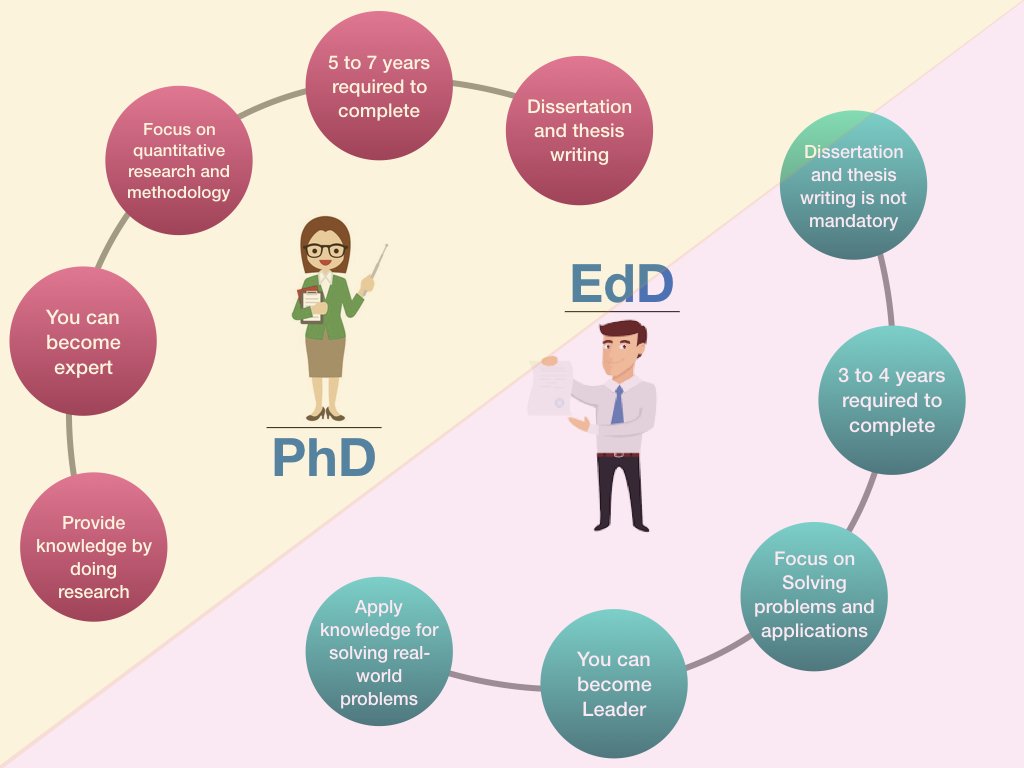 For getting a PhD degree, a candidate has to invest 5 to 7 year or more, on the other side, approximately 3 years are sufficient for getting an EdD.
Here, one question arises in everyone's mind that if the importance of both the degree is the same, then why EdD is less time-consuming?
See, EdD- doctorate in education is more focused, a student has to focus on the solution rather than how to improve it.
Which means one has to answer "how" instead of "why" in EdD. The focus is more practical and problem-oriented. Therefore, less time is needed to complete it, further, a dissertation isn't mandatory which also reduces the time duration.
On the other side, during the PhD, a candidate has to answer their research question and thereby improving the knowledge by writing the PhD thesis or dissertation.
Because of this reason, more time is required to complete the PhD.
One has to do full-time research during PhD therefore it is offered by selected schools. Contrary, the EdD degree can also be achieved part-time and therefore it is offered by only several education schools. 
We have enlisted the advantages and drawbacks of the online PhD program in this article. Read it here: Doing Online PhD: Advantages and disadvantages.
The career options for PhD students are university professor, research scholar, Policy scientist and educational director.
While the career options for EdD students are professional leadership, dean, university president, principal or dean at the research center.  
On this basis, we can say the EdD degree is more superior than the PhD in education.
Conclusively we can say, by doing the PhD, you can become an expert while by doing the EdD you can become a leader.
Although both degrees have different aims and objectives, the honor, as well as the importance, is similar. So the student gets confused about which degree is the best choice for them? 
I will ask you several questions you can answer it by yourself. Trust me this will help you to choose your career path. 
Are you interested in doing research?
If yes, PhD is an option for you.
Are you interested in solving a real-world problem?
If yes, Eds is an option for you.
Is teaching or academics your prime interest?
If yes, pursue PhD.
Do you want to discover something? Or provide knowledge?
If yer, focus on PhD.
Do you want to take leadership responsibility?
If yes, look into EdD.
Do you just want to achieve some highest level of honor? 
Do any of the degrees, it doesn't matter because both are doctorate degree.  
By answering those questions, your goals for either PhD or EdD becomes more clear.
Read more: PhD vs PsyD.
Notably, I have to mention one important point here,
If you are already working in some organisation, college or institute, the present scenario is different for you.
You can't work full time on research methodology, even, can't go college regularly. Besides, if it can't give you any output (in terms of your career), PhD is a waste of time for you.
Think about the doctor of education- EdD, instead. This will give you more flexibilities and output in terms of your career. A part-time option for the same is also available.
On the other side,
If you are working in some research organisation or institute, PhD is the best option for you for improving the present knowledge.
In addition to the above information, both the degrees are quite similar in some aspect.
PhD or EdD is a specialised degree indeed, not open for everyone.
A student completed their bachelor's and master's degree in education can only apply. Thus for either degree, master of education must be the first criteria to apply. Further, a candidate has to submit the research proposal stating one of the present problems along with the application form.
Furthermore, a candidate has to fulfill other criteria of the university in which he or she is applying. For example, some universities conduct entrance tests. 
However, the mode of doing research is similar almost, but the EdD candidate has to work on practical applications rather than research. 
Related article: Rules and regulations for a PhD candidate.
And as we mentioned earlier, the final draft of the research is submitted in the form of a thesis or dissertation.
Notably, the dissertation and/or a small project draft can be submitted in the case of EdD but not mandatory. 
But keep in mind that before applying for any of the present degrees, you should first read the rules, regulation and criteria for getting the honor. 
Because, as we know that the EdD is purely application and practical base, viva or external evaluation is not require, on the other hand, the viva, thesis or dissertation and external evaluation must be accomplished to get a degree.
Between the PhD vs EdD, in some aspects, the PhD in education is more superior. Typically, the PhD holders are more involved in research and publication. Their capacity for publishing high-quality research articles in peer-review journals are more.   
Conclusion:
Conclusively, we can say, either degree are the highest level of honor, your selection is based on the interest of yours. 
If your concern is the salary expectation, between PhD vs EdD the EdD is more payable because the responsibilities are more.
Notwithstanding, if you are already working in some organisation in the best position, doing PhD can pay you even more than an EdD.
Some common questions related to PhD vs EdD:
Is someone with an EdD called a doctor?
Yes. as we sai earlier, both are the highest level of honor. The doctorate in education is equivalent to a PhD in education. 
What is the salary expectation for a doctorate in education?
Obviously, the pay scale for the doctorate in education is higher in comparison with the PhD, however, it may vary based on which position are you holding currently. 
Is an EdD worth it?
Why not! You can be a dean, principal or a leader in any institute, organisation or college.
Is a PhD in education worth it?
Of course! You can be a teacher, professor, lecturer or even a dean of the institute (if you have enough experience).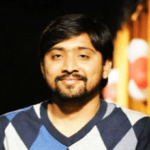 Dr. Tushar Chauhan is a Scientist, Blogger and Scientific-writer. He has completed PhD in Genetics. Dr. Chauhan is a PhD coach and tutor.