A journey from degree to PhD is full of hurdles and obstacles. One has to do many things starting from competitive exams to presenting the thesis. However, the journey indeed starts from the master's.
---
PhD is the utmost esteem to a person henceforth don't think it is easy to get! It's a complicated academic process and one has to face problems, deal with stress & frustration and failures. And including me, everyone has faced these problems during their research tenure.
Nonetheless, it's not always a case, you can do better if you follow some rules, a blueprint or a kind of roadmap that actually needed. The present article is a kind of "roadmap from degree to PhD" that I think helps you to better understand the process but before going into the topic,
Let's first introduce a PhD.
The PhD is known as a doctor of philosophy and renowned as the highest level of academic honor. It can be given to any student of any subject. Once someone completes their PhD, they can use the prefix "Dr" and be known as a doctor of their subject.
A PhD person can become a research scientist or academician which probably are two evergreen, popular and suitable options with a decent amount of earnings. Notedly, a doctor in science earns more than any other doctorate.
Read further: Life after PhD- doctor of philosophy.
A roadmap for a degree to PhD:
To start anything, people always wonder where to start! And so it's a question here also! Where to start for a degree to PhD. First, make sure you have completed your master's degree or M Phil, or you are sure about it. Now start preparing for PhD. See getting admission into PhD is a lengthy and time-consuming process.
Even after getting admission, you have to complete so many formalities to actually get into PhD. So for that understand the PhD about the process, admission, criteria and requirements from your degree. It will eventually help you to get the doctorate smoothly.
How to start? We are dividing the roadmap into several milestones to understand it properly.
Process of Degree to PhD- milestones
Pre-admission process
Admission process
Post admission process
The PhD tenure.
In this section, we will understand what are the requirements for admission. key things needed in the post-admission phage, important takeaways for you as a PhD student and how to clear the PhD smoothly.
Pre-admission process:
First, you need a master's degree, with decent credentials, for instance, in India minimum criteria for applying is 55% which is compulsory. If you are sure about getting the honor, do not wait for notifications or examinations, immediately contact some expert, your professor or guide and start preparing a PhD project.
Start with an idea, do literature research and note things. Keep in mind to choose a topic as per your interest and knowledge. Look, the PhD project is the key thing that makes you stand above all! Make your entire research work ready before your admission. Decide which subject and topic you wish to do research on, the running title of your PhD, methods and techniques and other related things.
This article will help you surely: Designing a PhD Project from Scrap to Craft.
Some universities conduct an entrance exam while others allot students directly to the PhD based on their PhD project, merits of masters and personal interview.
The next thing is to select a university or college or place to do a PhD and the supervisor obviously. These have been done before admission, keep in mind. Even if you have completed the entrance exam and no PhD supervisor is ready to take you, you can't do PhD, it's a harsh fact! So immediately contact the PhD supervisor associated with the university with whom you wish to do PhD.
In this, your PhD project helps you a lot and will prepare a positive image of yours, because ultimately newbies don't know these things at all. Now, you can contact them on LinkedIn or email them your Project, meet them and show your research interest. A guide will definitely take interest in you. We have covered an amazing article on how to select a PhD guide, you can read it here: How to become a PhD guide.
Meanwhile, you can prepare for entrance exams. Once A PhD guide will be ready to take you under them! Your admission will be almost stamped.
So during the pre-admission phase:
Prepare a PhD project
Design a research proposal
Form a working title
Contact guides and supervisor
Prepare for the entrance examination.
PhD admission:
The second phase deals with the admission process, requirements and related stuff. So if are getting admission, surely you have completed the entrance examination. During the PhD admission process, you have to first submit your PhD proposal and your degree certificates.
A PhD proposal is the working, brief and summarizes draft of your entire research work. It comprises a 10 to 12 page long written draft, a working title, an overview of the topic and the budget information of the entire PhD.
Moreover, master's degree certification, university transfer certificate and other related documents and their true copies are submitted to the university PhD cell. Meanwhile, you have to select your PhD guide, which we already had done. It's just formality for you now.
To admit into PhD you need to submit this many documents:
A research proposal
A working title
No objection certificate from you
No objection certification form you guide
Acceptance letter from your guide
Your degree certificates
Certificate of clearing entrance example, if applicable
IELTS or TOEFL score, for foreign students
University migration certificate
Though till now your admission is confirmed you are yet not allowed to do research. For that, you have to fulfill some more criteria.
Post admission process:
This phase is a bit tedious and boring as well, excluding research (what are eager to!) you have to and arrange so many other things, simultaneously. First, after getting admission you will enroll in the course work. You will have to study coursework for at least one year in which your major study subjects are related to research methodologies.
If you fail to complete the coursework, you can't go further. Universities give 3 trials for completing course work with a minimum of 50% marks. Meanwhile, you have to design your entire research work layout for 3 to 6 years, keeping in mind that you will pass the course work. The research design is nothing new but the more elaborative version of your research proposal.
Furthermore, you have to arrange funding, scholarship or fellowship facilities to fund your PhD. So there are so many things for you to do during this whole first year of your PhD. Once you complete the course work, you will become a PhD candidate, an actual PhD scholar to do research. From the second year, you can actually start your research journey.
The PhD tenure:
After the second year onward you can start your actual research work. But mostly lack of planning and plotting lead to deal the completion. Again, directly going further, plan things, what you will do daily, what goals you will have to achieve monthly, quarterly and yearly. Take your supervisor's help to bifurcate your research work, lab or fieldwork, accordingly.
Give equal time to research and reading & writing. Try to stick with your plan always. Most works, largely done during this tenure are,
Sampling and lab work
literature review
Publication in the peer-reviewed journal
Thesis writing
Thesis submission and viva preparation
Doing a lab work
Lab work is something that is so important in the PhD. Failure results in thesis rejection. You may face failures, problems and hurdles in your theory, technique, method or hypothesis but that is the research. You have to work constantly on it. Identify the loopholes and problems, and try to correct them.
Read related articles, techniques, meet scientists, get suggestions from experts to complete your research. Your lab work should be performed properly and documented correctly.
Another important thing in the post-admission process is the PhD thesis. Your daily journal, documentations and indications help you to write a thesis. Thesis writing is not rocket science. Everyone wonders, it is the hardest thing in PhD, but trust me you need a little knowledge of English and the Grammarly software.
Grammarly is a software that will take care of all your writing errors, you can read our article on its benefits and how to use it. Grammarly: A PhD writing assistant.
If I describe a PhD thesis, comprehensively then a PhD thesis is a written proof or draft of your entire research work.
Elements of PhD thesis: Abstract, introduction, material & methods, results & discussion, interpretations and references.
Whilst you are writing a dissertation thesis, you should worry about your publication. One of the major criteria for appearing in PhD viva is the publication of your research work in the peer-review journal. With your thesis, you can write your research paper, simultaneously. You may submit it in different journals for publications.
After doing all these, a final stage will come when you will appear in your PhD viva voce. It's a discussion session where you have to defend your thesis. The viva-voce session will be easy for you if you read this article of our: Preparing for PhD viva voce.
Hey there to the students of Genetics, biotechnology or microbiology and those who are working with PCR, RT-PCR, microarray or sequencing, we will help you to prepare a research proposal, thesis, research paper or even your entire PhD project from start to end. contact us: thephdhubthesiswriting@gmail.com.
A roadmap overview of Degree to PhD: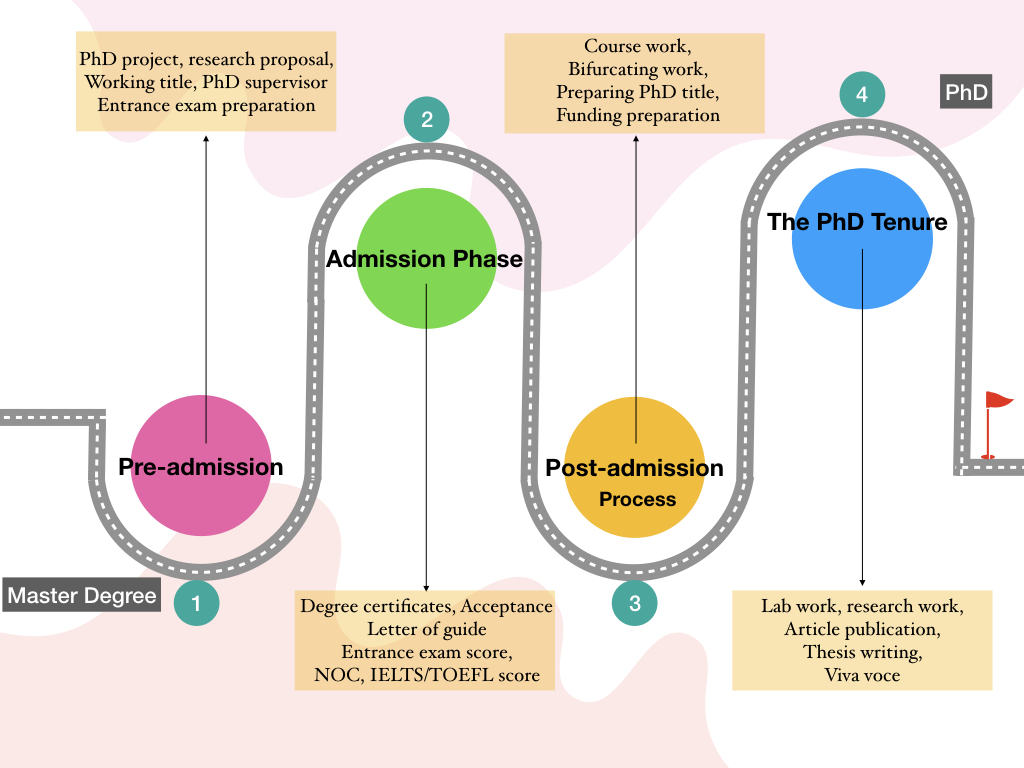 Requirement for Degree to PhD:
Master's degree/ M Phil
Good research background and publications (option)
Entrance exam
PhD project
Research proposal
Course work
PhD title
Wet and dry lab work
Publication in peer review journal
PhD thesis
Viva voce
Time duration for degree to PhD:
The PhD time duration varies from subject to subject, for instance, PhD in science or applied subject takes a long time in comparison with PhD in history or literature. Broadly it takes up to 4 to 7 years to complete a PhD (or sometimes 8 to 10 years!).
If we include the time duration after degree and take into account your preparation time of 1 to 1.5 years, the whole process of Master's degree to PhD takes 4.5 to 7 years.
Related article: What is PhD?- History, Definition, Origin, Requirement, Fees, Duration and Process.
Conclusion:
Undoubtedly, a PhD-doctor of philosophy is one of the hardest things to do in life. Notwithstanding, determination leads to success. If you, as a student will know these things before deciding to go for PhD, it surely, undoubtedly help a lot. And mark my words no one of your fellow students knows these things.
If you are willing to do PhD, start from today. Prepare for competitive examination and try to make a PhD project. I hope what roadmap I have prepared will help you. Thank you for reading this article.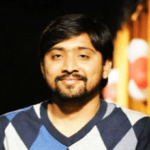 Dr. Tushar Chauhan is a Scientist, Blogger and Scientific-writer. He has completed PhD in Genetics. Dr. Chauhan is a PhD coach and tutor.