A PhD guide or supervisor is an experienced person and a tutor who helps students to achieve their PhD and guides them during the entire tenure of their doctorate.
---
If you are in this article, perhaps you are a doctorate, a professor or someone who is looking forward to becoming a guide or wants PhD guideship. However, it isn't as easy as a PhD because the experiences and expertise of the guide decide the fate of a research scholar.
So the "should have" qualities in a PhD guide are, experience in their field, expertise in several techniques, decent research background and obviously, affiliation with some institute.
Nonetheless, such criteria are also not enough. Universities have their own rules and regulations for supervisors and one who is willing to be; must have to fulfill all those. But what are those criteria? How does one become a PhD supervisor? All these questions will be answered in this blog article.
But before going ahead I have to announce that I am not experienced enough to guide a guide. But I have collected information from various sources to make it available in one place. I hope this article will help some.
Stay tuned. 
Who is a PhD guide or supervisor? 
A PhD supervisor with other names: doctorate supervisor, PhD advisor, or a doctorate guide is a mentor of research scholars. Supervisors usually are regular faculties of the university. Note that in some cases, external guides are also allowed. To be a PhD supervisor or guide some of the general criteria are here.
A person should have a PhD degree.
A person should have a strong academic and research background.
A person should have enough experience to guide others.
A person should have a decent research background.
A person should have enough publications and reputation in the research fraternity.
Now let's see each point in detail.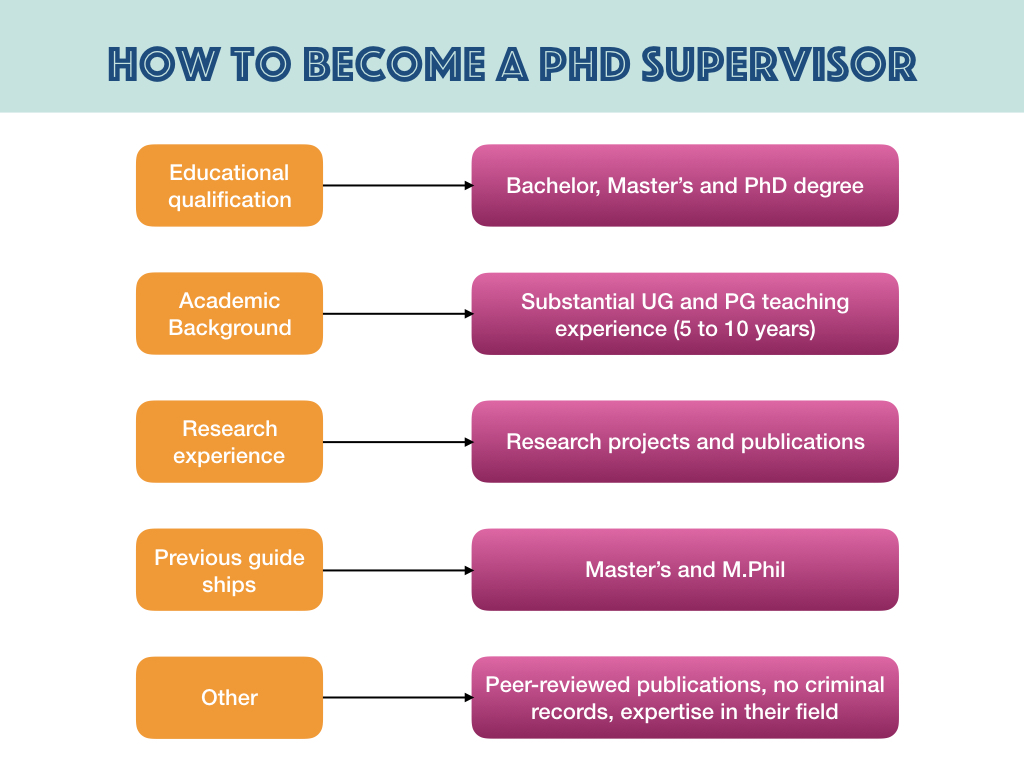 Criteria to become a PhD supervisor or guide:
Educational qualifications:
An applicant must have graduation, post-graduation and/or M.Phil and PhD degree in their relevant field which must have been completed from a reputed and well-known university. Note that all the degrees must be achieved from a government-recognized university.
In addition, the applicant should have done research in the subject or related allied subject in which he or she wants to become a guide. Importantly, the fellow applicant must have a doctorate, research or equivalent degree.
Academic background:
To be a doctorate advisor, an applicant must have enough academic experience as a lecturer, professor or assistant professor. A strong academic or teaching experience is required with 10 years of undergraduate and 6 to 7 years of postgraduate teaching experience.
Noteworthy, the experience of only the government-approved universities is counted in the recruitment process. Furthermore, the applicant must be a regular faculty of the university to which he or she wishes to apply. The applicant must be affiliated with the university, anyway.
The applicant should be working as a lecturer, assistant professor and as a professor in the university or affiliated college or school.   
Research background:
The research background and reputation of an applicant in the research fraternity are also taken into consideration during the evaluation process. During their academic tenure, the applicant should have substantial research contributions in their field.
He or she should have enough publication in the form of original research, review articles, short-communication and patent in peer-reviewed internationally approved journals. He or she also has guided students at the undergraduate or postgraduate levels.
Noteworthy, consistency in research work, publications and other research activities are crucial factors for recognition. Such parameters dictate dedication, responsibility and interest in research. In addition to this, patents, copyrighted materials and any IPR product are acknowledged as extra points.
The applicant must have mastery and expertise in techniques, methods, tools and instruments used in their subject.
Previous guide-ships:
As mentioned somewhere in the article, the applicant must have experience as a mentor. He or she must have guided students during their Master's or M.Phil with excellent academic rewards.
The ratio of students guided, students who completed the research and students publication is also counted in the evaluation process. It shows how experienced, consistent and potential the applicant is for guiding the doctorates.
Other requirements:
Besides, the applicant should be involved in other research projects or activities like seminars, gatherings and symposiums.
Several professional, technical and scientific organizations prefer more in-depth evaluation for supervisor recognition including the quality of their research, publications and reputation.
A full-time faculty of the university, university-affiliated college or department, state-level scientists or those working in national institutes or laboratories can apply. 
The applicant must have at least 5 research publications in peer-reviewed and renowned journals as a first author or second author as a guide but the whole work belongs to the applicant and their students only.
Mentions as an advisor, acknowledgment or fourth author aren't considered as publication, nonetheless, it would be considered as some extra credit.
All of the applicant's work must be plagiarism-free and/or their original, in the case of ascertaining the application would be rejected and the applicant can be banned.
The supervisor doesn't have guideship from other universities, however, he or she may become a co-guide, joint guide and can collaborate with other universities or organizations.
Moreover, the applicant shouldn't be involved in criminal activities, shouldn't have any criminal record, and should be devoid of student controversies and allegations.
I think, as per my knowledge, these qualifications are enough to show your interest in becoming a PhD guide. However, rules and regulations vary among universities. Now let us go through the roles and responsibilities of the applicant or supervisor.   
Read more: Are PhD studies in India waste of time?- Students' Voice (unfortunately- unfortunate does exist- an individual's perspective!!!)
Responsibilities of a PhD guide or supervisor:
As aforementioned, the doctorate supervisor will be a responsible and experienced person with a balanced attitude. He or she would have a positive attitude and balanced behavior towards their research students.
Their major responsibilities during the tenure of guideship are enlisted here.
They have to guide or supervise PhD candidates in completing their research.
They should have troubleshooting and problem-solving behavior. 
They have active involvement in students' research work and encourage them continuously. 
They also have to teach other post-graduate students too. 
They have to actively participate in other university activities and academic works. 
They can stand alongside their PhD student in every situation and support them during their emotional, economical and academic setbacks. 
They have to always motivate their students. 
As a PhD supervisor, a teacher can guide a maximum of 8 to 10 PhD students and 5 M.Phil students at a time.
Criteria to become a PhD supervisor or guide in India, USA or UK:
A PhD degree from a reputed university 
5 to 7 years of postgraduate teaching experience or at least 10 years of undergraduate teaching experience.  
Broad research experience 
Enough publications in internationally reputed journals. 
Enough experience in teaching and guiding students. 
Note that in some cases, a person with broad industrial research experience or well known national personality or a retired professor can also be a PhD supervisor or guide if they have enough research background. 
How to become a PhD guide in India, USA, UK: Download the PDF.
Conclusion:
This article shows that the PhD mentorship recognition process is as difficult as getting admission into PhD, still is not accurate enough. Sometimes PhD advisors also leave their position midway due to lack of experience and frustration, in such cases, students have to face bad consequences.
Some of my friends left their PhD midway because of the bad behavior, incompetence and negative mindset of their supervisor. Some of my female colleagues also left their research midway because of other reasons. The thing is, universities don't follow their own recruitment process, strictly and appoint the wrong person intentionally or unintentionally.
Such mal-research practices must be stopped, central authorities along with the university have to closely monitor the entire process of supervisor recognition and ensure that the process strictly follows international standards or not.
In conclusion, an applicant for the recognition of PhD supervisor should be an experienced person. But their potential and endurance must be assessed prior to the evaluation process.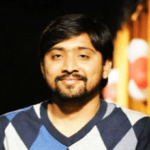 Dr. Tushar Chauhan is a Scientist, Blogger and Scientific-writer. He has completed PhD in Genetics. Dr. Chauhan is a PhD coach and tutor.