Google Scholar is the professional place to find scholarly literature, peer-reviewed articles and high-quality, patented and unpatented research on a specialized Google platform. 
Google search is everything in 2021; one can search anything on the internet by Google search which provides nearly 99% accurate results. One can find products, literature, articles, information or any data from Google simply by telling "Hell Google" from your Phone. 
Say "Hello Google please suggest to me the best recipes for poached egg"
And that's it!
It will give you tons of results.
But let me tell you that finding high-quality, peer-reviewed articles on Google isn't that easy. The reason is that the Google search is meant for all people. Meaning, when searching anything directly from Google search, it will provide broad search results to cover all topics, products and results for all age groups.
For example,
When you search "Symptoms of H1N1 flu"; The results might show
Some common symptoms
Questions relevant to the topics
Products related to the H1N1 flu- medication, therapies and testing
Some good blog articles
Global News on H1N1
And like that…
If you are a researcher, PhD scholar or scientist, these search results may not help you, I guess. You need more powerful, research-based, peer-reviewed and more scientific results.
And for that my friends you have to go to Google Scholar. I know it isn't that much hard to use Google Scholar but still, many research students still don't know how to use it.
I have conducted a small research study and asked my research students how they start searching the literature. 87% of them said,
They go the Google, search their queries like
H1N1 Wikipedia
H1N1 articles PMC
H1N1 article PubMed
H1N1 article NCBI
Like that, but mostly they avoid the very first segment suggested by Google itself, that's our Google scholar,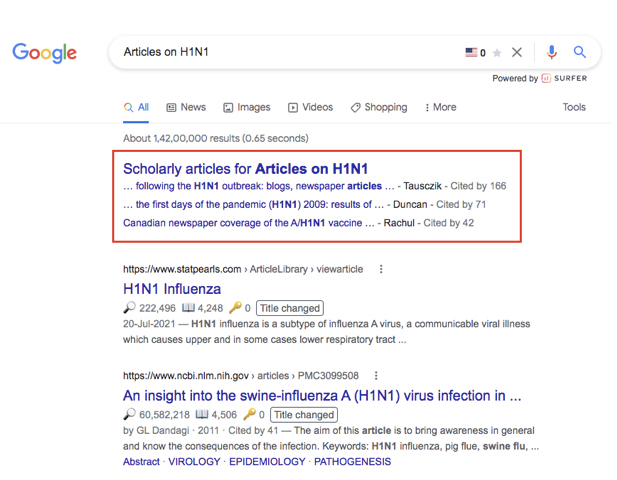 When you click on it, you will get tons of high-quality research articles. Note that Google standard search and Google Scholar search have some substantial differences, take a look at the table,
Difference Between Google Search and Google Scholar search:
| | |
| --- | --- |
| Google search | Google Scholar search |
| Provides broad search results for all people of all age groups and professions | Provides a specific search query and high-quality research works only. |
| Results are images, blog posts, news articles, images, products and services | Results are peer-reviewed literature, review articles, researchers' profile, thesis and abstracts |
There are several ways you can use this tool to find peer-reviewed articles, journal reviews and thesis. In this article, I will explain 7 ways to find peer-reviewed articles on Google Scholar.
7 Ways to find Peer-Reviewed articles on Google Scholar:
---
Search on Google:
One of the easiest ways to find scholarly articles is by searching anything directly using Google search.
Go to Google Search using this link > https://www.google.com/.
Search in the search box, for example, "Articles on H1N1".
You will get various results, see the very first results (Image below)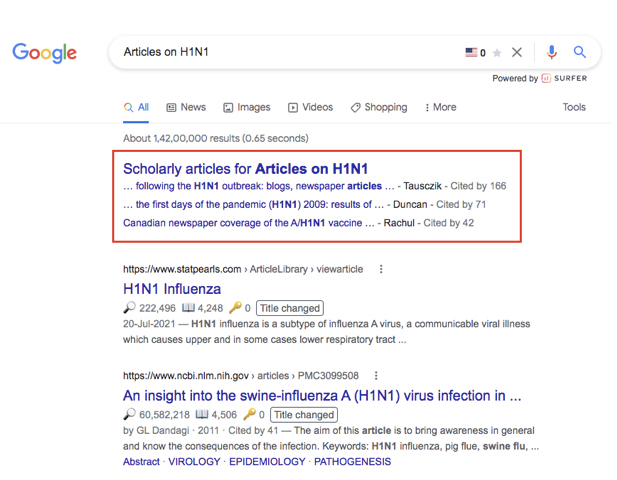 Click on the "Scholarly articles for Articles on H1N1"
Now you will get so many articles that are well-cited, peer-reviewed and in-depth.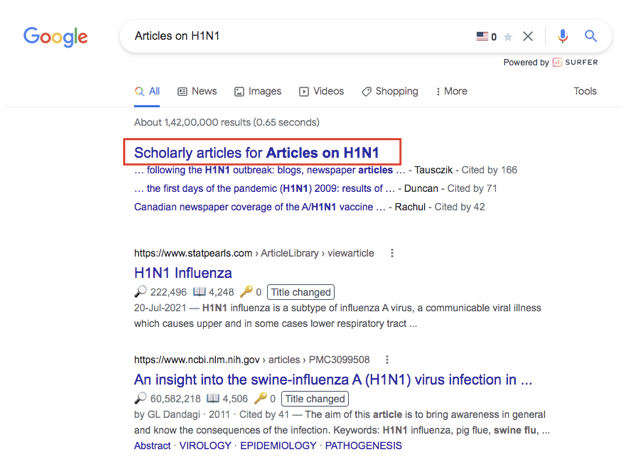 Directly go to Google Scholar:
Newbies usually don't go directly to Google scholar, instead prefer to use Wiki or other resources. If you just have started your PhD and don't know where to initiate, start reading articles only on Google Scholar.
Go to the URL: https://scholar.google.com/
In the search box search only "H1N1"
You will get various resources on H1N1 that help in your study. You will also get other relevant studies and articles, contact details, scientists, organizations or labs working in your research area, etc.
In addition, you will get ideas for additional research queries relevant to your research.
Write a topic name with +Google scholar:
The easiest way to use the Google scholar database is to customize your research query.
Go to Google >> https://www.google.com/.
Search "H1N1 articles on Google scholar"
You will get a Google scholar list of articles as well as only high-quality articles related to the topic you searched.
Search peer-reviewed articles:
Yet another easiest way to find the most outstanding peer-reviewed journal articles is by a consuming search query.
Go to Google >> https://www.google.com/.
Write Peer-reviewed articles on H1N1
And that's it!
You will get the same list of scholarly articles on the present topic.
Short by relevance:
Getting more relevant resources is yet another difficult task to complete. It's practically not possible to go through all articles present in the Google Scholar library.
One needs more precise, customized, appropriate and relevant results.
Google Scholar provides a "Short By relevance" feature to find articles only what you want.
For example, for H1N1 you will get tons of resources, some are useful and some are not!
Suppose you need review articles.
Go to the sidebar and click on review articles.
Suppose you need only articles published since 2020.
On the sidebar, you can choose a year or from which year you want research articles.
There are other options as well which you can use as per your requirement.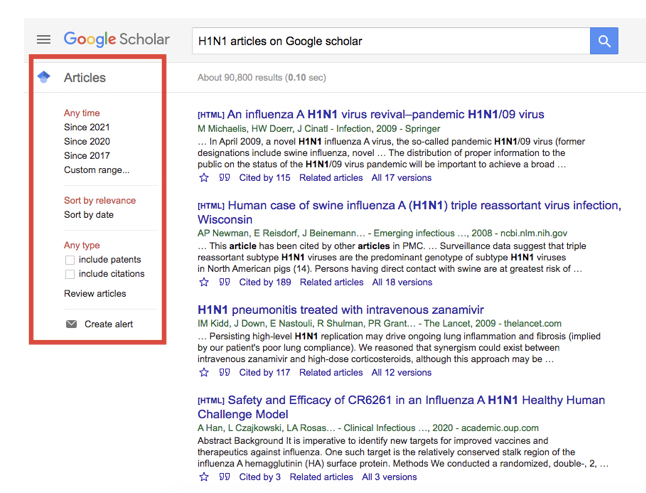 Search by author or authors name:
Yet another interesting way to search scholarly research work is by searching articles by the name of the author; if his/her profile is there on Google scholar, it immediately shows you.
Take look at the example,
Influenza A H1N1 by Michaelis, you will get results like this,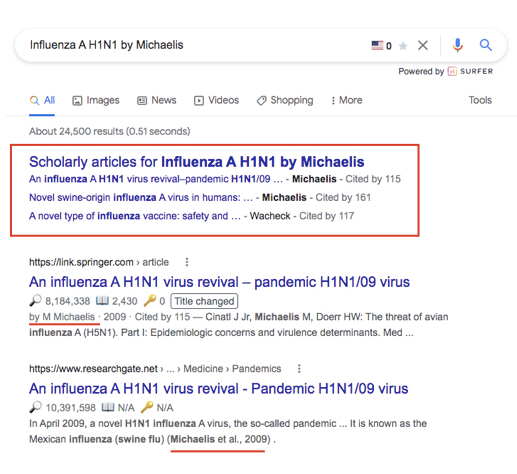 This is exactly the same results on Google Scholar, take a look,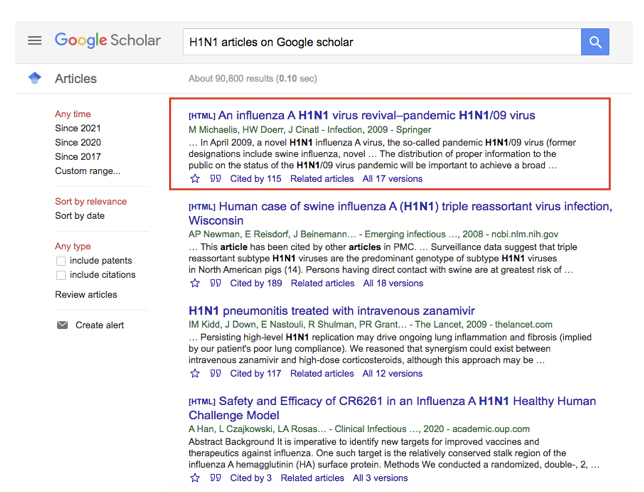 Note that this will be fine only if you know some of the renowned researchers and scientists working in your field.
Search from the Google Scholar profile:
If you already have a Google Scholar account and some scholarly articles, you can search relevant resources from the profile of other researchers as well.
For example,
Take a look at the profile of Elspeth M McLachlan.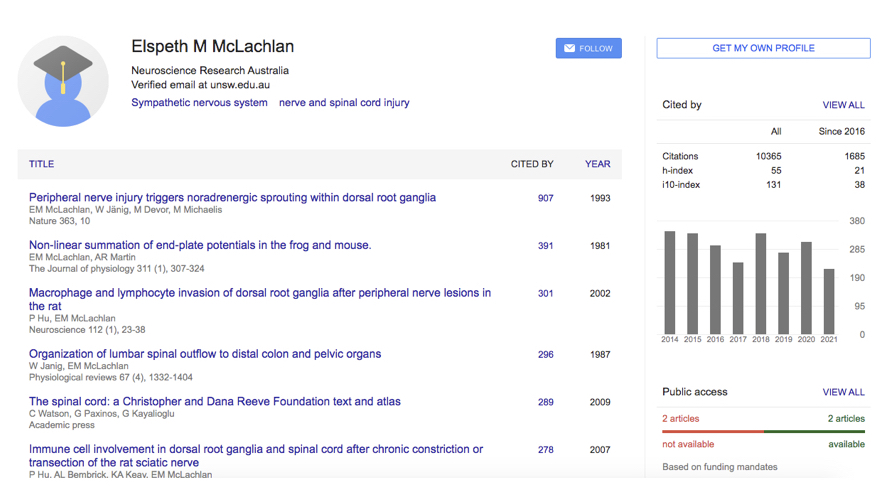 You can find all the publications and his collaboration on the Google Scholar profile.
Read more: How to Generate a Bibliography using Citation Generator.
Wrapping up:
Google Scholar is a significantly important sub-search engine for researchers, scientists and PhD students. If you have a Google Scholar profile, some Peer-reviewed articles, trust me you will get more citations, reads and rewards in your academic and research field.
Use scholars and try to publish some good quality work as well.
I hope this article will help you.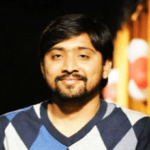 Dr. Tushar Chauhan is a Scientist, Blogger and Scientific-writer. He has completed PhD in Genetics. Dr. Chauhan is a PhD coach and tutor.