"GANTT chart for PhD is a visual representation of your entire PhD work. This will help students in many ways and thus universities also ask for one. Here are some of the benefits of a GANTT chart." 
---
PhD is uncertain, you can't predict what will happen and no way you can predict the future of this physical world too. But what you can do is, you can plan. You can make a solid, bulletproof plan, for every uncertainty you would expect.
That would be a better option, right?
Planning for the plan that's not in the plan. So confusing? Don't worry about it much. What I am saying is please don't ruin your utmost career by not doing any proper planning. PhD is an honor, not for everyone.
If you are doing PhD, firstly thank yourself that you have reached this milestone, roughly 80,000 to 1,00,000 people in the US get PhD. However, many thousands drop the degree midway. The main reason that I know behind it is wasting time and not planning their work. 
PhD GANTT chart, which you can consider as one such plan preparation tool in which you can write your objectives, and goals, give a timeframe and monitor progress. You can add others to participate in it too.
So you must have to have one. But what are some crucial benefits of a GANTT chart which motivate you to get your own? Here are some, I am enlisting.
10 Amazing Benefits of GANTT chart for PhD
In this section, I am enlisting and explaining 10 possible amazing benefits of PhD GANTT chart.
Mandatory for PhD
Organize your tasks
Divide your work
Prepares timeline for each task
Monitor the progress 
Your stand on PhD
Boost confidence
Make you more organized and serious 
Share your progress
Self-assessment
Mandatory for PhD
It's mandatory in most universities to attach a fully planned GANTT chart with either their research project or proposal. Hence it should be there and every student has to prepare it. Why so?
By a GANTT chart, the university will understand your work plan and your preparation for the current scenario and future situations. And thus they closely evaluate each GANTT chart attached.
What are you waiting for, check out this one.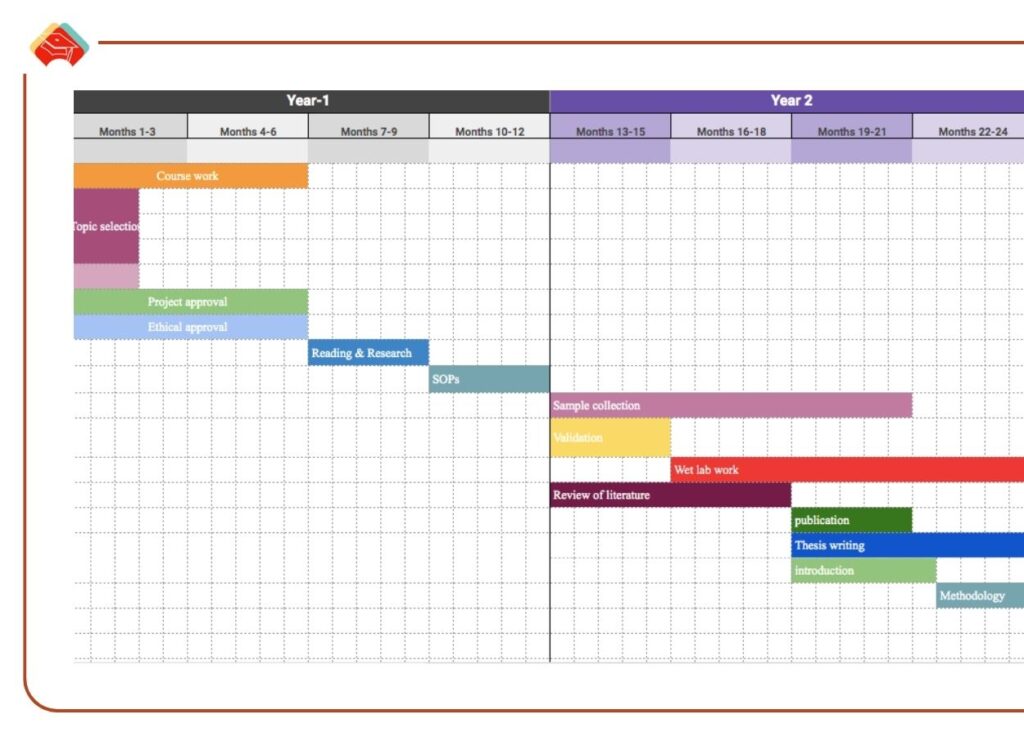 Organize your tasks 
Do you know there are many objectives and tasks (goals) you have to achieve during your PhD? If you are new, you don't care about it. For example, Sampling, thesis writing, wet lab work and statistical analysis are some of the objectives.
While
Project approval, ethical approval, sample collection, etc are some of the goals for each objective. Check out this chart to learn more.
GANTT chart helps you to organize every objective and task and complete it in time. You can prepare two columns for objectives and goals one after another and enlist each one. Through this, you can not only monitor your objective but can closely look at your every goal and its progress.
Isn't it amazing!
Divide your work
As said, the GANTT chart divides each of your tasks, you can give them a specific timeframe and eventually, you can focus more closely on each one. You can use different color codes for different tasks so that it will look good.
A timeline and deadline
Do you know what's an amazing thing about the GANTT for PhD? The timeline. You can give each task and objective a specific timeframe– For example, 6 months for sampling including project approval, ethical approval and sample collection.
By closely looking into the timeline, you can get an idea about the progress of your research.
Monitor your progress
PhD GANTT charts allow you to monitor your monthly or quarterly progress, not only for your research but also for each task. What you can monitor?
Which task is running?
Which task is completed?
Is the task completed on time?
How much previous task is left?
What task is upcoming?
What type of preparation do you have to make for it?
That is the overall progress of your research
How much time do you have left?
Your stand in PhD
Adding to the above point, you can know your standing in the PhD. See, PhD is a tedious, time-consuming and lengthy process. Thus organizing things is a must! You can avoid working for months or can work harder to achieve more.
That totally up to you and no one will force you and that's my friend is the biggest problem. GANTT will let you know where you stand in your PhD. If there are so many goals pending– meaning, things are not going well. And you would be in trouble in the future.
It gives you decision power on what to do next. And also allow you to understand why your stand is not good– means the problem. So it's great, right? 
Related article: A Complete Roadmap for Degree to PhD.
Gives you confidence
When you see your GANTT progress chart and see that everything is going on time or before time– trust me such things boost your confidence. You can even plan a small vacation as well with some leftover time.
When everything works in your favor it gives you more power to work even harder. And remember, as I always say, the ultimate goal of a PhD is to complete it within a given time (3 years).
Make you more organized and serious
When you complete your PhD with greatness, you will have a story– I have planned everything, which worked and was achieved. When you make a plan, such as an organized plan like the one with the GANTT chart, and achieve success you will get more confidence.
You will get confidence in planning and trust me such things will help you in your future endeavors. You will become a different person— more organized and more serious. The reason is, you know how to deal with different things– plan and execute them.
Share your progress
Google Sheets and other online platforms have facilities to add other members to the GANTT chart. You can add your colleagues, guide, or co-guide so they can also monitor your PhD progress.
Such facilities also make you more serious about your work. The 'addie' can comment, mark and give you advice, there.
Self-assessment
Again, the amazing visual representation of GANTT will help you in self-assessment for your goals. You can prepare such a chart for anything, besides only PhD. For your goals, daily schedule, budget or financial management.
Wrapping up
You need one GANTT chart because your university will ask for it, I know that we are PhD coaches and have years of experience. But why I am writing all these things and trying to convenience you to use it.
Use your GANTT chart seriously. Trust me you will notice positive results. We, in our system, have various sheets to perform, execute and perform daily tasks. What you have to do is just develop a strong synaptic connection between your nerves– neuroplasticity, to make it useable in everyday life.
Anyway, do you know what is neuroplasticity and how it helps to develop new habits? It's interesting, we will talk about it some other days.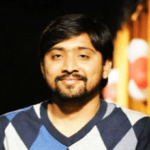 Dr. Tushar Chauhan is a Scientist, Blogger and Scientific-writer. He has completed PhD in Genetics. Dr. Chauhan is a PhD coach and tutor.